2022 Senate Elections Hold the Future of the Biden Presidency
With about 11 months until the 2022 midterm elections, Americans are getting an increasingly clear look at many unfolding Senate races across the country. There is no definitive guess about who will control the Senate after next year's elections, as the current balance is an evenly divided 50-50. At the moment, the majority looks like it will depend on five contests nationwide – Pennsylvania, Wisconsin, Georgia, Arizona, and New Hampshire – though other races may be in the fray as well.
First, in the keystone state of Pennsylvania, where incumbent Republican Senator Pat Toomey is retiring, the competitive race has devolved into a messy field of candidates. On the Republican side, leading candidate Sean Parnell, who was endorsed by Former President Trump, dropped out after a barrage of allegations of inappropriate conduct, ripping the field wide open. The Democratic side features a race between Lieutenant Governor John Fetterman, whose politics align with Vermont Senator Bernie Sanders, and Congressman Conor Lamb, a moderate and key Biden ally from the 2020 campaign. In New Hampshire, incumbent Democratic Senator Maggie Hassan looks to be in a better spot after three top Republicans, including the state's popular governor, Chris Sununu, declined to run. In nearby Vermont, Congressman Peter Welch is running with Sanders' endorsement after incumbent longtime Senator Patrick Leahy, the longest-serving senator, retired in November.
In Wisconsin, the Republican side of the field has been frozen as Incumbent Senator Ron Johnson has yet to announce whether he is running for reelection. On the other hand, Democrats have already been able to recruit rising star Lieutenant Governor Mandela Barnes to run, and he is widely considered to be the frontrunner for the nomination. Also unfolding in the midwest are senate races in Ohio and Iowa, where Republicans are hoping to keep their electoral advantages seen in the 2020 race afloat while fending off well-known Democratic challengers, like Congressman Tim Ryan of Ohio, and Former Congresswoman Abby Finkenauer of Iowa.
In Florida, both Democrats and Republicans are putting forth well-known national candidates. Republicans have incumbent Senator Marco Rubio, well known for his presidential run in 2016. Democrats have Congresswoman Val Demings, who President Biden considered as a Vice Presidential pick in the 2020 election. In the all-important state of Georgia, Republican frontrunner and former NFL star Herschel Walker has seemed to consolidate support from different factions of the GOP, while also coming under fire for a series of allegations of misconduct. Walker is trying to unseat incumbent Democratic Senator Raphael Warnock, who won the seat in the runoff elections earlier this year, and has been extremely well-funded and supported by his party, as well as the state's increasingly dominant minority communities.
Finally, out west, in Arizona and Nevada, Democrats are looking to defend their seats in states that President Biden won narrowly, while, in Alaska, a bitter primary challenge is underway to Moderate Republican Senator Lisa Murkowski. In Arizona, Democrats are looking to keep Senator Mark Kelly in power, after he won the election to the seat in a special election last year to fill the vacancy created by the death of Senator John McCain. The Republican party has so far failed to recruit popular Arizona Governor Doug Ducey, a blow to their chances. In Nevada, Democrats want to keep Senator Catherine Cortez Masto, the first Latina elected to the Senate, in office, after former Nevada Attorney General Adam Laxalt announced his challenge to her earlier this year, setting the stage for a competitive race. Lastly, in Alaska, far-right Republicans led by former President Trump want to unseat the centrist Senator Lisa Murkowski with a challenge from Kelly Tshikiba, a local politician with views aligning with the former President. Murkowski has faced and defeated such challenges before, like in 2010 when she was able to fend off a Sara Palin-endorsed challenger with support from moderate Republicans and Democrats alike in the state.
It seems that, at this point, a picture of the midterm Senate elections is starting to come into view. However, with several months for the primaries to start, and just shy of a year before the actual general election, there are certainly a good deal of unknowns lying ahead.
Leave a Comment
About the Contributor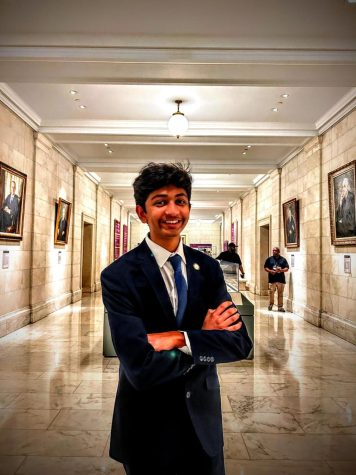 Abhishek Narahari '24, News Co-Editor
Abhishek is a deeply engaged member of the Albuquerque Academy community, part of several government and politics-focused clubs and activities. For the...