VIEWS with David Dobrik and Jason Nash
Podcast Review For The Pop-Culturalists
Pop-culture has taken over the media world in the last decade, with social media being the new way to rise to fame. As podcasts have grown in popularity, more influencers have started to use the medium as a way to be "real and raw with their followers." With that said, sometimes you need to put your phone down and listen to a good podcast. Now, more than ever, there are other podcasts than just the boring NPR and BBC kind. VIEWS with David Dobrik and Jason Nash is a newer podcast focused on the crazy insights of Dobrik's iconic vlogs and what, "YouTube life is really like." They discuss pop-culture and the inside of their life, stating "David Dobrik, a 24-year-old, sexy, millionaire YouTuber and Jason Nash, a 40-something single dad with a vlog of his own, take you behind-the-scenes."  
David Dobrik is a well-known influencer who has amassed over 59 million total followers on his main social media accounts. Jason Nash also has a large following with around 8.1 million followers across his social media accounts. Nash was discovered by Dobrik in a comedy bar in 2016 and their friendship has grown from there. David, who started out on the 6-second-video-sharing app, Vine, quickly gained followers with his funny short clips and was commonly associated with then-girlfriend, Liza Koshy. Now, Dobrik is known for his YouTube channel with the "Vlog Squad" and collaborating with other big names such as Borat, Jeffree Star, and his life-long friend and assistant Natalie Mariduena. Nash's channel is known for comedy bits, pranks, and making videos with his children, Charly and Wyatt.
Their podcast has a unique style where instead of an hour-long conversation between the hosts, their episodes are recorded over a couple of days with friends chiming in. It took them a while to set up and become a "real" podcast since their first couple of episodes would be filmed right after Dobrik would wake up. Nash presents the funny side of the podcast, commenting on interesting dialogue while Dobrik brings the stories and the experiences. 
In their recent episode, "Surprising Natalie With Halsey," the duo started the episode talking about Tesla and its recent investment into "the digital wallet", Bitcoin. I like how they talk about the risks of cryptocurrency and how they gave a real-life example of the dangers of using an online money platform. It shows that they prepared to talk about this topic before the podcast. They move on to talk about David's new house with him claiming " I now have a bigger bed than Kourtney Kardashian." It is funny how nonchalant Dobrik is while bringing up celebrity names like the Kardashians, because to the average person, they are just someone we see on our social media page. They end the episode by surprising Natalie with pop-singer Halsey, praising her presence, and talking about how they struggled to keep it a secret from Natalie.
As of recent news, "Surprising Natalie With Halsey," will be their last audio podcast since they will be transitioning to video podcasts, which will be uploaded on YouTube. Thankfully, YouTube is a free streaming service, so you will not miss out on any new episodes.
You can listen to this podcast on Youtube, Apple Podcasts, Spotify, or anywhere you find your podcasts.
Leave a Comment
About the Contributor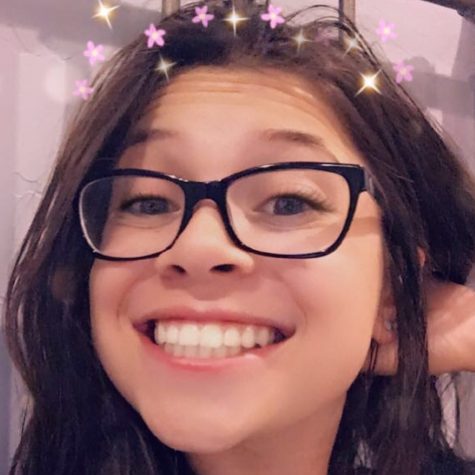 Ella Markman '22, 6th & 7th Grade Section Editor
Ella Markman is a junior at Albuquerque Academy and recently joined the advocate staff. She takes inspiration for her writing from her father, who has...