Runners Battle Harsh Conditions, Emerge Victorious in the Boston Marathon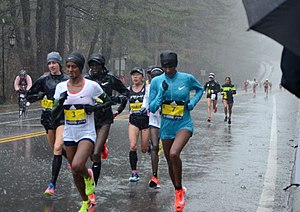 On April 16, Patriots' Day, Desiree Linden made history as the first American woman to win the Boston Marathon since 1985. She was followed by Sarah Sellers for the first 1-2 American finish in almost 40 years. On the men's side, Yuki Kawauchi of Japan led a strong field that included six Americans in the top ten spots. Both Linden and Kawauchi marked the marathon as their first major marathon victories.
Linden's victory came amid driving rain, frigid temperatures, and up to 30 mile-per-hour winds, making her time of two hours, 39 minutes the slowest winning time on the course in 40 years. She outran a field of strong contenders who succumbed to the frigid temperatures, including defending champion Edna Kiplagat and New York Marathon winner Shalane Flanagan, to finish almost five minutes ahead of second-place Sarah Sellers. Linden's victory was hard-fought: she initially didn't believe that she would be able to complete the race and considered dropping out before charging ahead of the lead pack to claim the front spot with around 5 miles left in the race. Linden called her victory "storybook stuff" following her heartbreaking finish in 2011, where she came within two seconds of winning the race.
In the men's race, many highly ranked runners similarly ran slowly, allowing Kawauchi to bag his first World Marathon victory. However, the amateur runner has another record to his name: an impressive 77 marathons completed in under two hours and twenty minutes. Kawauchi, who is unsponsored but is well-known in Japan as the "Citizen Runner," had already run four marathons and a half-marathon in 2018 prior to heading to Boston. Kawauchi took the lead in the final mile as defending champion Geoffrey Kirui trailed into second place.