6/7 dancers break out on their own
The dance department held a debut dance concert for only the 6/7 division. Usually, there would be two 6th through 12th grade concerts, but this year, the 6/7 division had its own concert, and will have upcoming performances in a 6th through 12th grade concert. This 6/7 concert was an artistic showcase of what students had learned over the course of the semester.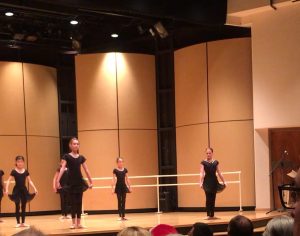 As a seventh grader on the intermediate dance team, I got to see the whole show come together. It was a lot of work! Last year, there were a lot of complaints about how little time a fall concert gave to prepare, so this solution definitely gave more to showcase by making the pieces easier, yet longer.
The concert started with Ms. Rojas showcasing her two beginning dance groups: those with no experience in dance. The two groups demonstrated elements crucial to dance, like proper breathing, spotting, and spatial awareness.
The second group showed ballet basics, like the five feet and arm positions. Both pieces were narrated by Ms. Rojas, explaining what was happening and the history and reasoning behind the movements.
Next were Ms. Lang's two intermediate groups, those with at least a year of ballet or jazz training. The first of her groups, my group, did a choreographed barre and center piece. In ballet, a barre is a horizontal bar used for support. A ballet class starts there, ending with dancing "center," or without the barre. We showed moves such as plies, grand battements, the basic body positions, and the five types of arabesques. The second group was the final piece, and they presented the basics of jazz dance, including turns, isolations, and leaps.
Overall, it was a highly successful show that better prepared the 6/7 division for the spring concert, which will take place in April. It was a wonderful performance!
Leave a Comment