Share a Plate with The Advocate
San Francisco contains a magnificent assortment of restaurants that serve food from countries all around the world. When some of The Advocate editors were in San Francisco this month for the Journalism Education Association conference, we unknowingly embarked on a culinary adventure. We enjoyed delicious food at many different cultural restaurants, even one restaurant that is unique to San Francisco.
We began our adventure at The Melt, a casual restaurant that serves grilled cheese, burgers, salad, fresh lemonade, and milkshakes. Their most stunning creation was a macaroni and cheese sandwich, which was, yes, a huge pile of macaroni and cheese between two pieces of bread. As we browsed Chinatown that afternoon, we tried Chinese cha siu bao, or meat dumplings. That evening, we dined at a Thai restaurant called The Old Siam. There, we tried an assortment of pad thai, spicy fish soup, and egg rolls.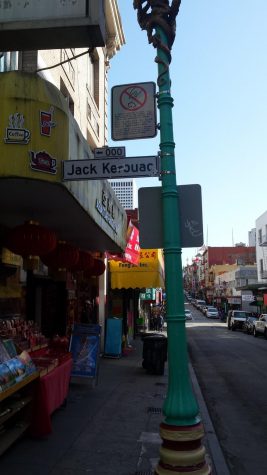 The next day, we ate a hearty breakfast at Dottie's True Blue Café. They served huge plates of eggs, often scrambled with other ingredients such as pulled pork, jack cheese, and roasted onions, along with a huge range of sides like fruit, oatmeal, toast, home fries, and many types of sausage. Their impressive offerings also included huge stacks of unconventionally flavored pancakes, such as their banana raspberry rice flour pancakes or their chocolate pancakes. Another unique offering at Dottie's was chili-cheddar cornbread with a spicy jalapeño jelly.
That afternoon, after our exploration of Fisherman's Wharf, we ate at a San Francisco staple, and also my personal favorite, Hot Spud. The restaurant consisted of a baked potato bar, where you could add your choice of the host of topping options that were available—imagine Chipotle, but with baked potatoes. I sampled their Chicken Spud, which was topped with chicken, bacon, corn, olives, onions, and wing sauce. It was delicious! All of us quickly devoured our magnificently piled potatoes. In the evening, we dined at an Indian restaurant called The New Delhi Restaurant. We ate a variety of curries with rice, naan, and papadum. Although the curries were spicy, they were absolutely delicious.
The next day, we ate lunch at Lemonade, a brightly colored modern restaurant. I ate jerked chicken, a curried cauliflower and raisin salad, a s'mores brownie, and, of course, the fresh lemonade for which the restaurant was named. Our final culinary destination was Fast Food Français, a quaint restaurant in Sausalito. The most surprising part of our visit to this restaurant was that the people who worked there were actually French! Additionally, they served gourmet food, rather than fast food as the name suggested. The food was extremely fresh; they even raised their own chickens behind the restaurant.
San Francisco truly is a hot spot for diverse dining. It was eye opening and enjoyable for us to experience so many types of delicious food on our trip.