2022 New Mexico Special Legislative Session
Focuses on economic relief for New Mexicans
Earlier this month, Governor Michelle Lujan Grisham convened New Mexico's legislature for a special session that focused on alleviating the economic burden residents face with elevated gas and food prices due to inflation largely caused by the coronavirus pandemic and Russia's ongoing invasion of Ukraine. The result was the passage of a $698 million package that will distribute hundreds of dollars in tax rebates to over a million residents.
Lujan Grisham signed the legislation after months of costs rising in the state, most notably seen in gas, where prices have recently hiked above four dollars per gallon at many stations. In particular, this legislation will automatically send $500 rebates to every taxpayer  later this summer. $1,000 will be sent to those who file taxes jointly.  It will also set aside $20 million for low-income people and senior citizens who may not regularly file taxes. The governor hailed the rebates as a way to put money back into the pockets of New Mexicans, and as a sequel to a previous omnibus tax package, the central legislation that came out of the recent regular  session, which drastically reduced the financial burden placed by the social security tax on seniors, and established a higher child tax credit for families, raising it to $175 per child. 
Recently, many national polls have suggested that the economy, and specifically the persistence of inflation, are on the top of Americans' minds, eclipsing issues that just a matter of months ago dominated the national news cycle, including the pandemic and unemployment levels. The package represents the New Mexican government's response to those feelings of economic fatigue and dismay, and acts as a step taken to alleviate the financial burden of rising prices across the board. 
Leave a Comment
About the Writer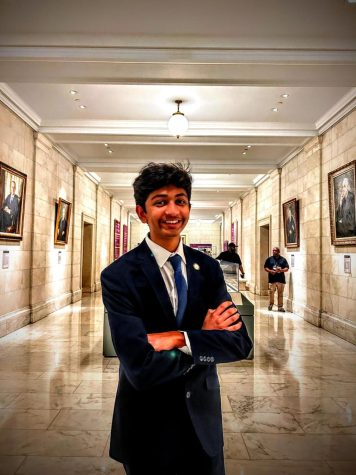 Abhishek Narahari '24, News Co-Editor
Abhishek is a deeply engaged member of the Albuquerque Academy community, part of several government and politics-focused clubs and activities. For the...