Ketanji Brown Jackson Confirmed to Supreme Court
A historic confirmation, but one unlikely to change the balance of the Court
On Thursday, April 7, Judge Ketanji Brown Jackson was confirmed to the Supreme Court, becoming the first Black woman to serve on the court in its over two centuries of existence. She will be sworn into office once Justice Stephen Breyer formally retires, which he is expected to do once the current session concludes later this summer.
Judge Jackson was confirmed by a 53-47 vote of the Senate, with unanimous Democratic support, including that of moderate Senators Joe Manchin of West Virginia and Kyrsten Sinema of Arizona, who have been obstacles to President Joe Biden's domestic agenda. Three Republicans crossed party lines to vote for Judge Jackson, including Senators Susan Collins of Maine, Lisa Murkowski of Alaska, and Mitt Romney of Utah. All three emphasized Jackson's legal experience, including having previously served as a district court and circuit court judge, and on the United States Sentencing Commission under President Obama. Jackson also served as a clerk to Justice Breyer, and, most notably, as a public defender, serving clients who cannot afford legal counsel. Her historic confirmation vote was presided over by Vice President Kamala Harris, the first Black and South Asian person to hold the position, exemplifying the growing diversity of the highest levels of American government.
The vote followed a week of contentious confirmation hearings, where Republicans were eager to tie Jackson to unfounded claims that she was somehow advancing an agenda of so-called "critical race theory," most notably by Texas Senator Ted Cruz, who at one point asked her if she believed that babies are racist. Other Republicans, such as Senator Josh Hawley of Missouri, repeatedly asked her questions regarding child pornography and sexual misconduct, which at times struck eerie similarities to the QAnon conspiracy theory, which ludicrously suggests that top liberals are in charge of an underground child trafficking organization. Democrats, on the other hand, aimed to highlight her extensive judicial and legal experience, in addition to reminding the nation of the history that Jackson would be making. New Jersey Senator Cory Booker in particular sought to shine a light on that history, noting in an emotional speech that her success was the culmination of the efforts and struggles of so many of their ancestors.
In her acceptance speech alongside President Biden and Vice President Harris, Jackson recognized the momentous occasion, and quoted the poet Maya Angelou in noting that "I am the hope and dream of the slave." She also said that, in one generation, her family went from "segregation to the Supreme Court," a testament to the numerous hurdles that Black people face in the United States.
"
I am the hope and dream of the slave.
— Ketanji Brown Jackson
The long-lasting effect of her confirmation will add a new voice with a different perspective to the highest court in the land, which deals with countless cases concerning freedoms of speech, the press, and other fundamental rights granted to Americans by the Constitution. In the short term, her nomination will ensure that the Supreme Court will for the first time have a minority of white men, and, though her nomination will not change the 6-3 conservative majority on the court, her ascension means that all three liberals on the court will be women, with the most senior of them being Justice Sonia Sotomayor, a Latina.
Leave a Comment
About the Writer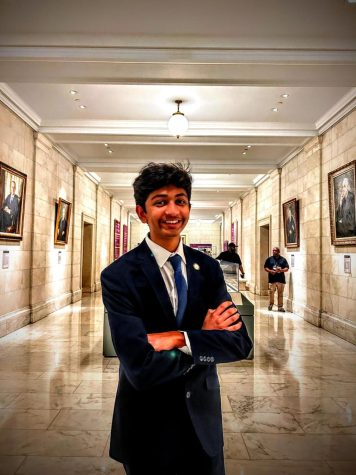 Abhishek Narahari '24, News Co-Editor
Abhishek is a deeply engaged member of the Albuquerque Academy community, part of several government and politics-focused clubs and activities. For the...