Will Election Day Become a State Holiday?
The prospects from the recent legislative session look dim.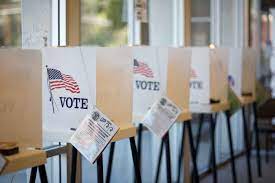 Governor Michele Lujan Grisham and Secretary of State Maggie Toulouse Oliver have been working with New Mexico lawmakers to increase voter access through Senate Bill 8(SB8). The essence of the bill is to make election day a statewide holiday. This would mean that non-essential government offices and public schools would be closed for the day, a monumental step to bring more people, especially from disenfranchised communities, to the polls.
There are also personal and structural reasons that make voting difficult. It is difficult for the average person to take time off to cast their ballot and a majority of the time it is not an option to take off work. A study by Brigham Young University showed the reasons, conflicts, and barriers that keep people from voting. It found that about 50% of people don't vote because of work, 36% because of lack of time, and 26% because of family obligations.
Across the country in states such as Georgia and Texas, legislation has been passed to restrict voting. "Even as we've seen attempts around the country to make voting more difficult for eligible voters, here in New Mexico we continue to be a leader in how to balance the demands for voter access with the needs of maintaining our high levels of election security," stated Secretary of State Maggie Toulouse Oliver. The act of making election day a holiday is not a new proposal-states such as Delaware, Hawaii, Illinois, Indiana, Michigan, Montana, and West Virginia have already made election day a state holiday. "This legislation now gives us the chance to pass one of the most powerful voting rights bills in our state's history…I know that the policies we are pursuing during the 2022 legislative session will ensure that all New Mexicans have the opportunity to safely and efficiently make their voices heard," said Toulouse Oliver.
SB8 was recently blocked by Republican legislators using a process known as the Call to the Senate. The procedure means that all members of the chamber are required to be in attendance at the capital for the bill to move on into consideration.
SB8, if passed, would bring more voters to the polls and increase the number of New Mexicans heard. Michelle Lujan Grisham stated, "Protecting voting rights is essential to upholding our democracy and ensuring New Mexicans' voices are heard,". If election day were to be made a holiday it would mark a celebration of our democracy and open up the opportunity for more people to volunteer at polling sites.
Leave a Comment