Hasan Minhaj's The King's Jester Review
I had the opportunity to watch the amazing Hasan Minhaj perform at the Kiva Auditorium on November 21, 2021. I was astonished by his comedic material in his first comedy special, "Homecoming King." Following the footsteps of his critically acclaimed Netflix tv show, "Patriot Act," Minhaj returns with a two-hour political satire comedy show and doesn't disappoint. 
The theme song blares through the speakers. The audience begins to cheer. "Please welcome Hasan Minhaj!" From the get-go, he criticized the theater for being too small for the "Land of Enchantment." Of course, he made the same usual joke about Albuquerque as the drug capital of the world with its connection to Breaking Bad. I burst out laughing in my seat. I had very high expectations from that moment forward. 
In this show, he goes in-depth with experiences as a father, parenting, and passing the torch of ambitions and dreams to his daughter. Often making remarks about his South-Asian upbringing, I immediately could relate to what he was saying. A key takeaway from the show was Minhaj joking about having a South-Asian friend being his fertility doctor. He assumed the doctor for having a D.O. over an M.D. and possibly flunking Caribbean Medical school twice in front of an audience bound to have a lot of doctors in it. It's the risk he is able to take with his jokes, making the show more lively.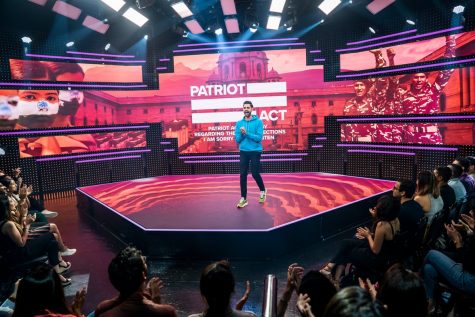 Hasan's storytelling is incredible to watch, as he is able to draw the audience in with his oration and corroborate his experiences with a projected screen behind him. One particular moment of the show was his interaction with an undercover government agent after the events of 9/11. Starting off as a very humorous story about his traumatic high-school experience, Minhaj explains how undercover agents joined his local mosques to capture terrorists. The person he encountered was Brother Eric, a recent Islam convert who undoubtedly was a "nark." The entire experience is regarded as the "Patriot Act," a nod to the name of his tv show. Ironic, I know! Minhaj is easily able to weave together ideas from one comedy sketch with another to make a diverse but uniform fabric.
The comedian reflects on the pros and cons from his show, "Patriot Act," explaining how taking jabs at political nations almost backfired at him. Addressing leaders such as Saudi Arabia's Prince Mohammed bin Salman (MBS), known for his approval for the murder of Washington Post journalist Jamal Khashoggi, almost put a risk to his family's safety. Along with the hate that comes with the media, Minhaj also makes the distinction that he loves the popularity, but the guilt of social media's likes, comments, and shares is intoxicating.
Another remark he made was that there wasn't enough South Asian representation in the entertainment industry. He connects it with critiquing Kumal Nanjiani, known for his role as Kingo in Marvel's Eternals and his washboard abs. Minhaj claims Nanjiani is setting the bar too high for South Asian men, in terms of masculinity and body image.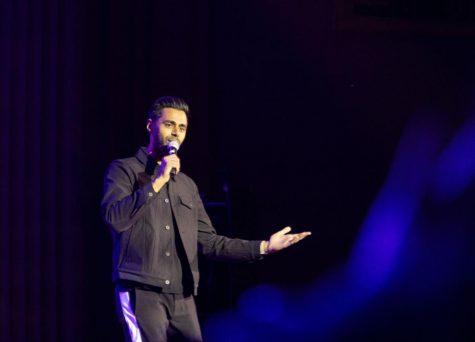 Without giving away too much, the South Asian comedian makes the distinction between "satire versus sincerity". By being able to stand up to political tycoons and make them aware of their faults, Minhaj makes it clear that he can voice his opinion through the means of comedy. Thus, he calls himself the "King's Jester," Hasan Minhaj isn't your average South Asian comic who will make crude jokes about 7/11 gas stations or cell phone scammers. Unlike comedians such as Russell Peters or Aziz Ansari, Minhaj has paved a name for himself to be different than the average, using his experiences as an Indian-American citizen to navigate through difficulty and resist prejudice.
If you have a chance to catch Hasan Minhaj in a city near you, I advise you to seize the opportunity. Tickets are on sale for "The King's Jester" until March 2022.
View Comments (3)
About the Contributor
Arinjoy Das '22 (AJ)
Since writing articles in 6th grade, Arinjoy (AJ) Das has evolved as a writer in his school years. During his sophomore and junior year, he represented...