Two Bills in the Balance
Two key bills are stuck in congressional deliberations
President Joe Biden staked nearly his entire legacy on his 1.2 trillion dollar bipartisan infrastructure bill and a second, larger bill decked with longtime liberal priorities. Both are currently facing intense scrutiny from Democrats in Congress across the spectrum, but two moderate Democratic senators, Joe Manchin of West Virginia and Kyrsten Sinema of Arizona, have acted as obstacles to the passage of both bills
At the moment, the aim of President Biden, House Speaker Nancy Pelosi of California, and Senate Majority Leader Chuck Schumer of New York seems to be to reach an agreement on the larger bill in order to unlock key progressive House votes for the infrastructure bill. Sources close to Sinema, who rarely ever reveals her views, say that her biggest ask is that the infrastructure bill, which she put together with Republican Senator Rob Portman of Ohio earlier this year, be passed before the larger bill hits the Senate floor. The bill currently addresses a modernization of transportation infrastructure like roads and bridges, targets pollution, and aims to increase American manufacturing and competition on the global stage with nations such as China. Progressive Democrats in the House, led by Congresswoman Pramila Jayapal of Washington state and supported by Senator Bernie Sanders of Vermont, have vowed to shoot down any infrastructure bill that comes without a clear path for the larger bill to become law. The best-case scenario for Democratic leadership here is that Sinema and Manchin finally agree to a framework for the larger bill, which progressives would respond to positively enough to vote for the infrastructure bill, appealing directly to Senator Sinema. However, there are several roadblocks in the way of such a deal within the majority party.
Health care is one of the divides that must be bridged soon for President Biden's agenda to become law. The main disagreement lies in what form of health care expansion should be included in the bill. The White House and Senator Schumer are currently supportive of progressive Democrats' efforts to significantly expand Medicare benefits to include dental care, eyeglasses, and hearing aids. However, Speaker Pelosi and House centrists are equally set on expanding the Affordable Care Act, more commonly known as Obamacare, to a larger level. It is largely unknown where Manchin and Sinema lie on this issue, except the fact that Manchin seems slightly against including Medicare reform, angering progressives. Prescription drug reform is a rare issue where President Biden, Senator Sanders, and Senator Manchin all share the same view that costs must be lowered through a current ambitious plan. Senator Sinema and moderate Congressman Scott Peters of California, both top recipients of donations from the pharmaceutical industry, have stood in the way.
Action on the climate crisis is also emerging as a large sticking point, with progressives like Congresswoman Alexandria Ocasio-Cortez of New York digging in on environmental protections and the lowering of carbon emissions, along with an increase in the use of renewable energy. Senator Manchin opposes this due to West Virginia's strong ties to the coal industry, leading Democrats to hatch out a compromise plan, sacrificing a few climate measures to save others like the civilian climate corps, which would hire young individuals to help combat the climate crisis. It has recently been reported that the Clean Energy Performance Program, the cornerstone of the original climate plan, will be sacrificed in exchange for a range of clean energy tax credits and other environmental protections.Senator Manchin has also voiced strong concerns about Democrat's plans to vastly increase the affordability and availability of community college, child care, and elder care, even at one point stating that it would lead to an expansion of "entitlement", which immediately irked progressives, who have treated the expansion of the care economy as one of their top priorities. Senator Manchin has, however, stated his support for Democrats' plans to implement a universal pre-k program.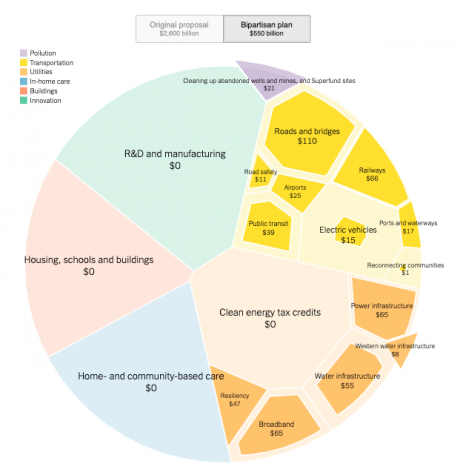 Immigration reform is also emerging as a notable issue in the negotiations. The dispute here seems not to be between Democrats, but rather between a united front of Democrats and the non-partisan rule-maker of the Senate, the Senate Parliamentarian Elizabeth Macdonough. Democrats, lead by Senators Dick Durbin of Illinois and Senator Alex Padilla of California, have currently submitted two offers to the parliamentarian, both with pathways to citizenship for undocumented immigrants. However, the parliamentarian rejected both offers, saying that they were against the rules of the arcane budget measure known as reconciliation that Democrats have been trying to use to pass the bill. After a series of threats from Hispanic Democrats in the House, led by Congressman Chuy Garcia of Illinois, to vote against the bill if it has no immigration reform, Democrats are reportedly about to submit the third attempt to the parliamentarian, this time without a pathway to citizenship, rather focusing on more temporary solutions. It is unclear if Parliamentarian Macdonough will accept the offer, or throw the negotiations onto another level of uncertainty.
Housing has also turned out to be a pesky issue for Democratic leaders trying to decide what to cut, as Senator Manchin and Senator Sinema have indicated that they only want a fraction of the spending that was originally proposed, perhaps due to reservations about the Democrat's means of paying for the bill, large taxes for the wealthy. Their positions have forced Democratic leaders to determine which issue faces the chopping block, and with health care, climate issues, and the care economy being on the top of the list, one priority that may initially come to mind to be cut may be housing. However, top advocates for increased spending on housing issues have tied the issue directly to the issue of racial equity, with some even saying that if fair housing funds are slashed from the larger bill, the bill will no longer be equitable at all. Representative Maxine Waters of California, a top opponent of such cuts from the bill has recently emphasized such a message.
Democrats in Washington agree that the infrastructure and social services bills may be the party's last real shot at achieving any of the above reforms but are wary of sacrificing their priorities in favor of others. Always subtly acknowledged is the fact that President Biden's very legacy may be at stake, with action having the potential to change the course of his presidency for the better, and inaction having potentially perilous consequences.
Leave a Comment
About the Contributor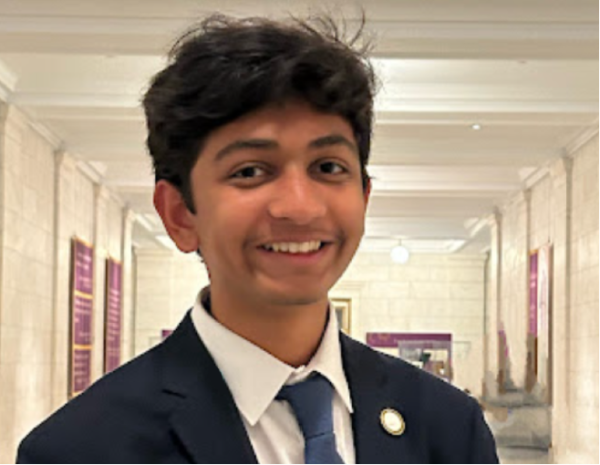 Abhishek Narahari '24, News Co-Editor
Abhishek is a deeply engaged member of the Albuquerque Academy community, part of several government and politics-focused clubs and activities. For the...