Pope Francis' Visit to Iraq
Pope Francis's first religious visit to another country since the pandemic began
Pope Francis, the current Pope and leader of the Catholic Church, arrived in Iraq for a three-day trip around the country on March 5th. The trip had major significance on a religious level, painting a picture of a Muslim-Christian alliance not seen for much of the Church's modern history. The trip promoted and showed pastoral solidarity with the Christian minorities living in Iraq, and sought peace within the country. Pope Francis' trip took him across the country, from Mosul, a city in northern Iraq, to Qaraqosh, the largest town in Iraq's Christian heartland, then Najaf, where he met the spiritual leader of Iraq's Shiite Muslims, Grand Ayatollah Ali al-Sistani, the ancient city of Ur, as well as other locations. 
Pope Francis' visit to Iraq is not the first one he has made to the Middle East to promote Muslim-Christian solidarity. He visited Jordan and Palestine in 2014, Egypt in 2017, and, most recently, Morocco and the United Arab Emirates in 2019. However, this trip to Iraq may be one of the most important trips he has made. Not only because he is the first pope ever to visit the country, but this is also Pope Francis's first religious visit to another country since the pandemic began, even with the security risks that were apparent with a series of rocket attacks in the days and weeks preceding his visit. Pope Francis was warned by people inside and outside the Catholic Church that the trip would be dangerous to him as well as others, with concerns over security as well as public health concerning COVID-19.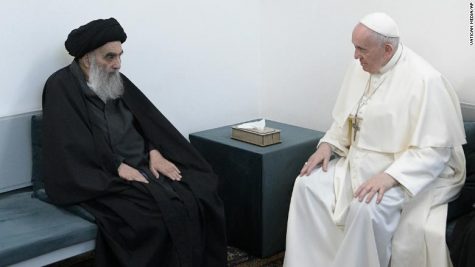 In response to concerns over public health, Pope Francis stated that he weighed the risks of his trip but believed God would protect him. He said that he prayed at length about the subject but believed that God would protect those who might be exposed to the virus during his trip. He was seen wearing a mask at times throughout his visit but not at all times, including his meeting with Ayatollah, and people who gathered to see him were not always wearing masks, even while singing in crowded churches. The Pope and his traveling party had been vaccinated against COVID-19, but many in Iraq have still not received vaccination. 
The Pope's trip into Iraq was important on a symbolic and spiritual level. However, a  sustained rise in COVID cases in advance of Pope Francis' visit along with an already fragile healthcare system in Iraq may see the visit prove to be more harmful than helpful. Only time will tell the consequences and benefits that the trip will have on the struggling country. 
Leave a Comment