Taylor Swift's Evermore | Album Review
It well exceeded my expectations for a surprise album
For myself and many other high school students, Taylor Swift was the soundtrack to our childhoods. She rose to fame amid our elementary school years when the radio was still our primary source of music. Without the variety of streaming services, finding new music was as simple as turning the dial, and the popular artists united our generation. I remember my friends and I screaming the lyrics to "You Belong With Me"  and "22" in the backseat of my mom's Toyota minivan. Regardless of whether they liked Taylor Swift, any kid born in the early 2000s knew her music and respected her. 
Sometime around my middle school years, Taylor Swift, the pop/country star I knew and loved, was "canceled" and liking her was deemed "uncool." So, I hid my passion for the deeply emotional songwriting, smooth and unaltered tones, and piercing range of her country/mild pop era. In 2017, Swift released Reputation, which in my opinion, only deepened my peer's and my own dislike of her new era of intense synthetic pop, reminiscent of Katy Perry's Prism album. Next came Lover in 2019, an underrated album dismissed by many likely because of the highly advertised, upbeat music video for the song "Me!" featuring Panic! At the Disco. In an attempt to display her allyship for the queer community, the song showed the world that even Swift is capable of writing a cheesy, Disney-esque song for the sake of advocacy. Yet, the underplayed songs like "Cornelia Street" and "I Think he Knows" are raw, filled with fresh beats and sincere lyrics. Finally, in 2020 with her album Folklore, Swift blessed the pandemic-stricken world with an exploration into a new genre: indie music. As an avid fan of alternative indie-rock artists like Phoebe Bridgers and Lana Del Rey, Swift's album Folklore was right up my alley. With symphonic melodies, a gentle tempo, and melancholy lyrics, she expressed heartache, loss, and nostalgia in each song. My personal favorite, "My Tears Ricochet," uses metaphors of the natural world to express her emotional pain. 
Now, Swift's fans were surprised on December 10th by Swift announcing that a new album, the "sister" album to Folklore, would be released at midnight. I decided to review the album Evermore song by song, as an out and proud "Swiftie." 
Here are my thoughts:
Willow: The opener of the album did not disappoint. A gentle folk-rock guitar and drum track play while Swift sings deeply and harmoniously about a simple type of love. A type of love in which every gaze makes her fall deeper. The lyrics stating, "Life was a willow and it bent right to your wind", Swift writes a ballad to hopeless romantics around the world. In contrast to the angry breakup albums of the past, both Folklore and Evermore focus more on successful relationships or unrequited love.
Champagne Problems: The song plays over a repeating minor chord progression, setting the tone for a melancholy track. Swift sings about a romance with a traditional small-town man, and the one who she let getaway. She talks about breaking the heart of a man who was ready to propose, singing the lyrics, "Your mom's ring in your pocket… Your heart was glass, I dropped it." And the "champagne problems" the lost love created for both herself and her former lover. Swift's heartfelt lyrics and raw musicality shine through brightly. (This song is explicit; listener's discretion is advised)
Gold Rush: Gold Rush, more on point with her Reputation and Lover era, has an upbeat synthetic pop beat. Swift sings of jealousy towards a genderless person, whom she is protective of and wants all to herself. She wonders out loud, "What must it be like to grow up that beautiful?" Although lyrically interesting, it is really the production and beats that stand out in this song. (This song is explicit; listener's discretion is advised)
'Tis the Damn Season: With a folk-rock indie feel, the guitar, bass, and brass create an intimate and slow-paced tone. Swift reminisces about seeing her old highschool sweetheart in her hometown for the holidays. As in Folklore, the story is both very real and very dreamy, as though out of a fairytale. Both musically and melodically, this song is an enjoyable and nostalgic listen.
Tolerate It: With a piano and orchestral accompaniment, Swift sings about tending to her older and wiser lover's every need and attempting to win their love, who never returns her gestures. She cries, "I know my love should be celebrated, but you tolerate it." As always, her songwriting abilities shine through, however, this song was somewhat unremarkable compared to others on the album. (This song is explicit; listener's discretion is advised)
No Body, No Crime (feat. HAIM): The second this song began, I was already in love. An upbeat country-blues song, Swift's gentle voice with a slight twang is highlighted perfectly on this track. And, HAIM provides beautiful background harmonizing and echoes throughout the song, as Swift tells the folklore tale of a cheating man who killed his suspecting wife and moved in with his mistress. Although a somber topic, this song is anything but that and adds a playfulness to an otherwise mostly melancholy album.
Happiness: Happiness begins with gentle organ noises and escalates as more organs are added. Swift sings of falling in and out of love and seems to be reminding herself that she can be happy without someone in her life. As the song progresses, the internal struggle she is experiencing between feeling pained by remembering her past and trying to forget and "leave it all behind" is portrayed through the music fluctuating between loud and joyous and quiet and somber organ tones. For a 5 minute long track, Happiness is never a bore. (This song is explicit; listener's discretion is advised)
Dorothea: In this soft pop-rock song, Swift writes a ballad to her childhood friend, Dorothea. Dorothea has succeeded, with Swift singing, "A tiny screen's the only place I see you now." Swift wonders if Dorothea ever reminisces as she does about being a rambunctious kid with few cares in the world. Reviewers have speculated whether this song is about her childhood friend, Selena Gomez. This song echoes the style of early Swift albums, providing listeners with a sense of nostalgia. 
Coney Island (feat. The National): A gentle country-rock rhythm accompanies Swift and The National as they sing a tale of love, loss, and regret. The pair, Swift with her high soprano range, and The National vocalist, with his deep baritone, harmonize nicely and create a beautiful two-sided memory of unrequited love. 
Ivy: Falling under the folk genre, Ivy is a quiet yet upbeat song that references various fairy tale stories like Jack and the Beanstalk and Repunzel. She sings, "My house of stone, your ivy grows And now I'm covered in you." Although the musical track does not convey an angry or sad feeling, the lyrics tell a different story. Swift talks of a married woman who fears for her life after her husband finds her cheating. She continues a true crime theme of the album through this song. (This song is explicit; listener's discretion is advised)
Cowboy Like Me: With a country-rock beat, Swift sings of romance with a down-to-earth lover, who she claims is a "cowboy like me." The repeating chorus, while soft, draws in the listener, while the harmonic runs highlight Swift's range. Again featuring a no-name man's voice, who some speculate is Swift's boyfriend Joe Alwyn, Cowboy Like Me is an understated and powerful song. (This song is explicit; listener's discretion is advised)
Long Story Short: This soft-pop song highlights Swift's playfulness and lyricism. She sings, "Long story short, it was a bad time," which many Swifties believe is a direct address of her 2016 scandal. With a repeating and catchy chorus, Long Story Short is guaranteed to linger in your mind long after you finish listening. 
Marjorie: Again a soft-pop track, Marjorie is an ode to Swift's grandmother and actress Marjorie Finlay. With the chorus of, "What died didn't stay dead, you're alive you're alive", Swift remembers her grandmother and cries out regrets about not cherishing every moment with her. This song will bring anyone who has lost a loved one to near tears.
Closure: Closure begins with an acoustic drum beat, which is soon overshadowed by the repetitive piano scale. A tale of lost romances and breakups, Swift sings, "I don't need your closure." Although lyrically interesting, I would be lying if I didn't say this was one of my least favorite songs on the album.
Evermore (ft Bon Iver): A quiet piano that echoes the melody creates a bare yet beautiful aura in this song. Singing about wistful dreams of a lover returning to her, Evermore becomes the masterpiece it is once Bon Iver joins in halfway through this 5-minute song. The contrast of the voices, overlapping and harmonizing, creates a nostalgic and romantic feeling unmatched by most songs on the album.
Right Where You Left Me [Bonus Track]: This song, unaltered by any pitch correction or production elements, is a perfect display of Swift's raw talent. Her voice seemed far away, as if at a live performance, with only a guitar accompanying her, resonates loudly throughout the track. While at some moments she falters, it only adds to the humanizing ability this song holds.
It's Time to Go [Bonus Track]: A country song echoing those in the Taylor Swift or Fearless album brings long time fans through a wave of nostalgia. Swift belts out a story about a night in the wilderness, watching the stars while the smoke clouds her views. Again unaltered, this track displays her range and versatility of genres. 
Evermore did not disappoint. In fact, it well exceeded my expectations for a surprise album created during quarantine, especially because Folklore is a difficult album to follow. Telling stories about murder and deception, longing and loss, and developing feelings for best friends (queer people will again enjoy the same-sex romantic moments in "Dorthea" as they did with "Betty"), there is a song for everyone in this album. A conglomeration of different genres Swift explored, the only way to classify Evermore would be to title it "Alternative." Swifties young and old will enjoy her self-exploration and honesty, and I am certain we will see even more raw emotional songs from her in years to come. From listening to Taylor Swift learn and grow from the time I was a kid, it feels like she has finally found a space in the music realm that she can call home, and I am right there with her. 
About the Writer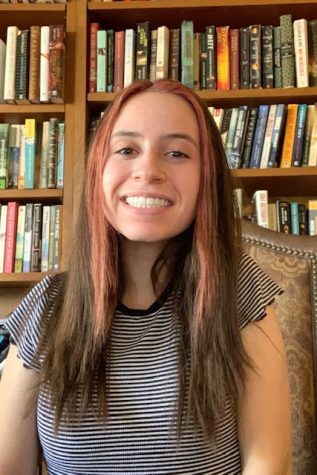 Julia Ross '21, Co-Editor-In-Chief
Julia Ross is a Senior at Albuquerque Academy. She is currently the Co-Editor-In-Chief for the Advocate and has been a member of the Advocate Staff since...