NM News Roundup for the week of 11/9-13
COVID News This Week
This week COVID 19 cases in New Mexico were pretty high. With 14 new Covid related deaths, and 1500 new cases, this brings the totals to 1158 deaths out of 59,034 cases statewide. In Bernalillo County there were 418 new cases this week. KOB 4 reported that 15.8% of the tests this week were positive. The state health department reported that 481 people are being treated for COVID-19 in the hospital. On a more positive note, 23,981 cases have been reported as recovered by the New Mexico Department of Health.
Voter Turnout and Election Results
Voter turnout in New Mexico for the recent presidential election reached 57% of eligible voters, the highest turnout since 2008, when 70% of eligible voters participated. Nationally, about 65% of eligible voters participated this year, the highest turnout for a presidential election ever.
Across New Mexico Last week elections were raging, whether it was for federal or state office. In the presidential election, Biden beat Trump 54% to 44% in the state. As far as senate races go, Ben Ray Lujan, the Democrat, beat Mark Ronchetti, the Republican, 52% to 46%. This race was a bit of a surprise, because although Ronchetti lost, it was by less of a margin then many recent senate elections. In the House of Representatives races, Deb Haaland, a democrat, won in district 1. Yvette Herrell, a Republican, won the race in the 2nd district; she beat Xochtitl Torres Small, the incumbent representative for this district right now. and Teresa Leger Fernandez, a Democrat, won the race in the 3rd district. In addition, the state legislature gained Democrats in both houses. Democrats now have a firm grips on the legislative process for the next two years.
Food Insecurity in New Mexico
Since the Covid-19 pandemic hit, the need for food relief in New Mexico has risen about 30%. The Food Depot, a food bank based in Santa Fe, has already distributed over 7.8 million pounds of food across nine counties in Northern New Mexico, and they estimate hitting 10 million pounds by the end of 2020. Bag 'N Hand Food Pantry has served anywhere between 170 and 273 families per week since March. Food banks have had to completely rethink the way to get food out to more people while complying with COVID safe restrictions. For sanitary reasons, many banks have stopped accepting donations of food, relying solely on monetary donations to serve a surplus of people. The holiday season is the busiest time of year for food banks. Traditions such as Thanksgiving and Christmas dinners have been substituted with grab-and-go meals. Increased hunger is one of the hidden costs of the pandemic for New Mexicans.
Navajo Country Hemp Wars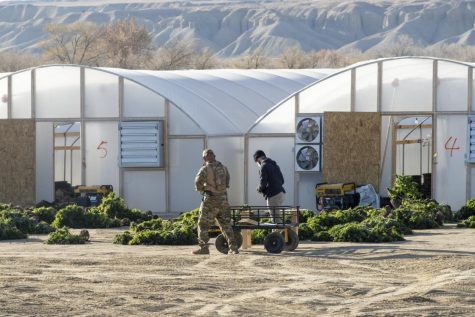 On Sept. 23, Searchlight New Mexico revealed that over 36 farms on Navajo land that claimed to cultivate hemp were actually growing high-end black-market marijuana backed by New York and California investors. Navajo police issued a restraining order and seized several thousand pounds of marijuana on Sept. 18, but some farms continued to grow. Many Navajo people have demanded that the farms be shut down and have burned multiple greenhouses. The farms also violated many labor laws, employing more than 1,000 low-income Chinese immigrants as well as young Navajo children. Reports of these workers prompted an investigation from both US Sen. Martin Heinrich and the US State Department's human trafficking unit. These investigations and a Navajo Nation lawsuit resulted in a shutdown of the network of Shiprock farms on Monday by a coalition of federal, state, and tribal law enforcement. San Juan County Sheriff Shane Ferrari said that the volume of plants removed would "knock you back in your chair."
Leave a Comment