New Mexico This Week
News roundup from around the state for the week of October 19-23
News From New Mexico for the Week of October 19-23
COVID Related News
New Mexico is seeing high COVID-19 numbers this October. On October 21st, there were 827 new cases, a new single day record, and eight new deaths. Yesterday, October 22nd, there were 669 new cards and 3 new deaths. New Mexico has now amassed 39,377 total cases and 953 COVID related deaths. Governor Lujan Grisham gave a press conference on October 20th. The slides with details regarding cases, deaths, hospital capacities, and further restrictions are here. Some of the imposed measures effective October 23rd include: all retail spaces must close by 10 PM, all state operated historical sites and museums will close, and if a business records 4 rapid responses in a two week period, the business must close for a period of 14 days. Additionally food and drink establishments can offer indoor dining operating at 25% capacity only after completing the New Mexico Safe Certification Program. Hospital Capacity wise, 2,339 of 2,872 adult beds are occupied (81%) and 432 of 604 ICU beds are occupied (71%). The Governor warns harsher restrictions will follow if the virus continues to spread at such a dangerous rate.
NM State Political News
Recent reports suggest that if Amy Coney Barret is nominated to the supreme court, a potential overturning of the affordable care act could have devastating consequences on New Mexico. In fact, one out five New Mexicans could lose health insurance altogether. In addition, New Mexico may see significant economic loss, as ACA has boosted the state's healthcare industry since 2013. Additionally, NM is seeing a significant voter turnout as about 440,000 ballots have already been cast and more seem to be on their way. Meanwhile, as the senate race continues in NM, recent polls have found that Ben Ray Lujan (Dem.) is leading his opponent, Mark Ronchetti (Rep.) Additionally, 54% of all early ballots cast in NM were by Democrats.
Environment
The climate in New Mexico this year has been hotter and drier than many years in the past, and as explained in a recent article by the Environmental Defense Fund, Governor Michelle Lujan Grisham has a plan to decrease these high temperatures. This year in Southeastern New Mexico alone, July was seven degrees hotter than normal due to raging wildfires in Santa Fe. As of October 6, three fourths of the state is still experiencing alarmingly high drought rates, and the daily temperatures are higher than they have ever been at this time of year. However, Gov. Lujan Grisham and House Speaker Brian Egolf are developing a "'comprehensive climate package' that will 'set emissions limits' a priority for the next legislative session in 2021."' This action remains extremely crucial even as the weather begins to cool in time for winter. Without a proper plan to take effect soon, New Mexico could experience twice as many extremely hot days as well as a 70% increase in drought severity.
Indian Country
This week Native American leaders raised concern over a proposal by non-tribal casinos and racetracks to open the state to Las Vegas style gambling. The leaders testified Monday at a legislative meeting, saying that allowing unlimited table games, slot machines, sports wagering and online gambling would violate standing exclusivity provisions that the tribes have with the state. In other Native news, the President of the Navajo Nation joined officials and contractors this week to conduct a site inspection of the new Navajo-Gallup Water Supply Project's Cutter Lateral Water Treatment Plant. Located in Dzil Na Oodilii, the new plant will ease the delivery of clean water to rural Navajo and Jicarilla Apache communities. The plant is a result of the two new major pipelines being built after the San Juan Water Rights Settlement occurred between the State and the Navajo Nation. Lastly, officials broke ground on what is to be New Mexico's third largest solar project on tribal land. The 50 megawatt solar field will produce enough electricity to power the equivalent of 16,000 average homes per year, and will provide power to a number of areas. Jicarilla Apache officials gathered for a ceremony before the groundbreaking, as the tribe will receive two megawatts of electricity for their partnership.
Leave a Comment
About the Contributor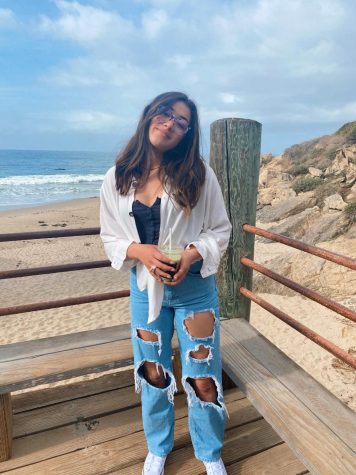 Stella Hudson '23, Social Media Editor
A senior at the Albuquerque Academy, Stella Hudson has been writing for The Advocate since the beginning of her sophomore year. Her work centers mostly...