Call Your Girlfriend: Podcast #3 for Young Women
Long-distance best-friends talking about the struggles of friendship
Alright Ladies, sometimes we just need to put our phones down and listen to a good podcast. Yes, there are more podcasts than just the boring NPR and BBC kind. Call Your Girlfriend is a podcast run by long-distance best friends Aminatou Sow and Ann Friedman. Their podcast focuses on the importance of adult friendship and communication. They make you feel like you're listening to an everyday conversation between two best friends unafraid to speak their minds.
Aminatou is a digital strategist, writer, influencer, and co-founder of Tech LadyMafia. Forbes named her one of the people on the 30 under 30 list back in 2014 for tech. Ann is a journalist & contributor for the NYT, The Los Angeles Times, and The GentleWoman. Although Aminatou lives in Brooklyn and Ann in Los Angeles, they still come together to talk about adult friendships and are both unapologetic feminists. I appreciate their focus on the importance of communication; they are not afraid to speak their minds.
Call Your Girlfriend is a very popular podcast that has been reviewed by well-known sources such as Entertainment Weekly, Los Angeles Magazine, and Elle UK. "Put it on your speed dial" -Entertainment Weekly,  "Like eavesdropping on a witty gabfest that covers everything from midterm elections to female Viagra."-Los Angeles Magazine, and "Download immediately."- Elle UK. 
 Sow and Friedman rely heavily on the Shine Theory, long-term investment to make someone their best self, and to try and help everyone you meet during your career. It is the idea of giving your full-self or attention to your friendships. It's better to be friends than enemies and to collaborate instead of competing. Aminatou and Ann say, "I don't shine if you don't shine," exemplifying the Shine Theory. They start each episode with their catchy Call Your Girlfriend song in the background while they introduce the episode. In one of their recent episodes, "Breakdowns: Summer of Friendship #7," they talk about the struggles of estrangement in long-distance adult friendships, and the importance of therapy to strengthen those relationships. Aminatou and Ann bring up how they ended up going to therapy after hitting a rough patch in their relationship, and the multitude of ways a friendship can go downhill. They discuss the importance of professional support and how a therapist can help navigate these rough patches. I love how they talk about their own experiences, making the podcast more relatable for their audience. If you're interested, make sure to subscribe to Call Your Girlfriend, and check out their book, Big Friendship: How We Keep Each Other Close to learn more about the radical-life changing power of a good friendship.
You can listen to any of these podcasts on Youtube, Apple Podcasts, Spotify, or anywhere you find your podcasts.
About the Contributor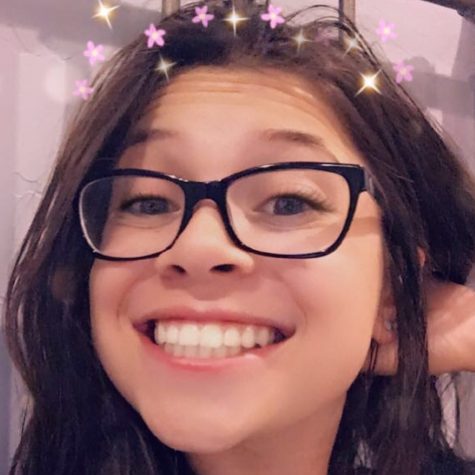 Ella Markman '22, 6th & 7th Grade Section Editor
Ella Markman is a junior at Albuquerque Academy and recently joined the advocate staff. She takes inspiration for her writing from her father, who has...