Finally!
Sports and extra-curricular activities make a slow but steady return.
Some of your favorite sports, along with clubs and recreational activities, including hiking in Bear Canyon and using the new bike park, started conducting in-person meetings and practices on Sept.16. Students will soon be able to participate in some of their favorite school activities, with a couple of changes. Mask wearing, social distancing, practice groups, and temperature checks are just some of the measures the athletic department has enacted to ensure the safety and well being of both coaches and athletes. Cross Country (XC), Volleyball, and Golf are the first of these sports to resume on-campus, in person practices, with pre-seasons beginning Wednesday Sept. 16th, and official season practices starting October 5th. More sports are soon to follow.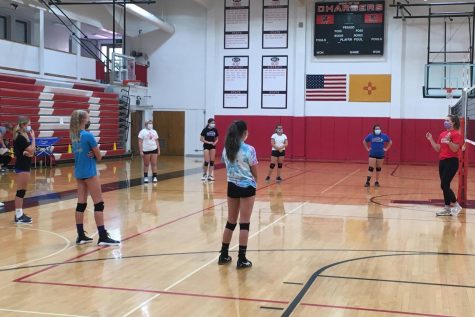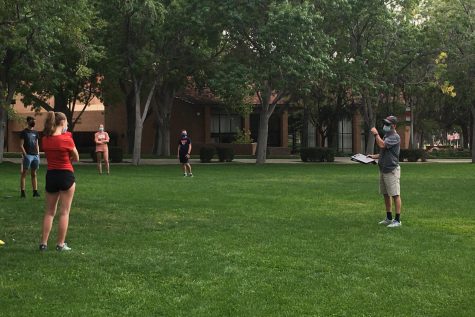 "I think this is going to be a safe reopening and I'm looking forward to it," said Cross Country coach Adam Kedge. "Academy [has] always been known to have dedicated and loyal athletes. For the majority of students that are dedicated and loyal, I don't think it's going to affect them very much having some ups and downs." Athletes returning to practice should expect to; wear a mask at all times, exercise social distancing, have their temperature taken, have equipment and play areas sterilized before and after use, and be assigned to a group of five with whom they will train. Along with these health and safety changes, the Academy has announced that it will be following the new, yearlong, sports schedule as posted by the state of New Mexico in partnership with the NMAA (New Mexico Athletics Association). This plan allows three sports per season and scheduled start and end dates for in season practices.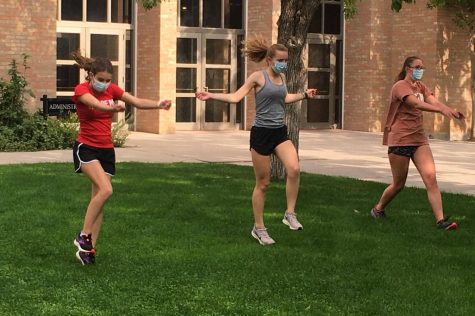 But it isn't just practices being modified. Local and state competitions are being altered to limit the number of athletes participating. Only five students from each team may participate at a time. Due to this restriction the volleyball team will not be having games as of now, though the athletics department is hopeful that this will change sometime in the near future, as Covid cases continue to decrease. Restrictions like these have also impacted these newly reopened sports outside of competition. "We have to make cuts this year. We can only have 25 girls and 25 guys on the team," said Katie Patton '23, XC athlete. "I feel like it might be a little more competitive this year, for sure." "Normally we have almost 200 [students] running," said Taryn Bachis, Girls Basketball coach and Athletic Director.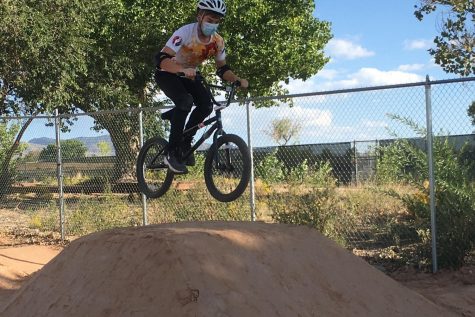 Despite these restrictions, both staff and students seem excited about the reopening. The Academy administration has repeatedly shown its ability to keep students safe in times of crisis while still allowing them to participate in the activities they love. New protocols such as mask wearing and social distancing, as well as adherence to the new statewide sports schedule are shaping this up to be a safe and successful reopening of the sports season. "[The reopening] is going to boost morale," Kedge said. "It's going to strengthen the connections between students and adults, and it's going to redevelop our sense of pride in our school and in each other."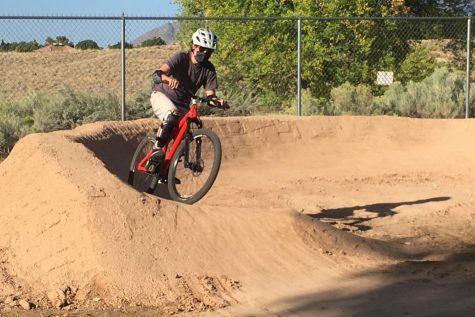 Along with these sports the Academy Administration in partnership with the Experiential Education department have organized several other fun and engaging on campus activities. These activities include scheduled sessions at the newly constructed campus Bike Park as well as day hikes into the Academy's Bear Canyon property. "It's just a chance to get out in nature, you know, which I know a lot of people right now are a bit starved for," said Sarah Councell, Chair of Experiential Education and Bear Canyon Caretaker. Once again safety is the Academy's number one priority with mask wearing, social distancing, and sanitization measures in place at all events, as well as temperature and wellness checks. Students and parents will provide their own transportation to and from Bear Canyon, and biking equipment will be sterilized after each use. Accessibility is another of the Academy's priorities, so in order to make the bike park more accessible to students, the Academy has worked with local business Fat Tire Cycles to procure 8 mountain bikes and one BMX (Bicycle Motor Cross) bicycle, along with 12 sets of protective gear including helmets and protective pads. In accordance with this mission the EX-ED department has opened the bike park to faculty and staff, and has set up scheduled event to promote female identifying and gender queer student participation. Students can sign up for scheduled Hikes events and sessions on the extracurricular events sign up page, or by contacting the Experiential Ed department. According to Councell, "It's a great opportunity for students to see each other, to have valuable communication, and spend time together"
Leave a Comment