The Impeachment Hearings Go Public
On Wednesday, Nov. 14, the official public hearings in the impeachment process of President Trump began. One of the most prominent witnesses was William B. Taylor Jr., the American diplomat who became the top state department official in Ukraine after Marie Yovanovitch was recalled by the president. Taylor explained that many people working under Trump were trying to carry out a deal in which they compelled the Ukrainian government to investigate Trump's Democratic opponent, Joe Biden, in exchange for promised and allotted US military aid. Trump withheld aid from Ukraine in order to investigate his political rivals. According to Taylor, he did this "for no good policy reason, no good substantive reason, no good national security reason, [and it] is wrong." Additionally, Taylor introduced new information that he had only learned after his closed-door testimony. He learned that David Holmes, one of his aides, had  overheard a conversation between Gordon Sondland and President Trump discussing the alleged illegal investigations and how far along they were. Taylor's testimony prompted a closed-door deposition of David Holms, who will testify publicly this week.
"
no good policy reason, no good substantive reason, no good national security reason, [and it] is wrong."
— Ambassador William Taylor
Along with Ambassador Taylor,  George Kent, another American diplomat and currently the Deputy Assistant Secretary of State for European and Eurasian Affairs, testified in Wednesday's hearings. He said that some Americans "allied themselves with corrupt Ukrainians in pursuit of private agendas. [They] launch[ed] attacks on dedicated public servants advancing U.S. interests in Ukraine." During the rest of his testimony, Kent alleged that President Trump's team used his power in working to advance the president's personal interests rather than that of the nation.
On Friday, Nov. 15, Marie Yovanovich testified for 5 hours. While she has no first hand knowledge of actions by Trump Administration officials, She offered compelling testimony about being the victim of a smear campaign designed to oust her from her position. During this testimony, the president tweeted about former Ambassador Yovanovitch, attacking her competence, saying, "Everywhere Marie Yovanovitch went turned bad. She started off in Somalia, how did that go? Then fast forward to Ukraine, where the new Ukrainian President spoke unfavorably about her in my second phone call with him. It is a U.S. President's absolute right to appoint ambassadors."  While ambassadors serve at the pleasure of the president, it is nevertheless unusual for a president to attack an agent of his own government in a public manner. During the hearing, Yovanovitch indicated that on numerous occasions, the president and his people attacked and threatened her. According to the New York Times, she also spoke about how she found out that President Trump had "disparaged her" during the infamous July 25 phone call with the Ukrainian president that sparked the impeachment investigation . President Trump  told President Volodymyr Zelenskyy that she was "bad news" and was "going to go through some things." As a 33-year American diplomat with the State Department, she was devastated to hear such damning remarks from the United States president to another world leader. It appears that President Trump removed her from her post because she was the person standing in the way of completing his desired political investigations and dealings in Ukraine. Despite, or perhaps because of the president's actions, both democrats and republicans gave her a standing ovation for her courageous and frank testimony, and her dedicated service to the country.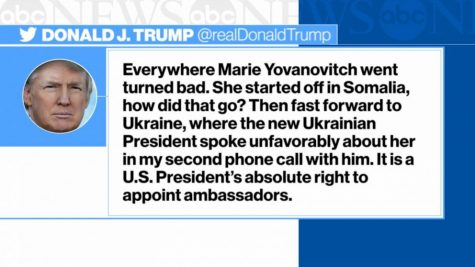 There will be at least another week of the public impeachment hearings. In this upcoming week, we should see some other new developments from more key witnesses. One of the witnesses is Lt. Col. Alexander Vindman, a member of the National Security Council, who listened in on the July 25 call that started the investigation. Along with him will be Jennifer Williams, an aide to Vice-President Pence who was also listening into the July phone call, and  Gordon Sondland, the ambassador who spoke with the president at a lunch meeting in Kiev with David Holmes, part of the crucial story mentioned twice in testimonies. Fiona Hill will also likely be testifying this week. She was involved in Russian and European foreign affairs while working as a part of the National Security Council and, most notably, spoke out about John Bolton's concerns over Ukraine. Stay tuned as investigations wind on.