Shannon Porter: skating towards 2018
Imagine being in the middle of a large sea of ice. Hundreds of eyes  focus on one point in the rink: you. They wait to see what you have in store for the judges and the audience. As the music starts, you begin to move. Speeding down the ice, the cold wind races past your face. You jump and spin—one, two, three times—until finally the blades of your skates scrape the surface of the ice. You breathe in the chilly air that makes your lungs tingle, fix your posture, and look up to the spectators, knowing that you've nailed it.
Shannon Porter '19 is a nationally ranked, aspiring Olympic figure skater who is known for her many tremendous accomplishments and the titles she holds on the ice. Shannon has been skating since she started at 18 months old in a little outdoor rink in Beaver Creek, Colo. "I don't remember being on the ice when I was that young, but all I remember is that I had a lot of fun," Porter said. By the time she was six years old, she was taking private lessons six days a week.
Porter currently practices at the Outpost Ice Area in Albuquerque under the wing of coach Barb Shepperson. In addition, she also travels to Colorado Springs to train at the Olympic Training Center with coach Eddie Shipstad. "I really love the training aspect of skating. Getting to go out each day and throw myself into the air and rotate three and a half times … not everyone gets to say that they can do that, you know?" Porter said. She trains year-round and competes in the Junior Ladies Free Skate and Short Program, where her favorite routine in the Novice Short at the Colorado Springs Invitational was when she skated to Michael Buble's  "Feeling Good." One of Shannon's biggest motivations is her faith in God, and she believes that he will help her in all her aspects of her training and performing.  In addition, her mother, Trish Porter, is one of her biggest supporters: she does all of the planning and organization that goes into making Shannon's dreams of being an Olympian come true.
With the combination of a vigorous academic curriculum and her intense practices, Porter believes in the importance of balance. She says that when she is at school, she is at school, and likewise, when she is at practice, she is at practice. In other words, she tries to keep everything she does separate and give all her individual attention to whatever activity she is doing at the time, whether that be hanging out with friends or practicing her favorite move, a triple loop. "I believe that balance is very important in my life … I would be unhappy without it," she said.
She recently competed in the 2016 Prudential U.S. Figure Skating Nationals in St. Paul, Minn., where she placed eighth in the entire nation in her category. This makes her the first New Mexican to qualify for the free skate event. "Competing is another element of skating that I enjoy. It is a time for me to really try to relax and let everyone see my gift. Once I am taking a bow after a clean skate, those are the best moments in skating," Porter said. Now, she strives to reach her goals and make it to the 2018 Winter Olympics in South Korea. In addition, Shannon wants to be a national champion and make her mark on the skating world. "I want people to remember me and who I was and say 'Oh yeah, I know Shannon Porter; she was a really great skater,'" she said.
Porter credits skating for making her into the person that she is today. Skating is a chance for her to be free and do what she really loves, though she often has to get outside her comfort zone to reach success. "When you go out in competition and skate as hard as you have been training, there is no other feeling like it, even if you aren't placed at the top; no one but you yourself truly understands that feeling," she said. "Skating has helped form me into a person that has a strong work ethic and a person who has had experiences and feelings that many people in the world will never ever experience."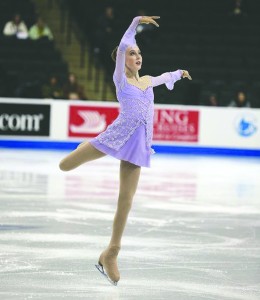 Leave a Comment