Chocolate and Coffee: The Perfect Combination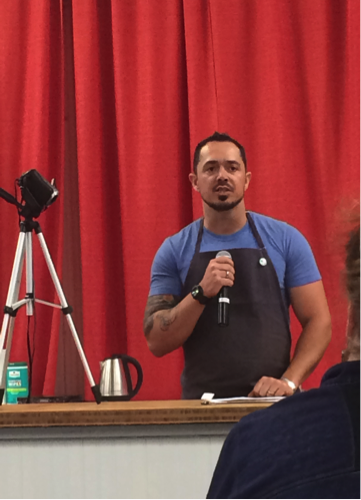 Jessica Allen
April 26, 2018
Hang on for a minute...we're trying to find some more stories you might like.
Every year, the city of Albuquerque hosts its annual Southwest Chocolate and Coffee Fest, where more than 120 vendors come together with delicious treats and beverages. The event is the largest of its kind in the nation, bringing in about 18,000 people each year. This year, the festival was hosted from Mar. 17 to 18 from 10 a.m. to 6 p.m. During this event, visitors were able to explore the large array of booths, as well as taste complementary samples provided by the vendors and purchase their products.   While sampling these delicacies, guests could listen to live bands and watch various speeches and baking competitions, which starred the vendors themselves. Baking competitions were also available for the guests to participate in, as they were able to bring their creations to the event to be judged for a variety of cash prizes. Vincent LaVolpa, owner of Helix Coffee, gave a presentation detailing the history of coffee and its spread from Ethiopia, its place of origin. When asked about how his passion for coffee emerged, LaVolpa said, "I wanted to have a job in the morning, so I did not have to work late at night, and 83 percent of people are coffee drinkers. I started working in a coffee truck, which evolved into the yoga and coffee shop I have today." LaVolpa likes to use the Chocolate and Coffee Fest as a way to bring business to his shop."It's a big marketing campaign for us.  All these people bring coffee and it is a great chance to get in front of 20,000 people," LaVolpa said.
In addition to Albuquerque vendors, renowned crafters such as New Yorker Oliver Kita, one of the top chocolatiers in the nation, came to present their creations at the festival. Many local vendors also come to the event as a way to spread New Mexican culture with unique foods such as chile-flavored chocolate and piñon coffee. The Southwest Chocolate and Coffee Fest is a great opportunity to explore what New Mexico has to offer as well as the fascinating methods vendors use to create their products.