AA Should Not Have Dropped the Mask Mandate
On Thursday, February 17, Governor Michelle Lujan Grisham made an announcement that took the state by surprise: New Mexico was lifting its indoor mask mandate immediately. The decision, according to the governor, was enacted after seeing a 37% decrease in hospitalizations since January. It was now up to individual schools and districts to make their own decisions on masking. Albuquerque Academy quickly sent out a message saying the school would now be mask-optional for everyone on campus. This was the wrong decision.
The sheer unpredictability of the pandemic shows we aren't ready to enact sweeping changes. Dr. David Scrase, the Acting Secretary of the Department of Health, said, "The state still is in hot water," and that he wouldn't predict when the state's mandate would be lifted, only a week before the decision. He also pointed to a surge of kids being hospitalized with omicron. Further, COVID Act Now, an independent coalition of researchers that shares data about COVID-19 trends in the U.S., rates New Mexico as "high risk."
And the new subvariant of omicron, called BA.2, is only adding to the unease. So far, BA.2 has been shown to be at least 30% more transmissible than the original omicron variant and can reinfect people with a previous COVID infection. It now accounts for about 35% of new COVID-19 cases worldwide, a 14% jump from just the week before. In the United States, while BA.2 currently makes up about 4% of new cases, it will almost certainly continue to spread quickly throughout the country. The new variant is also even more effective at evading the protection of vaccines than omicron, meaning it is a serious threat to even highly protected communities like ours, and this will help the virus in possibly triggering yet another wave of infections. And while it is true that Bernalillo County is classified as "low risk" by the CDC, the level of community transmission in the state remains "substantial."
The week the mandate was lifted, hospitals in the state were just starting to see a reprieve from the unrelenting influx of COVID patients. Now, while hospitalizations are declining, we should do everything we can, including wearing masks, to stop them from spiking again so New Mexicans with other medical concerns can get the elective care they deserve before it's too late.
The benefits of wearing a mask far outweigh the supposed benefits of removing them. Wearing a mask helps protect you. But it's much bigger than that. By doing your part, you can help keep your school, your friends and family, and your state safe. The school should remember that everyone at Albuquerque Academy is part of a greater community. Be it younger siblings, who are too young to get the vaccine, or grandparents and the immunocompromised, many of us go home to people who are at higher risk for getting the virus from others, increasing their risk of becoming severely ill or being hospitalized.
It is apparent that the school must act now to keep everyone safe.
View Comments (3)
About the Contributor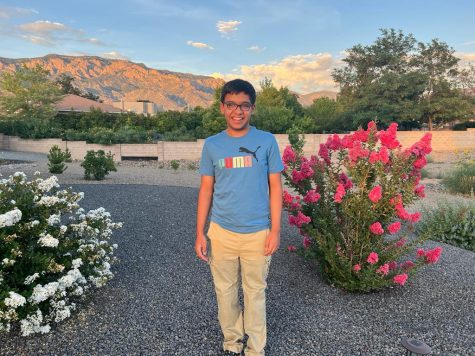 Uzair Hammad '24, Editor in Chief
Uzair Hammad '24 has been a writer and editor for The Advocate for four years, finally ascending to the fabled position of editor-in-chief. In his free...