Art and Artist
How do we relate to artwork if we have problems with the artist?
All of us are consumers of the arts, whether it's watching your favorite movies, listening to your favorite songs, or reading your favorite books. What do we do, however, when enjoying this art contradicts our morals? Artists sometimes test our loyalty by committing seemingly indefensible acts. It's hard to know when and how to react when that happens to an artist whose work you love.
Following the #metoo movement in the mid-2000s and 2010s, many big names of Hollywood were exposed for sexual assault and harasment. Harvey Weinstein, the founder of Miramax television company, was convicted for sexual abuse and rape. Weinstein was sentenced to over 20 years in prison while Miramax went on without him.
Weinstein also produced movies such as Scream, Kill Bill, and dozens of other films. With his horrendous actions exposed, it's hard to fathom supporting Weinstein and watching his movies. However, boycotting his movies doesn't only affect him. Movies take many people to write, film, and produce them, most of the creativity coming from other people involved, not just star actors.
The viewer's decision to continue supporting the artist comes down to their personal ethics. They have to ask themselves; is my protest against this actor going to outweigh the value of watching this movie?
As a child, I grew up reading and watching all of the Harry Potter books movies. The fantastic tales of three young wizards fighting off "he who shall not be named" are forever engraved into my early memory. Looking back, however, I realize the little greedy goblins with big noses who run the banks resemble many antisemitic caricatures. Still, I haven't stopped enjoying the books and movies, even though I recognize the tropes that offensively portray my ethnicity and religion. For me, knowing there are problematic characters doesn't outweigh the joy and nostalgia the series brings me.
Even when artists themselves have done something problematic, that doesn't necessarily mean their art is inherently problematic. It's important to acknowledge that not all singers write their own lyrics, and not all actors write their own lines. So, perhaps their songs or movies aren't reflecting the offensive ideals we are skeptical about.
In 2018, JK Rowling, the author of the Harry Potter series, made transphobic comments. Although her transphobia isn't necessarily portrayed in her work, her credibility was still tarnished.
Walt Disney, on the other hand, created his Disney empire from racist and anti-semitic cartoons. Although sometimes subtle, many Disney movies today contain harmful depictions of stereotypes, including Aladdin, Pocahontas, and Mulan, as well as Tangled, Dumbo, and many other popular films. Although gaining a primary success with these films, the most current Disney movies have improved, with better representation such as in their newest film Encanto. In fact, the company has grown far past Walt Disney after his death in 1966.
Recognizing that celebrities are people who can evolve, and looking at their actions with some sense of compassion can prove to be a beneficial skill. Kanye West, also known as Ye, is a rapper, fashion designer, producer, and perhaps one of the most influential celebrities of the era. He also struggles with Bipolar Disorder, something he has been open to his fans about. In Kanye's 2018 album "Ye," he expresses how his mental illnesses have affected his life and his relationships with his family. His vulnerability and openness allow many of his fans to relate to him, and feel connected to his struggles themselves. So, when he states out of pocket opinions such as how he is God's vessel or how he doesn't read, his supporters are more likely to empathize with him rather than immediately invalidating him.
Also in 2009, Kanye interrupted the acceptance speech of Taylor Swift, another popular musical artist, at the VMA awards. As the story of that night unraveled, Kanye was revealed to be heavily intoxicated: he was spotted with a rapidly emptying bottle of Hennessy, and clearly appeared to be undergoing some sort of mental stress or breakdown. Although this incident created much controversy because of Kanye's expression of his hardships, many of his supporters were motivated to search deeper into the cause of his actions. His latest 2021 album, Donda was named after the death of Kanye's mother in 2007. Once again we see the complexity of Kanye West's emotions surrounding numerous struggles of his life, making himself much more understandable, especially to his mass of admirers.
In the end, deciding whether or not an artist's work is worthy of support is subjective, but it's important to be critical when making your decision. Holding people, especially those in power, accountable is important in creating an inclusive society, and consumers should make their decisions regardless of the influence of the media. However, good art is precious, and making hasty decisions to discredit the art can be at the loss of the consumer.
Leave a Comment
About the Contributors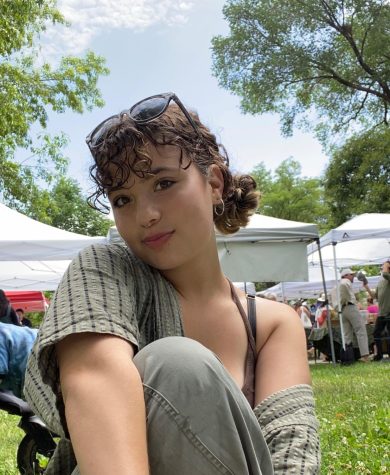 Lily Ma'ayan '24, 7th Grade Editor
Lily, or Lilith, '24 is the Advocate's 7th-grade editor, working with our youngest writers and artists. In 11th grade, she is a class officer who, along...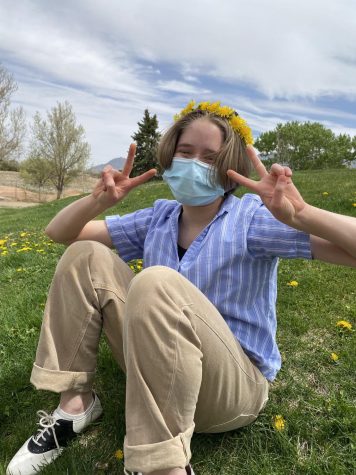 Haley Pedersen '25, Graphics Editor
Haley '25 is the Advocate's Graphic Art Editor. Their overall artist career sprouted at a young age from their various dragon sketches and drawings,...