PokeLulu Doesn't Disappoint
Arriving back to a new normal, my family and I poked our heads into Pokelulu ready to do what we enjoy most: trying out food, and we have been back many times since.
The clean and friendly atmosphere brings a welcoming "Aloha!" to all the customers who walk through the door. Located at 5901 Wyoming NE in Albuquerque, it is within walking distance of Albuquerque Academy (roughly a mile from campus). Poke is a traditional Hawaiian dish typically made of diced raw fish, rice, toppings, and sauce; Pokelulu serves this in two forms: bowls and burritos. You can choose bowls or burritos with signature styles of preselected ingredients, or choose your own components. Bowls include a base with options of basic white rice, their specialty purple rice, and a kale salad, while burritos are served with white rice on nori. Dishes also include many different options for fish, flavor/sauce, and toppings. Pokelulu's signature purple rice is a combination of black and white rice for high protein. Fish proteins include chicken and tofu along with classics like salmon and tuna. There are also many sauces and toppings to choose from, even including green chile! There is also a small selection of canned and bottled drinks to choose from in the restaurant, such as Hawiann Maid, coconut water, and tea .
My family and I were excited to try PokeLulu, and we enjoyed it. I got the Double Rainbow bowl, consisting of nori strips, shrimp tossed in spicy mayo, krab meat, mango, pineapple, marinated cucumbers, edamame, and asian slaw. My parents' bowls were the Tsunami Salad and the Big Kahuna which includes just a little bit of everything. I found all of their food to be clean, fresh, flavorful, and easy to eat and enjoy. Although I didn't find many ingredients to be particularly outstanding, their purple rice is a must have, with it's fun color, and taste similar to white rice, and I also recommend trying out the maui onion, asian slaw, and adding crunchy onion for some interesting texture difference. My family and I found the price to be very reasonable for the high quality and prepared products. In typical poke fashion the process of choosing your food is quick and easy. Friendly staff was just an ask away, eager to help you with your bowl or burrito creation.
For eating, there's a small selection of indoor seating with 2-person booths, and two small outdoor tables. Despite this, there is an option to order online.Overall PokeLulu is a great option for a quick bite to eat around AA, and is fantastic tasting poke and ingredients for New Mexico, so if you haven't already, head on in!
PokeLulu is located in the Northtowne Plaza near Whole Foods.
View Comments(1)
About the Contributor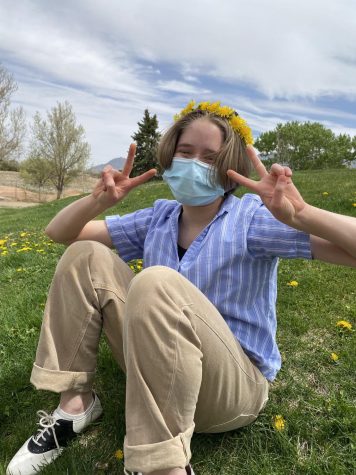 Haley Pedersen '25, Graphics Editor
Haley '25 is the Advocate's Graphic Art Editor. Their overall artist career sprouted at a young age from their various dragon sketches and drawings,...