A Thrilling Battle Nears Its End
Formula 1: The Greatest Thrill on Wheels
The fastest race cars speeding around the most demanding tracks with speeds well above two hundred miles an hour, pit stops (changing old tires to new ones) that are less than two seconds long, enthralling races in twenty-one countries spanning five different continents, hundreds of thousands of fans screaming their hearts out for over two hours, the greatest, most intense rivalry that the sport has ever seen, and split-second decisions that can either give you the win or send you to the back of the pack; what's not to love about Formula 1 racing?
The Title Battle
This year has been one of the most special, engrossing, epic, and dramatic seasons in the history of the Formula 1 sport since it features a David-vs.-Goliath-style fight for the championship title. The Goliath is Sir Lewis Hamilton, an accurate, determined, consistent driver. He is the seven-time defending world champion, holding too many records in Formula One to count; his team, Mercedes, has been dominating the sport since 2014. Red Bull, who spent six years in the background as the runners-up to Mercedes, have staged a determined comeback, developing a car that can match Mercedes' speed. Steering the car is the stunning, young Dutch wunderkind, Max Verstappen. Verstappen and Hamilton have finished on the podium (or taken each other out of the race as a result of a crash) in almost every single Grand Prix this season. Last race, in Qatar, their pace was two to four seconds faster per lap than nearly every other driver! These two drivers are so close in the championship that the tension in Formula One has never been greater.
Intense Crashes
Verstappen and Hamilton have been battling it out, wheel to wheel, since the first race when Verstappen finished less than a second behind Hamilton. On a few occasions, Verstappen and Hamilton have gotten more than a bit too close. In the British Grand Prix, Hamilton's home race, both drivers started on the front row and raced quite aggressively through the first lap. When approaching Copse Corner, which is taken at speeds above 180 miles per hour in the race, both drivers refused to yield ground to the other, resulting in Verstappen spinning off the track and careening into the barriers with a 51 G impact.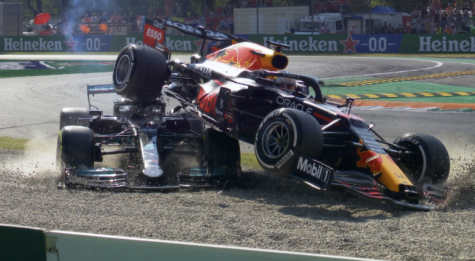 He was later admitted to the hospital to check for concussions; Hamilton was given a 5-second time penalty for this particular crash, but it was lenient enough that Hamilton went on to win the race. Because racing incidents between Verstappen and Hamilton are quite complex, they require a lot of analysis to determine who really was at fault (if anyone). Another particularly horrifying crash was in Monza when Hamilton might have been crushed if his "halo" – which protects the driver's head, along with the helmet – didn't save him. Verstappen was penalized harshly for this incident. All of these incidents have only added intensity to the rivalry – each crash only results in more aggressive, punchy, unrelenting, and audacious driving from both title contenders.
Who will win?
This chaotic season is now drawing to a close – with only two races left, one in Saudi Arabia on December 5th and the grand finale in Abu Dhabi on December 12th; someone has to win the title! 
Let's look at the statistics to get an idea of who might win: Verstappen has the lead by eight points right now, leading the championship for more than a month. But don't let that deceive you. Hamilton's recent pace, such as in Qatar, has been completely off the charts. This is due to his new internal combustion engine, among other factors. Hamilton is also a demon when it comes to straight line speed, whereas Verstappen is more efficient in the slower corners – and the two remaining circuits have a lot of straights and only a few slow corners! The lead has changed five times over the course of the season, so it can easily change again.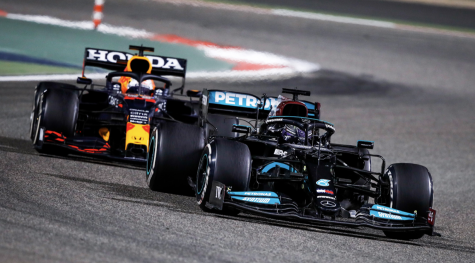 The Championship Prediction
Based on these facts and what I've seen from the previous few Grand Prix, I'll make my title prediction: Hamilton is going to win the championship by a slim margin – less than five points – in Abu Dhabi, despite Verstappen's current advantage. Tune in to watch the two remaining Grand Prix and find out how this championship concludes! What are your predictions for who will win the championship? I'll be looking forward to reading your takes on this heroic fight in the comments section below.
Leave a Comment