House Passes Build Back Better Act
On November 19, the U.S. House of Representatives passed the historic and transformative 1.85 trillion-dollar Build Back Better act, with scores of funding for Medicare expansion, universal pre-k, childcare expansion, climate crisis prevention, immigration reform, housing equity, public safety, and more.
House Speaker Nancy Pelosi, a Democrat from California, happily announced the 220-213 vote Friday morning after an overnight house session that started Thursday afternoon. Every Democrat voted for the bill except for one of the most conservative Democrats in the House, Jared Golden of Maine. Every Republican opposed the bill, including Minority Leader Kevin McCarthy of California, who gave a meandering and repetitive eight and a half hour speech in an unsuccessful attempt to stall the vote. The bill now heads to the United States Senate, where it faces an uncertain fate, with the most Conservative Democratic Senator, Joe Manchin of West Virginia expressing reservations. Manchin is voicing deep concerns about the climate provisions in the bill, which would have large effects on his coal-producing state. Manchin has also expressed concerns over inflationary pressures and the effects of medicare expansion, which he has claimed would contribute to its "insolvency." However, even with all of these concerns, Manchin has reiterated his desire to make President Joe Biden successful, which would include the passage of the bill. Manchin also signaled his approval of Senate Majority Leader Chuck Schumer of New York's goal to get the bill to the President's desk before Christmas, though Machin dodged a question asking if he supported the bill as of now.
With trillions of dollars within the bill's many pages, its approval could mean the transformation of millions of American lives. The bill would help people across the U.S., including immigrants fearing deportations, seniors struggling to get hearing aids, parents struggling to afford childcare, coastal communities at risk due to the climate crisis, children falling behind because of missing preschool, those suffering from diabetes and unable to afford insulin, members of communities suffering from gun violence, and students at Historically Black Colleges and Universities. All of these programs have been paid for by increasing taxes on the wealthy and large corporations, a roll-back of the Trump tax cuts for the rich passed four years earlier.
The bill was third in a series of marquee bills proposed by the President in his early days in office, alongside the COVID-19 relief-related American Rescue Plan and a monumental infrastructure bill, both of which have already been passed by both houses of Congress and signed into law.
Leave a Comment
About the Contributor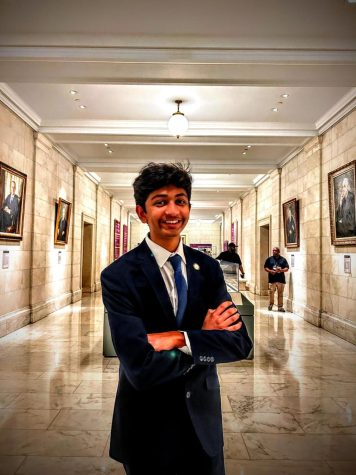 Abhishek Narahari '24, News Co-Editor
Abhishek is a deeply engaged member of the Albuquerque Academy community, part of several government and politics-focused clubs and activities. For the...