Women's Soccer Rocked by Sexual Assault
Content Warning: This article discusses sexual assault.
On September 30, 2021, The Athletic published the groundbreaking and heart-wrenching tale of two women who suffered from an institutional failure to protect them. The article explains that Sinead Farrelly and Maleana Shim, professional soccer players in the National Women's Soccer League (NWSL), were sexually assaulted by coach Paul Riley during their professional careers. When confronted by Shim, the NWSL did little to investigate, fired Riley only to rehire him the next season, and took no significant action toward preventing similar incidents until a movement among players forced change. So how did a multi-million dollar industry manage to hide its true story? And why did it take a nation-wide scandal to put a policy in place for protecting players?
Sinead Farrelly played for coach Paul Riley on the Philadelphia Independence in 2010 and 2011. Here, Riley maintained a powerful influence over his players, keeping them locked in a cycle of emotional abuse. In Farrelly's case, Riley would change his opinion on her daily, making her feel special and talented one moment, and publicly humiliating and ridiculing her the next. Riley's power to turn his affection for her on and off influenced Farrelly's self-esteem as well as her career decisions. In 2011 she declined an invitation from the U.S. soccer team to the final World Cup training camp after Riley shamed her for being disloyal to his team.
One night after the Independence suffered a crushing defeat at the hands of the Western New York Flash, Riley coerced Farrelly into having sex with him. When she woke up in the morning, Riley told her "we're taking this to our graves."
As much as Farrelly tried to forget that night, Riley kept it alive. He continuously flirted with her despite how uncomfortable it would make her. He persistently asked her about her sexuality and even sent her an image of him wearing only compression shorts. Riley coerced Farrelly into having sex with him again, this time involving another player in the assault. The players never spoke of it. Farrelly explains: "We never talked about it. Nothing was ever said."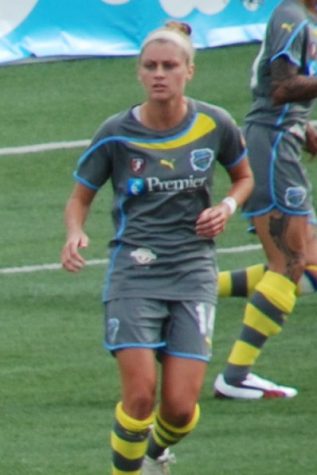 Riley was a central figure in Farrelly's career and she felt subject to his seemingly unrestrained power within the league. She worried that if she angered him she might lose playing time, get traded, or lose career opportunities outside of the league. He also helped her land a spot on her dream team: the Portland Thorns. She felt entirely under his control.
In Oregon, Meleana Shim was preparing for the 2014 season, playing for the Portland Thorns under new head coach: Riley. The Thorns posed a new circumstance for Riley; n 2014 the roster showcased some of the biggest names in women's soccer, including Tobin Heath and Alex Morgan. These players didn't owe their careers to him, so Riley turned his attention to the outliers—those at the outskirts of the team—including Shim.
He would comment on players' sexuality, telling Farrelly that she was "too hot to be a lesbian." Shim and Morgan were in a relationship at the time and Farrelly had begun dating a fellow teammate. Though his comments made both women uncomfortable, they felt they could do little about it. They never felt entirely safe from him.
Bunking together on a road trip, Shim and Farrelly ended up discussing what was happening with Riley. Farrelly recalls: "I was terrified for her and wanted to protect her. I was terrified of it being so close to the secret that I was taking to the grave that I had stuffed down to this point," Farrelly said. Then Shim showed Farrelly the picture he had recently sent her; it was the same thing he had sent Farrelly: him in his compression shorts.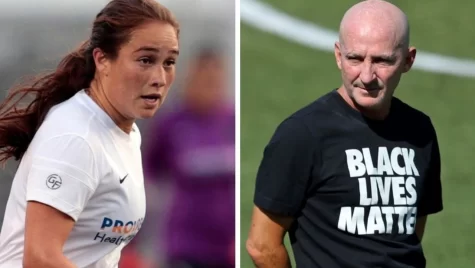 Farrelly did not share her own experiences with Shim at that time. Nonetheless, she became determined to protect Shim. Frightened and trapped, Shim began avoiding ever being alone with Riley.
With the help of her partner, professional soccer player Alex Morgan, Shim began searching for a way to blow the whistle without compromising her career. They searched, but it seemed there was no way to make the complaint without revealing Shim's identity.
"
[he committed] no unlawful activity, but…Mr. Riley had violated our policies. As a result, we chose not to renew his contract.
— NWSL League Statement
Towards the end of the 2016 season, Shim began writing an email to send to multiple contacts within the Thorns' management. After receiving vague responses, the team conducted a brief investigation into Shim's claims, announcing in September that Paul Riley would not be coaching the team in the 2017 season. He was placed on administrative leave and an investigation began—the conclusion of which determined there had been "no unlawful activity, but that Mr. Riley had violated our policies. As a result, we chose not to renew his contract."
One month later Farrelly was traded to the Boston Breakers with no apparent reason. And in February, 2016, the Western New York Flash announced their new head coach: Paul Riley.
Farrelly and Shim both quietly exited the sport, and by the start of the 2021 season, Riley was head coach of the North Carolina Courage. Farrelly eventually did tell Shim of her past with Riley, and their shared experiences began a long process of revealing a corrupt system.
"My first reaction was: Holy shit. This all makes sense. This guy has a pattern. Holy shit. He's still coaching in the league. We have to do something," said Shim.
Shim, Farrelly, and Morgan began asking the question: why was there no policy in place to protect players from abuse like this? Wherever they looked, there was nothing there to protect them: no policy, no guidelines, no contract.
Professional women's soccer had tried and failed to gain traction in the U.S. for decades. As the third league to emerge in the U.S., the NWSL found itself constantly just one scandal away from failure. The result: a persistent culture of silence. Players have long felt they could not speak up about mistreatment or corruption within the league. Morgan states, "There definitely has been this shared idea that because two leagues have folded in the past, the NWSL is kind of the last hope for a women's soccer league. Because of that, I feel like there's this idea that we should be grateful for what we have and we shouldn't raise important questions—or ask questions at all."
The misconduct runs deeper than Farrelly and Shim. As stated by The Athletic, "There was not one trigger. It was incident after incident, building upon themselves, revealing the scope of the sport's problems and leading the players to understand that the only way to bring about great change was to refuse to be silent."
On March 9, 2021, a letter with 240 player signatures was sent to the NWSL commissioner demanding a nine element policy to keep players safe. Though Shim could not get a response from Lisa Baird, commissioner of the NWSL, regarding reopening an investigation on Riley, within a month the NWSL's Anti-Harassment Policy for a Safe Work Environment was in place. By late April, Farrelly had sent her own email to Baird, and similar to Shim's experience, was unable to get a response from the league about investigating Riley. It wasn't until September, 2021 that Riley was fired from his coaching position for the North Carolina Courage.
Professional women's sports are plagued with sexual misconduct and a pervasive culture of silence. It takes brave women like Sinead Farrelly and Maleana Shim to bring awareness to the issue and change norms that have proven to be detrimental. The system needs to be called out, re-evaluated, and changed. We have to start protecting women and changing the culture that leads to tales just like this one.
Leave a Comment
About the Contributor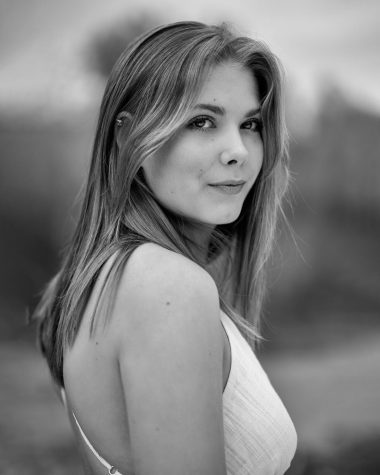 Halie Leland '23, Co-Editor-in-Chief
As Co-EIC this year, Halie is thrilled to be leading The Advocate. Since beginning their career in student journalism in sophomore year, they have developed...