California Recall Fails
Signals broad rejection of Trumpian agenda
On Tuesday, September 14, 2021, Californians voted with a whopping 66 percent to stop the effort to recall Governor Gavin Newsom, a win for Democrats nationwide in the most populous state. In the final days of the race, many familiar Democratic politicians flooded the state in what turned out to be a successful effort to keep the state's governor in office.
The recall, a process by which a group of around 1.5 million Californians must sign onto a petition to initiate a special election, the goal of which is to "unelect" the state's Governor, first started to gain momentum in the spring of this year. After enough conservative Californians signed a petition that would initiate an election to decide the fate of the state's Governor, Democrat Gavin Newsom, the recall was scheduled for September 14. These signers claimed that they opposed Newsom's strict COVID-19 prevention measures and sounded an alarm on what they claimed to be a crisis of homelessness in the state. Democrats started to counter these claims in a sizable fashion over the summer, upholding the Governor's pandemic response as effective while also touting the state's numerous environment-friendly laws, among other initiatives popular with Democrats, who have a 47-24 party registration advantage over Republicans. The state has been thrashed by the pandemic like most of the nation and has also been scarred by an epidemic of devastating wildfires, which Democrats and scientists have attributed to the climate crisis.
Many, mostly Republican, candidates lined up to replace the Governor, in case he was recalled, including radio host Larry Elder, reality television star Caitlyn Jenner, and former San Diego Mayor Kevin Faulconer. Elder immediately rose to the top of the field, as many recall supporters were energized by many of his far-right statements on COVID-19 prevention and the climate crisis, which he refuses to acknowledge even exists. However, the rise of Elder played to Newsom's advantage to a certain extent, as they motivated high-ranking and well-known Democrats to travel to the Golden State to campaign for him. This included Senators Amy Klobuchar and Elizabeth Warren, who campaigned for Newsom in Los Angeles and suburban Orange County, respectively. In the final days of the campaign, the three highest-ranking leaders in the United States, President Joe Biden, Vice President Kamala Harris and House Speaker Nancy Pelosi all jetted to California to campaign for Newsom. Harris, who once held a California Senate seat, focused on women's rights during her visit to San Leandro, near Oakland in the week before the election. Pelosi, who hails from San Francisco, emphasized Newsom's support for small businesses during the pandemic, and Biden, who toured wildfire damage in Northern California before speaking at a rally in Long Beach, hammered the message that the stakes were simply too high, and that a vote to recall Newsom was one for Trumpism and extremist ideology. Before Biden spoke, a slew of diverse public officials appeared, including the state's first Hispanic Senator Alex Padilla, who capped off his party's aggressive attempts to get voters from communities of color out to vote.
The election campaign provided a preview of both parties' messages going into 2022. The results gave an early preview of how voters in certain constituencies reacted to them. In this case, it seemed as if both suburban voters in traditional Republican strongholds such as San Diego and Orange counties, and voters who make up the Democratic base, in places like Los Angeles itself and San Francisco, bought into the Democratic message that tougher COVID-19 prevention measures are the way to go, and that any resemblance to Trumpism in a position of power should be prevented.
Leave a Comment
About the Contributor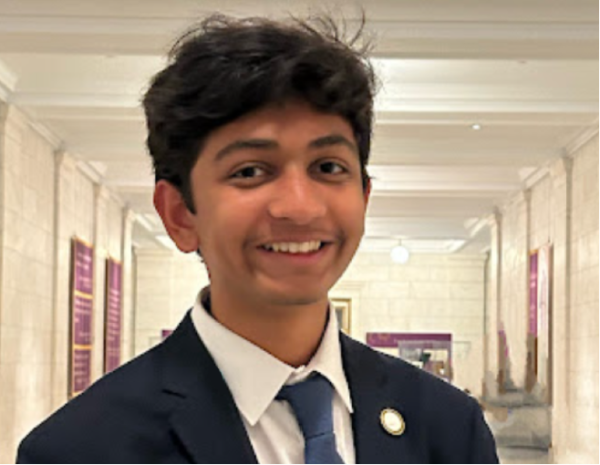 Abhishek Narahari '24, News Co-Editor
Abhishek is a deeply engaged member of the Albuquerque Academy community, part of several government and politics-focused clubs and activities. For the...