The category is "Controversies"
Who is the next host of Jeopardy!?
Following the death of Jeopardy! host Alex Trebek from pancreatic cancer at the age of 80 last November, the show began to cycle through numerous guest hosts for the upcoming season after Trebek's taped episodes stopped airing on January 8. Beginning the next week, Jeopardy! co-executive producer and record-holder for most consecutive games won, Ken Jennings, hosted the show until February 19. After that, celebrities from the likes of Katie Couric, Anderson Cooper, Aaron Rodgers, Mayim Bialik, and others guest-hosted the show for two weeks. Each of the hosts paid tribute to Trebek in their own ways, and all money won during a guest host's tenure was matched by Jeopardy! to be given to a charity of their choice. Nearly $3 million has been raised by the hosts so far.
On August 4th, co-executive producer of Jeopardy! and Wheel of Fortune, Mike Richards, who also hosted the show for two weeks, was rumored to have been in "advanced negotiations" to become the new host of Jeopardy! A week later, Richards was officially announced as the new host of the show, alongside neuroscientist and "Big Bang Theory" and "Call Me Kat" star Mayim Bialik, who was slated to host the primetime and spin-off versions of the show.
Richards, who headed the guest-host search, has come under fire recently for allegations of discrimination against female models on The Price is Right, a show he was the executive producer of for over a decade. One former model, Brandi Cochran, claimed Richards made insensitive comments about pregnant women. Richards has denied the allegations.
In addition, Richards has faced criticism for using offensive language towards women and their bodies on episodes of "The Randumb Show," a podcast he hosted from 2013 to 2014. The episodes have subsequently been pulled down, and RIchards has apologized for his comments, saying, "Looking back now, there is no excuse, of course, for the comments I made on this podcast and I am deeply sorry." Richards is also being accused of being biased during the guest host selection process, which he directed, for ultimately choosing himself over other contenders for the job.
Many fans had their favorites for who would land the job, including Albuquerque Academy math teacher and former Jeopardy! contestant, Mr. Zuffranieri, saying, "I think it should probably be Ken Jennings, who knows the show as well as anybody." But he adds that, "I suspect any number of the guest hosts from the previous season would do great work." Another celebrity in contention, Star Trek: The Next Generation actor and former host of the PBS Kids show Reading Rainbow, LeVar Burton, created his own fan base rallying to put him behind the podium. After he didn't get the job, many of his fans were disappointed, prompting Burton to release a statement of goodwill on Twitter. Some pointed out that even Trebek had his own choices for who he liked to host Jeopardy! – among them CNN legal analyst Laura Coates and Los Angeles Kings hockey announcer Alex Faust – but they weren't considered during the selection process. This has some wondering if this is what Trebek would have wanted. Many are criticizing Sony for not properly vetting Richards as he moved into this new role.
Amidst this controversy, Richards announced that he would step down from his hosting role and as executive producer of both Jeopardy! and Wheel of Fortune. Zuffranieri believes that having Richards also vie for the hosting role made the process feel less trustworthy, but that Richards didn't necessarily have to step down from his job at the show. Jeopardy! then announced that the search for a permanent host would continue as the show begins its 38th season on Sept. 13. The beginning of the season will be hosted by Bialik.
Bialik, however, is also the subject of some criticism, namely due to her controversial statements of the efficacy of vaccines and an op-ed piece she wrote about the sexual harassment allegations against Hollywood mogul Harvey Weinstein where she implied that acting modestly against men can guard women against sexual assault. She then issued an apology.
While Jeopardy! remains embroiled in controversy, it is still one of the most-loved shows in America, and is a part of the country's soul, thanks to Alex Trebek who hosted with humor, wit, and kindness throughout his tenure, and who loved the power of facts. That is at the heart of Jeopardy! – and something we could all use a bit of right now.
Leave a Comment
About the Contributor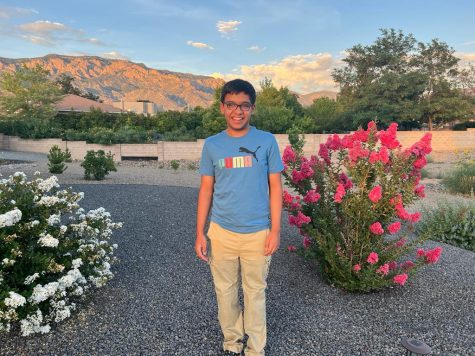 Uzair Hammad '24, Editor in Chief
Uzair Hammad '24 has been a writer and editor for The Advocate for four years, finally ascending to the fabled position of editor-in-chief. In his free...