AA Sports Restart with First Football Game Since Fall of 2019
Teams lose a close contest 14-7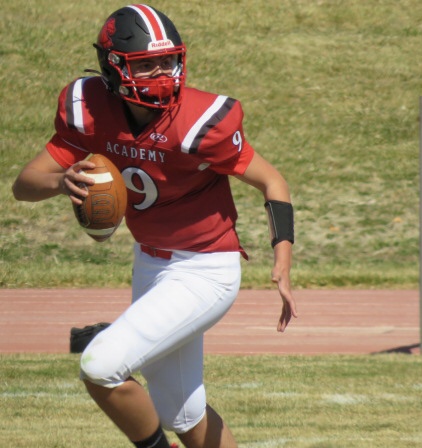 The Albuquerque Academy Football team played its first football game since 2019 against Hope Christian on Saturday, March 6th.
The game was all defense in the first half, with neither team scoring. Both teams managed to get an interception but neither could convert turnovers to points. However in the second half, Hope Christian managed to pick it up, scoring two touchdowns, unanswered, including an 84-yard bomb to the endzone. Academy scored one touchdown, with quarterback AJ Rivera '23 finding receiver Kellan Gehres '23 in the left side of the end zone for a 34-yard touchdown. That would be it for the Chargers, who were unable to score any more points and lost 14-7 to Hope.
"This stings. We had a dogfight and we lost it," said Kellan Gehres '23, wide receiver and cornerback for Academy. "You know it's tough. Hope's a good team, but our guys came to fight today, and that's all we can ask for."
"Today stings a little bit, but we'll look at the film and make the adjustments and be ready to go next week," said Shaun Gehres, second-year head coach of Academy. "We'll grow from it, and I'm really proud of the team's effort today."
Academy returns to action on March 13th with an away game against Tucumcari. The game is set to kickoff at 1 pm.
Leave a Comment