Indie, Alt, and Everything in Between
The Evolution of Fashion During a Global Pandemic
Athleisure and casual wear has become the new normal for most of us that are working or studying at home, and although the spectrum of fashion is constantly evolving, the COVID-19 global pandemic has significantly altered this world. However, fashion still plays a monumental role in our society. Whether people are simply bored from not leaving their house and need something to do or have had character development from spending so much time alone, fashion over the course of the past year has morphed into something exquisitely unique.
The colorful indie style that was popular at the beginning of 2020 has transformed into a darker alternative style over the course of the year. This style was not predicted to be a trend for a few more years, and this rapid change has led fashion experts to wonder what the new year will bring.
In March of 2020, when the Covid-19 pandemic struck the US, people all across the globe became housebound, often for months. Already being the largest segment of the online eCommerce market, online sales within the fashion industry skyrocketed in 2020, due to the closing or enforcing of capacity limits in stores and boutiques worldwide. Statistics made by the Common Thread Collective show that the online fashion industry went from being worth $525.1 billion in 2019, to $664.5 billion in 2020 and is predicted to have a global value of 1 trillion by 2025.
Given that everyone was isolated for months with access to a new wardrobe at their fingertips, groups of people began to experiment with their own unique sense of style that they would otherwise not wear out of the house. This is how the indie style was reborn. Incorporating trends from the early 2000's as well as combining many textures, colors, and prints, people who dressed this way were expressing themselves creatively without having to worry about others' opinions. This new indie style became popular through TikTok and other forms of social media and seemed to include elements that satisfied many people's personal preferences, such as grunge, hipster, Y2K, or even bohemian.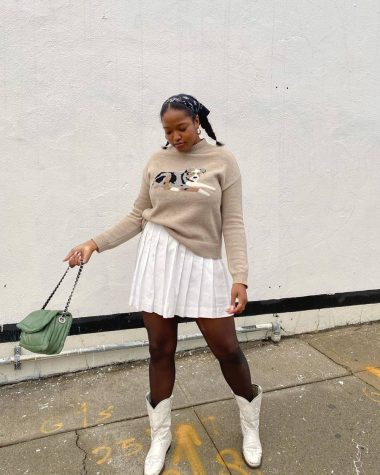 However, an article by Rebels Market explains, that "as trends become popular with the masses, they often lose their appeal." Therefore, as more and more people started to dress indie and posted on platforms such as Instagram, TikTok, and Pinterest, the style seemed to become more of an aesthetic rather than someone's unique personal expression of their individuality.
As the year carried on, and strict quarantines were slowly lifted, the immediate need to stay home became less prominent, and style began to change once again. In contrast to light, airy, and occasionally colorful indie fashion, alternative (alt) fashion began to emerge, bringing darker components into 2020 fashion. The upbringing of alt fashion shed light on an entirely different population of individuals who had been stylistically oppressed or judged in the past because of the overall dark and deeming visual appearance of alternative fashion.
Alt fashion, simply put, is a style that for most of history, stood apart from the mainstream commercial industry. It originally emerged from specific subcultures such as emo, goth, hip hop, cyberpunk, and Japanese Lolita fashion. A solid portion of alt fashion does not only stem from punk style, but punk music as well. According to Style on Vega, "alternative fashion is absolutely inseparable from youth subcultures. It was born within them, and most importantly, youth subcultures and alternative clothing styles are always strictly connected to 'their' music." Like indie fashion, before it became a popularized trend by social media platforms, alternative fashion gives people a way to express themselves in one of the most eccentric modern styles. However, not only is the visual appearance of alt fashion dark and daunting, but the overall history portrays concepts of idealism, the rebellion of youth culture, and wearing what was and still occasionally is considered taboo.
Although the new year has just started, trend forecasts have already been predicted by fashion magazines and blogs such as WhoWhatWear and Nylon. Although the historical and underlying significance of these trends have not yet been identified, they include layering, lots of textures, oversized garments, and tiny yet significant ornamental details.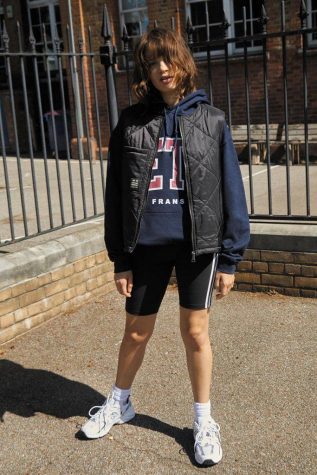 Knit and mesh garments are an easy article of clothing to dress up or down, can be worn in a set or by themselves, and are made in a broad assortment of different materials by a variety of designers. Oversized jackets, jeans, and even bags follow the oversized trend which was occasionally included in some branches of indie style.
Adding Second-skin tops underneath oversized outerwear can add a sense of dimension, "whether paired with sweatpants or worn underneath knits and trousers [seen] at Prada, [their] versatility is endless," states Kristin Nichols, Senior Editor of WhoWhatWear. Tiny details such as ties on tops or skirts add a small element that is a subtle detail that is adaptable for all styles.
Overall, despite the clothes an individual wears and whether or not they even fall into a particular subcategory in the fashion industry, fashion grants the ability for expression. Yes, although quarantine and self isolation was dreadful but necessary, the time alone gave millions of people the confidence to try their own style without the judgement of others. By sharing these unique styles online with others, a movement of inclusivity and acceptance has been born which has created a community in this time of separation.
Leave a Comment
About the Contributor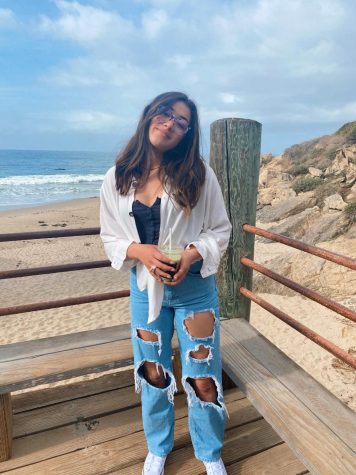 Stella Hudson '23, Social Media Editor
A junior at the Albuquerque Academy, Stella Hudson has been writing for The Advocate since the beginning of her sophomore year. Her work centers mostly...