Eddie Van Halen Tribute
Musician Eddie Van Halen, famous for his guitar playing as part of the popular 80's and 90's rock band Van Halen, passed away on October 6, 2020. He died at age 65 following a long battle with cancer. 
Edward Van Halen was born on January 26, 1955 in Amsterdam, Netherlands. His family, which included his parents and brother Alex, moved to Pasadena, California in 1962, when he was seven years old.  He started his musical endeavors playing piano and then the drums. He discovered his love for the guitar after swapping his drums for his brother's guitar during a childhood jam session. He and his brother played together in bands his whole life, beginning in 1964 when they founded their first band, the Broken Combs. In 1972 they founded a new band, Genesis, which was renamed Mammoth, and out of which Van Halen grew in 1974.  The original members of Van Halen were Alex and Eddie Van Halen (on drums and guitar, respectively), David Lee Roth (lead singer), and Michael Anthony (bassist).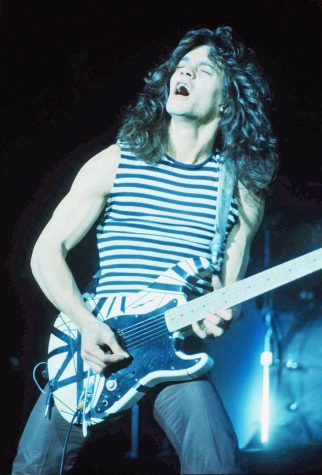 The group grew in popularity, playing clubs in Pasadena and Hollywood, and in 1977 were signed to Warner Bros. Records. They released their first album, "Van Halen", in early 1978. The release of the record redirected the course of popular music, revitalizing rock after the disco dominated 1970s. The band set both music and fashion trends for the 80's, popularizing "hair metal bands" (the New York Times) and flashy guitar work. Though their music leaned towards heavy metal, it was infused with pop hooks, giving it wider appeal. In fact, the band's most successful song, "Jump", off their most successful album, "1984" (from the same year as the title), soared to the top of the charts because of Van Halen's switch from the guitar to the keyboard, creating a smoother, more popular sound. The band ultimately had three front men, Roth, Sammy Hager (1985-1996), and Gary Cherone (1996-1997), but despite the personnel changes, Eddie's striking guitar ensured that the band had a cohesive and distinctive sound.  
It was Van Halen's guitar work that set 'Van Halen' apart from other rock bands, and which allowed Van Halen  to become famous outside of the band. He was best known for perfecting the two-handed tapping guitar technique. Though the technique had been used by guitarists before him, he said that "I hadn't really seen anyone get into it as far as they could," according to Classic Rock Magazine. He did get into it as far as he could, and his fingering became a staple of heavy metal. His skill, showcased in the song "Eruption" (off "Van Halen"), put him among the ranks of the best guitarists of all time. Not only did he create new melodies for the guitar, he also patented three guitar devices. One device, patented in 1985, helps the guitar rest on a player's leg, freeing both hands for tapping the strings.
Although his talent persisted through the decades, Van Halen often struggled with alcohol and drug problems. Such problems often prompted discourse within the band, causing Roth to leave in 1985, and Hager, his replacement, to exit in 1996. Anthony was replaced on bass by Wolfgang Van Halen (Van Halen's son) in 2007. Van Halen's battle with cancer began around 2000, when he underwent treatment for tongue cancer. He had one third of his tongue removed in 2002, and was declared cancer free. After a reunion tour in 2007, Van Halen entered rehab for his alcohol addiction, announcing his sobriety in 2008. Several tours with both Roth and Hager followed, the last in 2015.
Even through hiatuses, Van Halen continued to have a loyal base of fans. Their first six albums had wide commercial success, but even after Roth left, their very next album, "5150", was also the band's first No.1 Billboard Album, selling more than six million copies to date. Ten of their albums went multi platinum, selling over 2,000,000 copies. Even during their last tour one could find fans old and young packing the seats. The success of the band, even after their original front man left, can be attributed to Van Halen's presence. He not only lent his name to the band, but also his whole life. He is survived by his son, his brother, and his wife, Janie Van Halen, who he married in 2009.