Mark Ronchetti or Ben Ray Lujan for Senate?
Where they stand on the issues
With the election for the New Mexico Representative for the U.S. Senate occurring on November 3, it is imperative that people are informed about the primary candidates and their views on issues in New Mexico before voting. You might ask, "Why is this applicable to me if I can't vote?" Well, even if you cannot vote, once a certain candidate is elected, you can still send them a letter about your ideas, and they can bring your ideas to the Senate.
The primary candidates are Mark Ronchetti, a former meteorologist on KRQE-TV, for the Republican party, and Ben Ray Lujan, the current Democratic representative for New Mexico's 3rd House District. Here is where they stand on key issues facing New Mexicans.
Issue 1: Health Care
Mark Ronchetti opposes a government run health care system, but what he does support is private insurance and individual choice. "Increasing and improving access to healthcare is possible by supporting politics that lower costs while protecting quality and choice," Ronchetti says on his website. "Every American should be able to pick the healthcare plan they want, not one the government picks for them." He "supports protecting coverage for [people] who have pre-existing conditions," though he has not proposed a solution detailing how he will achieve the funding for those who have pre-existing conditions and cannot afford coverage. In the recent debate between the candidates, Ronchetti also said "We need to replace Obamacare."
Ben Ray Lujan supports and is a co-sponsor of Bernie Sanders' Medicare-For-All. "Health care should be a right for all, not a privilege for a few," Lujan says. Though the cost may be very high, estimated at about 2.4 trillion dollars per year, Senator Sanders argues that the high cost will still be lower than the combined cost of everyone's private health insurance. Lujan says that he "will continue to fight to improve the ACA, to lower the cost of prescription drugs, and to increase access to high-quality care."
Issue 2: Environment
Mark Ronchetti does not support the Green New Deal. He says he wants to stop Climate Change, but on his website he says that he "is tired of those who believe that dismantling our energy economy is the only way to do so." As of yet, he has not written a comprehensive plan to help the environment. He opposes a ban on fracking and believes that we have been "fracking safely for 60 years." He also believes that banning fracking will "[give up our] energy independence." Ronchetti is reluctant to make changes that other countries are unwilling to make. "We can't restrict our economy when countries like China and India continue unrestricted pollution," he said during an interview with the Albuquerque Journal.
Ben Ray Lujan endorses the Green New Deal and believes that the impacts of Climate Change are currently affecting people in New Mexico, creating "extreme wildfires, unpredictable weather patterns, and severe drought conditions." He promotes renewable energy and has signed legislation to force companies who make electrical utilities to "obtain at least 30 percent of their electricity from renewable sources." Ben Ray Lujan also speaks about conserving public land and the natural resources on the land, as well as its "pristine beauty."
Issue 3: Immigration
Mark Ronchetti stands with President Trump. He believes that New Mexico's border needs to be more secure, as drug-traffickers use it as a "superhighway for America's drug addiction." Ronchetti's plan has two main objectives: "First, we must secure the border with physical barriers, technology and an increased number of border patrol agents. Next, we must close the asylum-loophole that is creating a crisis at the border by encouraging migrants to come to the United States and claim asylum when they do not qualify." He, like President Trump, supports legal immigration and opposes amnesty for immigrants in the US that came illegally.
Ben Ray Lujan believes that the U.S. needs to "create a path to citizenship for immigrants," as the current system makes it too hard and too long of a process to become a U.S. citizen. He says that "President Trump has not only hardened his heart against the obvious suffering of refugees fleeing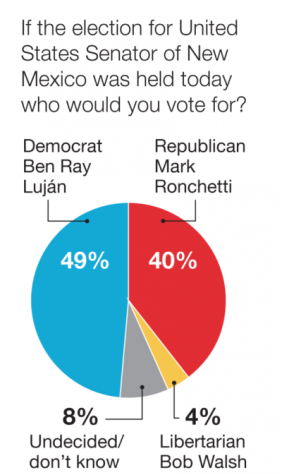 persecution, destruction and carnage in their homeland, he also ignores the lessons of history." He talks about how the U.S. failed to admit Jewish refugees during the Holocaust, and he believes that the U.S. is repeating its mistakes. Ben Ray Lujan co-sponsors the DREAM Act, which protects illegal immigrants who entered the country as children with their parents and keeps the door open to citizenship.
Currently, Ben Ray Lujan is leading in the polls, according to the Albuquerque Journal, with about 49% of people voting for him. Mark Ronchetti trails behind, with about 40% of people voting for him.
To learn more about these candidates, visit their websites: Mark Ronchetti; Ben Ray Lujan
View Comments (2)