Madness has Marched on: A Recap of This Year's Tournament
More stories from Jessica Allen
For the past month both the Men's and Women's Division I March Madness Tournaments gathered millions of viewers across the country, generating immense excitement, which further supports the origination of the tournament's name.
Although there were not as many upsets as in prior years, the Men's tournament was extremely interesting to watch. In the end, the University of Virginia, a one seed, came out on top after losing to a 16 seed last year. However, in the Elite Eight, three one seeds lost their spots. One of those one seeds, Duke, who was predicted to win the entire tournament, lost against second seeded Michigan State, whose performance peaked in the tournament. UNC, the team who was predicted to face Duke in the final round, was brutally defeated by Auburn. Gonzaga lost against three seed Texas Tech, who went against UVA in the final game. In the Final Four, the lowest seed that competed in this round was five seed Auburn, but they unfortunately lost against UVA. Throughout this entire tournament, Texas Tech played consistently well which led them to the final game against UVA. During this round, the scores went back and forth, which made for a very close game as UVA only won by 8 points.
On the women's side, there were even fewer upsets than there were in the men's tournament. In the Final Four, there were two two seeds and two one seeds. UConn, a two seed who has won 11 total tournaments and 10 in the last 19 years , lost in the Final Four against Notre Dame. In the end, Baylor, seeded first, won against Notre Dame also a one seed.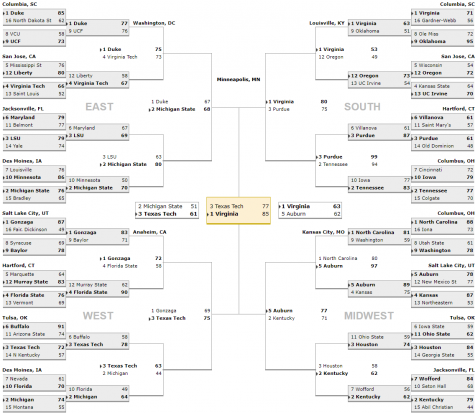 Even though this year's tournament has come to a close, spectators are already excited for the next tournament in 2020.