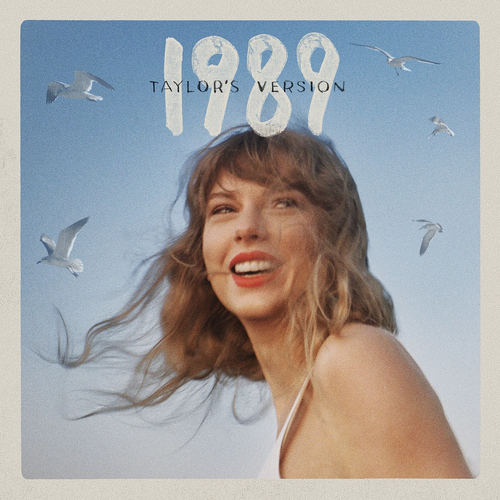 In 2014, Taylor Swift released "1989," an album that won her three Grammys. Now, in the midst of her wildly successful Eras Tour, Swift has rereleased the album as "1989 (Taylor's Version)." The album features all of the re-recordings of Swift's original tracks and five previously unreleased "From the Vault" tracks.
The re-recorded version of the album is part of Swift's battle to own the masters, or original recordings, to all of her songs. This fight began in 2018, when Swift's contract ended with her original record producer, Big Machine Records, and she decided to sign with a different label, Universal's Republic Records. Big Machine, however, still owns the rights to the masters of her first six albums, meaning any time a song is used, a licensing fee is paid to Big Machine instead of Swift, a common practice in the music industry. Swift had previously been trying to buy back her original catalog from Big Machine, but never received a fair offer. Then, when Scooter Braun, a major music executive, acquired Big Machine, Swift felt blindsided, especially since she had previously called Braun a music industry "bully." As a result of the feud, Swift decided to re-record her original six albums in order to own all of her own music.
So far, Swift has re-recorded "Fearless," "Speak Now," "Red," and "1989." So, without further ado, here is a review of "1989 (Taylor's Version)," with both old favorites and new ones alike.
The Original Songs of "1989":
Here are the original songs of "1989." On "1989 (Taylor's Version)," all the songs generally sound very similar to the original recordings. However, the vocals and instrumentals are a lot clearer, and periodically, there is a noticeable, but not necessarily bad, difference. For instance, the clearer instrumentals often give the songs a more immersive quality. Also, because the lyrics are a bit easier to hear, I've realized that there are certain phrases I've been singing wrong for years!
When Swift originally released "1989," it cemented her as a pop icon. As such, many of the songs focus less on acoustic instrumentals, and instead the album leans into catchy lyrics and distinctive melodies, such as in the ever-popular school dance song, "Shake it Off." The original songs evoke images of glamor, extravagance, and fun times, but "1989 (Taylor's Version)," both through its marketing and the addition of the "From the Vault" tracks, humanizes the album. For instance, the new cover pictures are all of Swift in shorts and sweaters on a beach, rather than in sparkly skirts and crop tops in downtown New York City. As a result, the album reflects the flashy, Hollywood-esque sounds of the original tracks, while also creating depth by showing the less glamorous, and more relatable, parts of life.
The "From the Vault" Tracks:
This relatability can be found in five previously unreleased "From the Vault" tracks that Swift wrote while creating "1989" in 2014. Still catchy and fun to listen to, these tracks delve deeper into the emotions that Swift was experiencing as she wrote this album. Below is my review of each of the newly-dropped songs.
"'Slut!' (Taylor's Version) [From the Vault]"
"Slut!" is about the characteristics of a relationship worth being called a slut over. The lyrics of this song are especially meaningful. Lines such as "And if they call me a slut/ You know it might be worth it for once" and "I'll pay the price, you won't" convey the judgment that Swift has experienced dating different people, whereas the men that she dates receive none of that criticism. Double standards between men and women is a topic that Swift has tackled before, such as in her 2019 hit, "The Man." However, "Slut!" takes on the issue through a different lens, instead looking specifically at how these double standards affect relationships. Although the lyrics of this song are fantastically written, it is not my favorite because it remains relatively monotone throughout. For me, this meant that many of the lyrics that are supposed to stand out often blended together.
"Say Don't Go (Taylor's Version) [From the Vault]"
"Say Don't Go" is a pleading anthem asking an ex why they had to leave. This song is both extremely fun to sing along to, and the questions Swift poses, like, "Why'd you have to leave me on/ Why'd you have to twist the knife?/ Why'd you have to leave me bleeding?" will connect with listeners wondering why someone would make decisions that only ended up hurting a relationship. This is a catchy song that is easy to listen to, and still has a relatable undertone.
"Now That We Don't Talk (Taylor's Version) [From the Vault]"
Quite possibly my favorite vault track, "Now That We Don't Talk" is about a friendship that falls apart when one of the friends changes in ways that lead to the relationship being destroyed. Swift sings about how she calls her mom for advice when her friendship ends, and how the only thing she can do is break off the relationship. I love the strong beat that connects the rather distinctive rhythms throughout the track. This is Swift's shortest song at 2:26, so my only criticism is that I wish it was longer.
"Suburban Legends (Taylor's Version) [From the Vault]"
"Suburban Legends" is one of the songs that shows the less glamorous side of fame, which adds to the complexity of "1989 (Taylor's Version)." The song, following Swift and an unknown famous ex, explains how Swift wanted to return to a "1950s gymnasium" with him because they would be "suburban legends." These lyrics offer a glimpse into Swift's desire to have a personal relationship and the desire to be acknowledged for her successes, which can often conflict with one another. This song is a twist on the classic breakup song because not only does it express anger, but also laments the lost dreams of a failed relationship, like attending a class reunion with that person.
"Is It Over Now? (Taylor's Version) [From the Vault]"
While it may appear to be just another Taylor Swift breakup song at first glance, "Is It Over Now?" is actually one of the most serious songs on this album. About a dysfunctional relationship and the subsequent breakup, this track explores how relationships can linger, even once they are over. References to cheating, heartbreak, and the need to return to the shadows add emotional depth. Swift explores how these experiences leave lasting impressions as the song bounces back and forth between the ill-fated relationship and its aftermath. In addition, the ever building intensity of the song captivates listeners similar to how Swift's most popular songs do.
Overall, I love "1989 (Taylor's Version)" even more than the original album. The clearer original songs and new "From the Vault" tracks have added a new dimension that I hadn't realized was missing. However, this new album is just one more piece in Taylor Swift's ever-growing catalog. With two more albums that need to be rerecorded, and another year's worth of The Eras Tour, Swifties worldwide can appreciate "1989 (Taylor's Version)" knowing that there is much more to come from their favorite artist.