The Nominees: Best Picture Nominees Reviewed
Ben Montoya'23 has the scoop for the upcoming Academy Awards!
My personal rankings of the Best Picture Nominees, relatively spoiler free, in anticipation of the 95th Academy Awards on March 12th.
#10 Avatar: The Way of Water – This was hands down the most visually stunning movie of the year, as expected. I believe it is the clear winner in the visual effects category, but the story was lacking in some aspects for me. While pleasing to the eyes, characters like Spider, a human boy living with Jake Sully and his Na'vi family throughout the film, annoyed me and detracted from my overall enjoyment of the film. I still very much enjoyed the movie and am excited to see what direction James Cameron goes with the next one, but I believe Avatar: The Way of Water will fall short of the win.
#9  All Quiet on the Western Front – This film gives you exactly what you expect from it; great cinematography and emotion throughout. It did something that a lot of war movies fail to do in properly encapsulating the true brutality of war. As far as I know, it is the first WWI movie told from the German perspective, and really tells a story about the indoctrination of young men being sent to war. Overall a good movie, but not in my top 5 on this list.
#8  Elvis – Austin Butler took on the mantle of Elvis Presley and did a great job, earning himself a Best Actor nomination as well. I thought this movie was great, and I enjoyed it all the way through. Baz Lurhmann's unique style of directing paired with a great soundtrack and an amazing lead performance all combine to rightfully earn this movie a nomination for best picture.
#7  Top Gun: Maverick – The long-awaited sequel to the original Top Gun arrived this year, with Tom Cruise back in his lead role as Captain Pete "Maverick" Mitchell. This was a very enjoyable film. If you at all enjoyed the original, you will most definitely enjoy this sequel even more. I went to see this film with my Air Force veteran dad, and I left the theater with my expectations blown away. Yes, it was cheesy at moments, and Tom Cruise is not my favorite actor, but this is one of my favorite action movies of the year. I don't believe it should or will win best picture, but it does deserve to be nominated.
#6  The Fabelmans – The Fabelmans, directed by Stephen Spielberg, is a movie meant to be about his childhood. The story centers around Sammy Fabelman, a young boy who falls in love with filmmaking. If you love Stephen Spielberg, movie-making, and cinema, this movie is for you. This is indeed a beautiful movie and I felt all the emotions. The acting from the entire cast was magnificent, specifically from Michelle Williams, Paul Dano, and Gabriel LaBelle.
#5 The Banshees of Inisherin – I didn't expect to enjoy this movie as much as I did. It is by no means a feel-good movie like Top Gun, but the symbolism that goes into the plot is beautiful. I have seen this movie used as an allegory for the Irish Civil War (which is happening during the movie) and this helped me enjoy the watching experience a lot more. Phenomenal performances from Colin Farrell and Brandan Gleeson helped make this an overall great film.
#4 Women Talking – This is a very heavy movie. The title is very literal, and pretty much the whole movie takes place in 2010 and is centered around a group of women in a religious cult, who realize they have been abused for years by the male members, and are left with the difficult unanimous decision to leave or fight back. This is the kind of movie you won't stop thinking about days after watching it. Bring tissues to this one. It is very emotional, and relevant to today's issues.
#3 Triangle of Sadness – I went into this movie not expecting it to be very good. I thought it was just another comedy movie on a boat, but my expectations were (no pun intended) blown out of the water. What seemed silly and goofy at first revealed itself as a beautiful, not-so-subtle, critique of the capitalist system. The pacing through all three acts was great, Woody Harrelson was great as always as well as the rest of the cast. I thoroughly enjoyed this movie and highly recommend it.
#2 Tár – Tár is an amazing movie. I couldn't help but compare it to Damien Chazelle's Whiplash, if you liked that movie you will love Tár. It is about Lydia Tár, a famous composer, played by Cate Blanchett, who delivers what I believe is her best performance to date. Lydia is very ambitious, arguably sociopathic, and the movie centers around her fall from grace. It isn't for everyone, the pacing struggles sometimes, and it is over two and a half hours, but it is, in my eyes, a modern masterpiece.
#1 Everything, Everywhere, All at Once – This is the one. This is the movie. Everything, Everywhere, All at Once isn't just the most beautiful movie I've seen this year, but the most beautiful movie I've seen in a long, long time. The symbolism, pacing, uniqueness of the story, and acting are all perfect. The cast of this movie is spectacular, and I can't wait to see them win individual awards as well. This was a movie edited on Zoom, by people who learned through YouTube tutorials, and you would never guess. The creativity put towards this film is apparent in every single scene. If you haven't seen this movie, go watch it, because you will not regret it.
Honorable Mention: Babylon – This movie is not for everyone, and it was review-bombed into the ground, but I absolutely loved this movie despite it not receiving a nomination for best picture. It comes from director Damien Chezelle, who was involved in the production of Whiplash and La La Land. You will not be able to look away during this movie; there is always something crazy and interesting happening on screen. It is described as a love letter to cinema, and a hate letter to Hollywood, and this analogy makes the most sense to me. It is a 3-hour film, but it didn't feel like it. Diego Calva, Margot Robbie, and Brad Pitt were all phenomenal. I loved this movie, and think it will age very well.
Leave a Comment
About the Contributor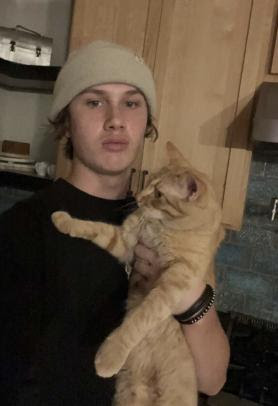 Ben Montoya '23, Writer, Journalism Class 2022-2023
Ben Montoya ('23) has loved writing from a young age. He enjoys writing social and political commentary, as well as reporting on school and professional...