USA Advances and a Discussion with Victoria Costa
Team USA will play the Netherlands on Saturday, marking a comeback for the red, white, and blue.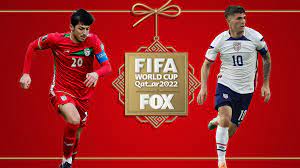 The USA vs Iran game on Tuesday, November 30th was a monumental victory for Team USA. The team will advance into the Round of 16 playing the Netherlands on Saturday. After missing the 2018 World Cup entirely, the U.S. needed a comeback. Additionally, with the growing rise of soccer in the U.S., advancing into the group stage will hopefully inspire the next generation of American footballers. To secure their place in the Round of 16, Christian Pulisic netted a nice goal resulting in a 1-0 win for the U.S. Only a few minutes after this incredible goal, I had the chance to interview Señora Victoria Costa, the Spanish teacher who is responsible for showing the U.S. games in Simms Auditorium.
Born and raised in Argentina, soccer was integral to both her family's and the nation's culture. Argentina, a soccer powerhouse with two World Cup titles (1978 and 1986), has had unbelievable teams, and created legends such as Diego Maradona and Lionel Messi.
Costa was raised in the sport and even though there was no high school soccer for girls in Argentina, she would play with her cousins and friends any chance she got. When she went to college, she played soccer in the intramural league and she loved it, saying "I don't remember a time in my life where soccer wasn't on the TV on Sunday, whether it's a local league or professional league, so it's just always been a part of my life."
"
"I don't remember a time in my life where soccer wasn't on the TV on Sunday, whether it's a local league or professional league, so it's just always been a part of my life."
— Victoria Costa
This love for soccer continued throughout her childhood into her adulthood, from playing as a kid to cheering for Argentina and now showing the games in Simms. Costa stressed the importance of the community that soccer curates. She recalled the 2006 World Cup in Germany. She remembered watching Argentina's games in the high school auditorium, similar to the U.S. games being shown in Simms Auditorium. "There were two games that fell during school hours and one of them was against Mexico; we won and I vividly remember feeling so happy and celebrating with my peers." But, Sra. Costa said that in the quarter-finals of the World Cup, Argentina lost to Germany. She said that she remembers "Everyone just mourning the loss and crying altogether." She remembers this experience distinctly. She said that "Even losing together unified us, so it was like a core memory that showed the community building in my school."
This community building is what she really hoped to replicate at Academy. She says that "It was very exciting to see everyone standing up for the National Anthem and cheering for the U.S. together. So I think it's a community-building experience." She just loves to see all the students cheering together and is fascinated by how games can unify a whole community.
On a light-hearted note at the end of the interview, I asked her about who she was cheering for in this World Cup. She said that she wants to see Argentina and Messi win the whole thing, as she grew up there. However, she promptly answered, "I want the U.S. to do extremely well. The only team I would not want the U.S. to win against would be Argentina. Other than that, I really hope the U.S. makes it to the final. I think that would be great."
After going to Simms and watching the game I can definitely say that it is a great atmosphere and a lot of fun. I would highly recommend anyone to go to watch a game in Simms, even if you don't like or understand soccer, you will still enjoy it. The U.S. plays their Round of 16 game on Saturday, December 3, 2022. So, unfortunately, the game will not be shown in Simms. But, if they advance, we'll see you in Simms! The World Cup is always an unbelievable way of unifying the world, and it is amazing to see at least a little bit of it happening in our community through Señora Costa's efforts to show the games in Simms.
View Comments(1)