Goodbye Trump, There's A New Miss Universe in Town
Miss Universe—the chaotic mishmash of beauty standards, trend-setting, and controversy which forms one of the world's largest beauty pageants—airs each year to millions of viewers across the globe. This tradition of young women, ranging in age from their late teens to mid-twenties, competing in events based primarily on appearance, but also on talents, stretches longer (over 100 years) than anyone reading this has been alive. The world, the U.S., and especially men, it turns out, love rating women based on their looks— surprise surprise. But after over 70 years of men holding the reins, Miss Universe has a new face, and she's a big switch from some of the pageant's previous owners, most infamously former-president Donald Trump. Forty-three year-old Thai celebrity and media-tycoon, Anne Jakapong Jakrajutatip, became not only the first woman to own Miss Universe but also the first openly transgender person to do so.
While Jakrajutatip isn't exactly a household name in the United States, her presence in southeast Asia is already large and growing. Her pedigree is no short list, from CEO of Thai media corporation JKN Global Group to social media icon, with over six million followers on Instagram; she has even appeared on Thai versions of Project Runway and Shark Tank. Jakrajutatip uses the name she's made for herself to promote trans awareness through her organization, the Life Inspired for Transsexual Foundation (LIFT). In interviews, Jakrajutatip has given candid accounts of her own experience from a young age of getting bullied and shamed for her transsexuality. Given the stigma she grew up with, and lacking support from even her parents, Jakrajutatip didn't officially begin her transition until she was in university in Sydney, Australia. There, Jakrajutatip set herself up for success, getting degrees in international relations and real estate from Bond University in Australia and Chulalongkorn University in Bangkok, before working to set up her own business. At forty-three, Jakrajutatip has been given several impressive titles, including Asia Media Woman of the Year in 2019 and the "Queen of Indian Content" for her role in bringing Indian shows to Thailand; weeks ago, she added CEO of Miss Universe to the list.
From a broader perspective, however, can a single progressive leader reshape the future of an industry whose very existence is built on gender and racial stereotypes? Beauty pageants have been around for as long as anyone can remember. The first modern version was hosted in New York City by the famous, or infamous, Phineas T. Barnum, of the Barnum & Bailey Circus, in 1855. Not until 1921 and the first rendition of the Miss America pageant, however, did any of the well-known modern beauty competitions, much like the pageants of today occur. Meanwhile, Miss Universe didn't evolve for another three decades, as a result of a marketing stunt gone-viral. After Miss America winner, Yolanda Betbeze, refused to wear a Catalina Swimwear swimsuit in 1951, California-based Pacific Knitting Mills, owner of Catalina Swimwear, took revenge by creating their own beauty pageant. Thus began Miss Universe, an annual international event inviting nearly 100 women from around the world to compete for the best…woman?
It began exclusively as a contest based solely on appearance, but with the addition of the interview portion in 1960, the pageant—arguably—added new depth to its position in pop culture and media. Though Miss Universe portrayed young women, some as young as 18, with the same thin body type, hosted by a middle-aged man in a slightly creepy version of reality TV, the contestant pool demonstrated that the competition wasn't below some level of diversity. In fact, the first Asian Miss Universe, Miss Japan Akiko Kojima, was crowned in 1959 and the first black Miss Universe, Miss Trinidad and Tobago Janelle Commissiong, was crowned in 1977.
Then, a 1996 development further complicated Miss Universe's already contentious place in pop culture. Although Donald Trump's acquisition of the pageant wasn't big news at the time, his role in the lives of some Miss Universe contestants between 1997 and 2015 revealed several unsavory realities about the future-president, and perhaps also about the pageant industry itself. Trump's list of illicit, creepy, and often downright criminal actions in his relationship with Miss Universe contestants is no short transcript. Keep in mind, however, that these stories did not come into light until Trump's 2016 election bid; there was no "MeToo" movement in the 20th and early 21st centuries, but when the allegations came, they came in droves. They include peer-verified accounts of him entering women's dressing rooms more than once without hesitation as contestants were partially or fully naked. If that isn't disturbing enough, his unsolicited entrances were not kept solely to legal adults, but also at Miss Teen USA events, where girls as young as fourteen and fifteen were intruded upon by Trump, who would later speak publicly of his "special privileges" at a talk show in 2005. In other shocking but unsurprising reports, Trump has publicly shamed a former Miss Universe winner, Alicia Machado of Venezuela, for gaining weight, made racist comments, and been accused by Miss Universe staffers of weeding out primarily women of color from finalist pools.
Trump was forced to sell the business in 2015 to US talent agency and owner of other major beauty pageants, WME-IMG (Endeavor) after a racist and xenophobic rant about Mexican immigrants during his 2016 election bid caused NBC to sever ties with Trump, crumbling a joint-venture deal between NBC and Trump. WME-IMG held on to the company until Jakrajutatip bought it this year. Nonetheless, Trump's eighteen years owning the Miss Universe Organization may have had an impact beyond his ownership, connecting him with Russian diplomats leading up to the 2016 election and, even more potently, exposing some of the pageant industry's ugly sides by embodying everything wrong with it.
Miss Universe had to continue, and in the wake of Trump's departure, whether by coincidence or not, the pageant began to see more diversity in its pool of contestants — from the first ever transgender contestant, Angela Ponce of Spain, in 2018, to the first ever openly lesbian contestant, Swe Zin Htet, Miss Myanmar. In 2019, black contestants fought against the history of racial exclusion in pageantry in taking all four major pageants: Miss Universe, Miss International, Miss World, and Miss Earth. Again in 2021, black women won three major competitions: Miss USA, Miss Earth, and Miss Teen USA. Further, Miss Universe announced in August that the 2023 competition would expand eligible participants to include married women and mothers, whom the organization barred from competing for its entire seven decades of existence. In this way, Jakrajutatip and her unlikely $20 million acquisition of the Miss Universe Organization adds to a growing list of movements towards greater diversity and progressivism in the pageant world.
At the same time, Miss Universe and the many other pageants which occur not just on an international or national level, but also at smaller scales in states and at schools,continue to receive criticism—that you can't fix something which by nature is exclusionary and is, according to critics, irreparably broken. Critics say the industry is focused upon unrealistic beauty standards and objectification, as much as executives might try to convince audiences that judging goes beyond beauty. Trends do indeed demonstrate the average body-mass index (BMI) of the American woman aged 22-29 is getting increasingly higher, while the BMI of Miss Universe winners is trending downwards towards the "underweight" zone. Others point towards the detrimental mental health effects which beauty pageants can have on girls and women, young and old, stating the competition creates unachievable goals of physical perfection which lead to lower self-esteem, eating disorders, and feelings of discontent with their natural appearance. Pageants also fuel gendered stereotypes, creating a "golden standard" for femininity which serves only to appease a third party (men). Nancy La, in Simon Fraser University's independent student newspaper writes, "The whole of beauty pageants… encourages the audience to engage in the practice of sexualizing and objectifying people. On top of that, the association between cities or countries with beauty pageants creates an incorrect association between race, gender, and outward appearances and the country in question."
Supporters of beauty pageants say it promotes women's voices and increases confidence. Miss Universe's website claims it "provides women…with the tools to affect positive change personally, professionally, and philanthropically serving as inspirational leaders and role models to their communities and fans around the world." While it resembles the epitome of self-serving propaganda, it may have some merit. Htet, the first lesbian Miss Universe contestant, mentioned above, feels that Miss Universe has given her a platform to promote acceptance to girls in her home country Myanmar, where homosexuality is illegal and heavily stigmatized, saying, "I have that platform that, if I say that I'm a lesbian, it will have a big impact on the LGBTQ community back in Burma [Myanmar]." The pageant setting can serve as a platform for women worldwide to provide an inspirational role model for younger girls from their country and others and support humanitarian and social justice causes. Joshen Mantai, who was attending the University of California Santa Barbara, wrote in 2019 about her experience in trying a beauty pageant, saying she found it to be a positive experience despite skepticism in the run-up, pointing towards a newfound confidence in herself and a supportive female group with whom she competed.
Still, even as a transgender woman takes control of one of the largest pageants on the international stage, it is hard for recent generations to reconcile any progressive changes in pageant culture with the inherently sexist form of entertainment it represents. The harsh reality for Miss Universe and other major pageant competitions may be that they are growing out of style after over a century in the spotlight. Raquel Rosario Sánchez writes, "Here's the harsh truth. Policy adjustments…cannot obscure the fact that beauty pageants have become increasingly jarring and out of place in our modern age….to watch a revolving door of women be judged based on how well they perform femininity and parade across a stage inevitably feels like stepping back into a distant past in which women were seen but rarely heard."
"
"To watch a revolving door of women be judged based on how well they perform femininity and parade across a stage inevitably feels like stepping back into a distant past in which women were seen but rarely heard."
In this light, Jakrajutatip is defying critics and seeking to reshape the meaning of Miss Universe. In a business which has historically been, ironically, dominated by men, Jakrajutatip breathes fresh air into an industry which is in dire need of a makeover. Whether Jakrajutatip is able to facilitate a shift of perspective, one which places the beauty standards in the hands of those who so often have been overlooked under contemporary standards, is yet to be seen. But if there's anyone who might be able to shift the script on pageants, Jakrajutatip is the person who could build on the good pieces, creating a platform for women and promoting comfortability with themselves, while breaking down the harmful unrealistic beauty standards, stereotypes, and Eurocentric themes.
View Comments(1)
About the Contributor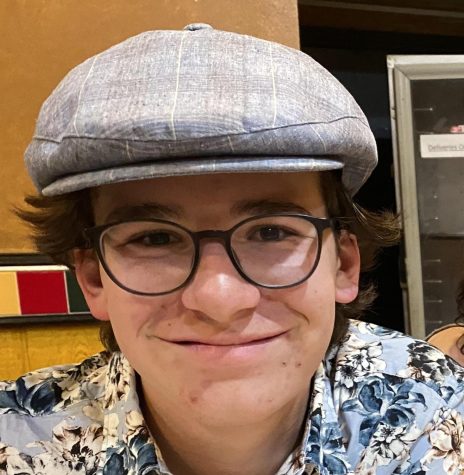 Darin Eberhardt '25, Opinion and Arts & Culture Editor
Opinion and Arts & Culture editor Darin Eberhardt '25 has been working with the Advocate since 7th grade and joined the Editorial Board in early 2023....