Taylor Swift's Midnights | Album Review
An album of love, loss, hurt, and confidence
Midnights is finally here! Taylor Swift has gone from country to pop to folk over the course of sixteen years and nine albums, and this album is composed of entirely new music. Fans all across the world stayed up until 12:00 am EST on Friday, October 21, 2022, to listen to Taylor Swift's tenth studio album, which she describes as "the stories of 13 sleepless nights scattered throughout [her] life." I, like everyone else, stayed up way past my bedtime and ranked the songs out of 10 based on their message, lyrics, and music.
I was a bit surprised when I first heard "Lavender Haze." It has the incredibly important job of being the album opener, and I think it does its job. In fact, the first line is "Meet me at midnight," said in a little voice that is reminiscent of the voice at the beginning of  "Gorgeous." The song itself is about Joe Alwyn, Swift's boyfriend of five years, and the all-encompassing "lavender haze" that protects their relationship from media scrutiny and rumors. I like the concept of this song, but I don't feel some of the lyrics are Swift's best. Most notably for me the lines "Talking, talking, go viral/I just need this love spiral/Get it off your chest/Get it off my desk" seemed juvenile. I did, however, like the chorus. ☆- 7/10 
I love "Maroon." It's all about memories, and the music reminds me of "King of My Heart" from Reputation. It could also be classified as the grown-up version of "Red." It's a dynamic song that pulls back to add emphasis on certain lines and then speeds up to build to the chorus. Filled with vulnerable, detailed recollections, this one is definitely one of my favorites. ☆- 9/10
Swift has a special talent of masking sad lyrics with an upbeat tune, and this song definitely falls into that category, but I can't say I'm a huge fan of "Anti-Hero." She has described it as a song that "dives into her deepest insecurities," and while it does this, the song's beat seems a little off to me. I feel there are just too many words shoved in to have a cohesivity. I especially don't like the lyrics, "It's me/ Hi/ I'm the problem, it's me." However, after listening to it a few times, I have started to like it more ☆- 6/10 
4. "Snow on the Beach" ft. Lana Del Rey 
I like "Snow on the Beach." It is about falling in love with someone right as they are falling in love with you, and I think the way the lyrics are sung creates a whimsical effect throughout the song. This song has gotten quite a lot of hate, but I actually like it. However, I was expecting a little more from Lana Del Rey than just harmonization.  ☆- 8/10 
Historically, the fifth track on Taylor Swift albums has been emotionally devastating, and "You're on Your Own, Kid" is no exception. This is the grown up version of "Never Grow Up" from Speak Now. I absolutely love the beat, but this song will make you start sobbing. It's a slow burn. Rolling Stone encapsulates it perfectly, saying "It's almost like a behind-the-scenes look of her as a teenager writing 'Teardrops on My Guitar.'" ☆- 9/10
The transition from "You're on Your Own, Kid" to "Midnight Rain" is really quite abrupt. There's a little distorted voice in this song that sings "rain" at the very beginning that made me dislike the song from the start. Swift flips the narrative with this song about lost love and heartbreak, because she is the one chasing fame and all-consumed by her career, while he is ready to settle down. It is a little bit like "The Way I Loved You" off Fearless in the way that Swift's love interest is perfect, but she wants more. This one is not my favorite mostly because of the little background voice. ☆- 5/10
The beginning of "Question…?" has a little voice that says "I remember" that matches the line from "Out of the Woods" off 1989. The song itself is about spontaneously falling in love with a man who is in love with someone else. Swift questions all of his actions in this song, such as if he is in love with his partner and why he kissed her. The more I've listened to this song, the more I like it. ☆- 6.5/10 
"Vigilante Shit" is for all the Rep fans out there. The best way to describe it is a combination of "Better Than Revenge" and "no body no crime." The song's all about getting revenge– it's mysterious, eerie, and not something I was expecting at all. I give it a low ranking because I'm not a huge fan. I especially don't like the opening line of "Draw the cat eyes sharp enough to kill a man." It seemed dated and cringy, but it has grown on me after listening to it a few more times. ☆- 5/10 
"Bejeweled" is exactly how the word would sound if it was a sound. This is a sharp turn from "Vigilante Shit," for sure. It's all about glitter, diamonds, and shimmering, as Swift presents herself as the ultimate prize. Swift emphasizes maintaining her self–worth even after being treated poorly. She compares herself to a diamond even when she isn't treated like one by others. The best interpretation I have heard about this song was when Caroline Klein '23 compared it to  the crab from Moana's song "Shiny." ☆- 7.5/10 
Taylor Swift
"Labyrinth" transports you essentially into another dimension. You get lost in the music as you would a labyrinth. It's about coming to terms with losing love, and then deciding whether to trust falling in love once again. The song captures that hazy space of uncertainty well, but I really don't like how it sounds. ☆- 4.5/10 
"Karma" is so fantastic. The chorus is addicting, it's upbeat, and I absolutely love it. This song's lyrics were met with a lot of skepticism before it was officially released, but the hate was unwarranted. In my opinion, this unproblematic song should be played on repeat. ☆- 9/10 
"Sweet Nothing" could perhaps be on Lover. It is a dramatic shift from "Karma," because it's a love song through and through. In essence, the outside world may be chaotic and messy, but Swift can always go home to feel safe and loved. I like the simplicity of this song. It is tender and has anyone who listens to it believe in true love, not to mention Swift wrote it with Joe Alywn. ☆- 8/10
I like "Mastermind." This song is about a drawn out scheme to get a crush to fall in love with her. It's a fitting end track because Swift is known for expertly planting easter eggs for fans to get clues about her future musical endeavors. She truly is a mastermind. I think the music at the beginning sounds like a video game, so I don't like that part, but the song gets better as it goes on. ☆- 7.5/10
Midnights (3am Edition)
In addition to the 12am drop, Swift released seven more songs at 3am for the most dedicated and sleep deprived fans to enjoy. Previewed as "special" and "very chaotic," these songs were certainly a surprise. Here are my thoughts:
"The Great War" has an upbeat tempo combined with war-like images depicting Swift fighting through a hard time in a relationship. The song ends on a hopeful note with Swift saying the fighting made them stronger and the relationship ended up in a better place. I like the war metaphor used throughout this song and I love the line I vowed I would always be yours/ 'Cause we survived The Great War because it means fighting for someone is worth it. ☆- 9/10
15. "Bigger Than The Whole Sky"
"Bigger Than The Whole Sky" is sad. There's no question that it's a song about loss, and fans have speculated it is about a miscarriage Swift may have had. I like it, and I think it is the saddest one on this album, as the chorus says "Goodbye, goodbye, goodbye. You were bigger than the whole sky." Swift is definitely letting someone special to her go. I feel it is important to note that while there is a line that says "What could've been would've been. What should've been you," this song is not, in fact, called "Would've, Could've, Should've." That is the title of a different 3am song. ☆- 8/10
"Paris" is about being in love and not caring who knows it. Swift compares her time with someone to being in Paris because it's captivating, mesmerizing, and enchanting. I love the beat of the song and I love the image it paints of Swift being completely transported when she's with this person. ☆- 9.5/10
Cheating, lying, and secrets are what "High Infidelity" is all about. Swift sings about the pain associated with infidelity and being stuck in a bad relationship feels like. I like this song, especially the line "There's many different ways that you can kill the one you love/ The slowest way is never loving them enough." ☆- 8/10
"Glitch" is about a hook-up that turned into a lasting relationship. Swift sees it as a glitch in the system because it wasn't supposed to happen. I think this song has really weird background vocals and lulls in the song. I don't like it that much; it sounds glitchy and I don't think that's a positive attribute for a song, but maybe that was the point. ☆- 5/10
19. "Would've, Could've, Should've"
"Would've, Could've, Should've" is my favorite song on the album. I think it's so good. The chorus is addicting and the guitar strum in the background fits in so well. It's about John Mayer, who we heard about all the way back on Speak Now in "Dear John," and who Swift dated when she was 19. This just so happens to be the 19th song on the album and it's about her regrets from the relationship. Swift sings "Give me back my girlhood," because Mayer was much older than her and took advantage of that. The sole downside of this song is that its title doesn't exactly roll off the tongue ☆- 9.5/10
It took me a really long time to figure out what "Dear Reader" was about. The song is deeply personal advice from Swift with examples of things she has experienced. At one point she sings "If you don't recognize yourself/ That means you did it right, " alluding to "Look What You Made Me Do" when she says "The old Taylor can't come to the phone… because she's dead." The song is too slow for me to really love. I don't find comfort in the words and the distorted voice that says "You should find another guiding light" at the end is a little weird for a serious song. ☆- 4.5/10
Final Thoughts: 
Midnights is best described as a mix between Reputation and Lover. It is a deeply personal tenth album for Swift. The album encapsulates a wide range of her life, from being a sixteen year old songwriter in "You're on Your Own, Kid" to entering a toxic relationship at 19 in "Would've, Could've, Should've" to being in a five-year romance with Joe Alwyn in "Sweet Nothing." This is an album of love, loss, hurt, confidence, and much more as Swift has grown up in the music industry and survived all of the challenges that come along with it. 
Overall, I do like the album. There are certain songs that I like more than others and I would describe it as an acquired taste, because at midnight on October 21, I was doubting it. But after a few more listens, I was able to pick out the songs I love, which are mainly from the 3am edition. Across the Academy, there are many different opinions on the album, with some saying all the songs sound the same and others saying "Anti-Hero" or "Labyrinth" are their favorites, contrary to my ranking, as they are close to the bottom. There is no true consensus on anything regarding this album, but it has certainly caused a lot of buzz at the Academy and throughout the world with people arguing over the best song and hating others. Nonetheless, Midnights had the largest sales release for any album since 2017, became Spotify's most streamed album in a single day, and is the top selling album of 2022. Swift is still a powerhouse in the music industry. Let me know what you think about Midnights in the comments!
View Comments(1)
About the Contributor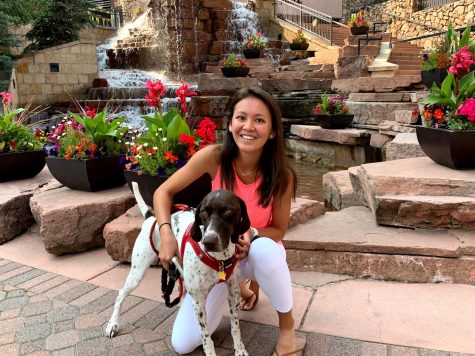 Kaeli Kampschmidt '23, School and Local Editor
Kaeli's love for literature and writing shines through her work as the School and Local Editor. A consistent writer and editor of The Advocate for two...