A Woman With Not Particularly Puffy Hair: A Talk With Phoenix Mayor Kate Gallego
Kate Widland '00 Gallego, mayor of Phoenix, returned to Academy on Community Day for a special session with student leaders on campus. She met with several Academy students to give advice and discuss her experience as a woman in politics. As one of the youngest big-city mayors in the United States, Gallego has enacted meaningful change in her community through economic and climate policy changes.
Upon being asked how her experience at Academy has given her tools for success, she cited the resources and community that the school gave her. Gallego said, "I loved that you could try new things and really develop your passions. The Academy will support you if, for example, you love the arts. You can use top equipment and get access to experts." In her case, she was able to create the environmental club with the support of her teachers and peers, a club that still exists on campus.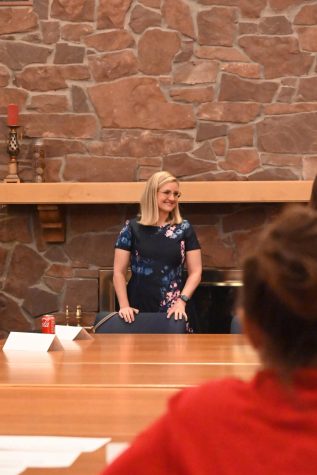 Gallego held true to her identity and passions throughout her schooling, and environmental activism has remained an issue she seeks to pursue as mayor of Phoenix. According to 2012 polling, "immigration and education were the top two issues" for residents in Phoenix. This surprised Gallego because "immigration is normally a federal issue and, like in Albuquerque, the city doesn't run the schools." Gallego knew environmental issues weren't on the minds of her future constituents because according to the same data in 2012, "a majority of them did not believe climate change was caused by humans." Nonetheless, Gallego stuck to her guns and made that the very platform she would run on. Clearly, she was successful. To the students in the room, Gallego said, "Whatever issues interest you, being involved in public health is a great opportunity to move it forward."
But the most powerful aspect of the Academy didn't come from its teachers or resources; it came from the unexpected loss of her classmate. Manoa Alćantara Jojola was Gallego's chemistry lab partner, and he died in a terrible accident her senior year. Gallego said, "That was a really impactful moment in my life—we talked a lot and read a lot of literature about loss and understanding perspective on that, and I think about those conversations a lot." Through these difficult times, she said "it was good to be in this community who supported all of us." Gallego has brought the importance of community with her to Phoenix—from working closely with the two tribal communities in Phoenix to talking to people in "ice cream parlors and barber shops," Gallego's emphasis on personal connection to bring Phoenix together is evident.
On entering the political scene as a woman, Gallego acknowledged that much of her hesitation came from asking the wrong questions of herself. She said, "I almost didn't do it because I didn't know how people would respond to a young woman who wasn't married and had a newborn baby running for mayor." At the time, none of the largest 15 cities in the country had a single female mayor. She asked herself why that was the case, and she quipped, "I think
"
I think I had a mental image of what a mayor looks like—sort of a tall guy with big puffy hair. And I was the short woman with not particularly puffy hair.
I had a mental image of what a mayor looks like—sort of a tall guy with big puffy hair. And I was the short woman with not particularly puffy hair." After a few agonizing weeks of deciding not to run, it was Gallego's friend, an Academy alumni herself, that convinced her to take the leap.
Her campaign as a woman didn't begin as smoothly as she would've hoped. According to Gallego, "When I first started running for office I knocked on doors and sometimes people would call out, "There's a little girl here!" However, the impressive policies Gallego has implemented during her short time in office have earned the respect of her people. Beyond strengthening infrastructure investment and diversifying Phoenix's economy, Gallego was able to navigate COVID in her city. Her proudest moment was signing an executive order to shut down bars and restaurants around St. Patrick's day in 2021. Just before she signed her name, the assistant city manager said, "'People won't like this; you're going to lose your job.'" But once again, Gallego stayed true to what she knew was right for her and carried on with the order.
Much of Gallego's success is due to the importance she places on her community and her conviction to take the right path and not the easy one. Throughout her time as a student and mayor, she has become the true embodiment of the Academy's motto: wisdom, conviction, compassion.
Leave a Comment