What SCOTUS did on Your Summer Vacation
In addition to overturning Roe v Wade, the Supreme Court made a broad array of consequential decisions
The Supreme Court (SCOTUS) held an eventful 2021/2022 term, with several landmark decisions including the historic overturn of Roe v. Wade, decisions on gun control, EPA authority, Indigenous sovereignty, and the separation of church and state. The now heavily conservative-leaning panel of judges has made a summer's worth of groundbreaking rulings that will alter the legal scene.
Dobbs v. Jackson Women's Health Organization (6-3)
In one of the biggest SCOTUS decisions of the 21st century, the six conservative-leaning judges unanimously voted against the liberal bloc in the favor of Dobbs. In practice, this ruling revoked the constitutional right to abortion in the United States, sparking nationwide protests. As of August 25th, abortion is illegal in about half of the country. "Trigger laws" illegalized abortion in most cases in at least eight states. Six states have pending bans, temporarily blocked by courts, and more states currently have no abortion ban but are liable to change depending on election results in the months and years ahead. There are twenty states and the District of Columbia, including New Mexico, which either have no abortion ban or have laws protecting abortion. You can see a map from the Washington Post showing the current status of abortion laws in the U.S. here.
New York State Rifle & Pistol Association v. Bruen (6-3)
On the same day that Congress passed one of its most significant gun safety bills in U.S. history, expanding 'red flag' laws and background checks, SCOTUS struck down a New York law restricting open carry, a rule which allows people to carry firearms on them in public. The ruling came in the wake of two mass shootings in Buffalo, New York, and Uvalde, Texas. It will reel back states' ability to enact restrictive gun legislation preventing the right to publicly carry a firearm, though public areas, like federal buildings and schools, can still be restricted. Multiple states, including New York, California, Hawaii, and several Eastern Seaboard states, seek to sidestep the SCOTUS decision by revising gun legislation.
"
I personally do not think their taking control of environmental regulation was a good idea because it limits the United States' ability to become carbon neutral in the near future.
— Liam Mattox '25
West Virginia v. Environmental Protection Agency (6-3)
The six conservative justices formed a majority in favor of West Virginia, striking down the Enviromental Protection Agency's Clean Power Plan (CPP). The ruling will prevent the EPA from placing limits on carbon emissions. Climate activists worry the Court's decision will signal broader implications for EPA authority and climate inaction. However, following Congress's largest passage of climate legislation in U.S. history, the SCOTUS ruling may have less significance.
Biden v. Texas (5-4)
In a win for President Biden, conservative-bloc Justices John Roberts and Brett Kavanaugh sided with the liberal bloc in favor of maintaining Biden's suspension of a Trump-era immigration law requiring migrants to remain in Mexico while their case is under litigation. The law, known as the Migrant Protection Protocols (MPP), received significant criticism from civil rights groups such as the ACLU.
National Federation of Independent Business (NFIB) v. Department of Labor (DOL) (6-3) / Biden v. Missouri (5-4)
SCOTUS flipped back and forth in litigating Biden's ability to exert executive authority in COVID-19 protocols. The court ruled along bloc-lines that Biden could not require a vaccination-or-testing requirement on institutions employing 100 or more people in the NFIB v. DOL case. Judges voting against Biden's regulations stated that Covid restrictions on businesses fell into the hands of state legislators and Congress, rather than the court.
In a separate ruling, Roberts and Kavanaugh again joined the liberal block of judges in re-affirming Biden's vaccine-mandate for health care workers employed at institutions receiving Medicare and/or Medicaid payments. Those favoring Biden in the Biden v. Missouri case explained that healthcare employees must ensure the best safety measures for patients, pointing towards federal law and the authority of the Secretary of Health and Human Services.
"
I didn't really realize how messed up the whole idea of the Supreme Court was. It's supposed to be unbiased and bipartisan but it's not…
— Manaav Patel '23
Carson v. Makin (6-3) / Kennedy v. Bremerton School District (6-3)
In two cases involving the separation of church and state, the six conservative-bloc justices voted in opposition to the three members of the liberal bloc. In the instance of Carson v. Makin, a case involving Maine's legislative regulations preventing the funding of sectarian schools, the conservative bloc sided with Carson. The decision requires Maine to provide tuition assistance to Carson's religiously affiliated school.
The second of these rulings was litigated between Joseph Kennedy, a football coach, and the Bremerton School District. Kennedy filed his grievance in federal court after getting fired from his position for leading prayers during game time. His case made it to SCOTUS, where the conservative bloc voted unanimously in favor of him, stating that free speech and freedom of religion protected his right to engage in prayer.
Ramirez v. Collier (8-1) / Shurtleff v. Boston (9-0)
In two more cases involving freedom of religion and freedom of expression, the court ruled nearly unanimously. Ramirez v. Collier, a ruling surrounding death-row inmates' right to have a religious leader lay hands on and pray aloud over them during the time of their execution, clarified the government's stance on this practice after several past disagreements on the subject. Every justice save Justice Clarence Thomas ruled in favor of Ramirez, litigating that religious leaders could be present and lay hands on inmates during execution.
In the case of Shurtleff v. Boston, regarding religious displays on public property, specifically hanging a religious flag outside Boston City Hall, SCOTUS unanimously voted against Boston and their refusal to hang a Christian flag. The majority opinion pointed towards Boston's past display of secular flags outside the city hall, explaining that its rejection of a Christian flag blocked free speech and religious expression.
Oklahoma v. Castro-Huerta (5-4)
SCOTUS ruled in Oklahoma v. Castro-Huerta that Oklahoma and other state courts have the authority to adjudicate for crimes committed by non-Indian persons on indigenous land. The conservative bloc, excluding Neil Gorsuch, outweighed the liberal-bloc's dissenting opinion. SCOTUS's decision left some legal experts dumbfounded and received significant criticism from indigenous groups, who called out the Court for undermining tribal sovereignty.
What Academy Thinks
"[I] believe that [the Supreme Court does] not have the interest of the American people in mind…. I personally do not think their taking control of environmental regulation was a good idea because it limits the United States' ability to become carbon neutral in the near future." – Liam Mattox '25
"I'm completely against [the abortion ban]. I think it's free choice that should be allowed…. I try to have as much faith in our judicial system as I can, but what I've seen happen over the last year-ish… I think we need to reform some things in how we elect people and… don't have people be [in the Supreme Court] because they got into a job in our government, not elected. I think everyone should be elected." – Evie Soule '26
"[The abortion ruling] is kind of political suicide for Republicans because it's not really a defensible position to moderates…. The important thing to notice right now is, when you're thinking about the [Supreme Court] decisions, especially Dobbs, is Alaska's House race went for the Democrat, New York 17th went for the Democrat, New York's 17th went for the Democrat. A lot of these races are way closer, are way more left than they had been expected to be pre-Dobbs…. [The Supreme Court justices] are not being objective. The Supreme Court has been political since I want to say Reagan, but I can only claim Clinton…. The only way to solve it, really, is to… completely revamp the system we currently use. [It] needs a complete overhaul. We are so divided now…. What we need right now… is a moderate Republican in the White House, and hopefully that can get something back to normal." – Levi Richard '23
"I didn't really realize how messed up the whole idea of the Supreme Court was. It's supposed to be unbiased and bipartisan but it's not, evidently so…. Our country itself is just really polarized, and that itself has seeped into the Supreme Court…. If a president had their own personal agenda, they're [going to] execute that through the Supreme Court if they can, and that happened with Trump, and now there's all these Trump-agenda people on the Supreme Court…. In an ideal world, I feel like no one should have that seat for life. You're just not representative of the population at a certain age, and your views are out-of-touch…. I know everyone [is] saying that abortion opens the door for interracial marriage and gay marriage, and, honestly, interracial marriage… feels like so long ago…. I heard people talking about it and I [thought] yeah, maybe, but probably not…. [Gay marriage] was just legalized in [2015], so it [has] only been a few years-ish, so that to me… was a little bit more [concerning], and maybe that's just because I'm gay personally…. But that to me felt, because it's a little more fresh than interracial marriage, it's something that has a high chance of being overturned. And although I don't think that'll happen, it's not codified." – Maanav Patel '23
Leave a Comment
About the Contributor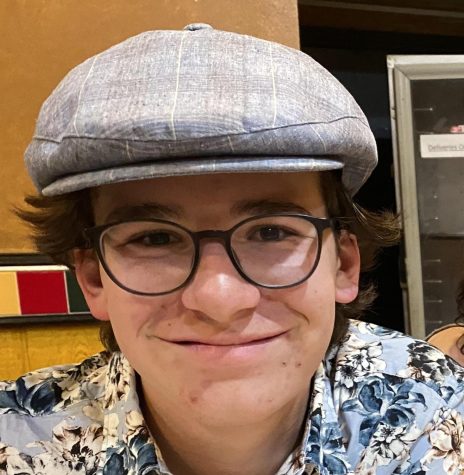 Darin Eberhardt '25, Opinion and Arts & Culture Editor
Opinion and Arts & Culture editor Darin Eberhardt '25 has been working with the Advocate since 7th grade and joined the Editorial Board in early 2023....