Summer Politics Recap
Joe Biden and the Democrats seemed to be careening towards a catastrophic midterm election. With sky-high inflation, a stalled agenda and anemic poll numbers, Republicans seemed on the path to retake control of one or more chambers of Congress this fall. But a summer of unprecedented political activity and positive economic news upended and fundamentally reshaped the political environment. It seems that a comeback for the ages has been in the works for the President this summer.
Nearly three months ago, on May 25, 2022, President Joe Biden and his Democratic Party were in trouble. Polls showed his approval rating dipping close to his lowest point during his 16 months in office, with only about 41% of Americans approving of his performance amidst historic inflation and spiking gas prices, which Albuquerque Academy history teacher Ed Baklini noted was, in some ways, akin to the mood of Americans in the late 1970s, when Americans struggled under inflation (though quite higher than today, and with an added economic recession). Likewise, the Democrats in the House were polling consistently below their Republican counterparts, while many were also quick to write off vulnerable Democratic incumbents in Senate races in states from across the country. However, over the course of the roughly three months since, a flurry of congressional action focused on passing President Biden's agenda, combined with the unpopular decision overturning the federally-protected right to an abortion, the sharp reduction in inflation and gas prices, and the sudden burst of revelations about former President Donald Trump—that he took hundreds of classified documents to his post-presidency home in Florida, prompting an FBI search—have injected new life into a presidency, and energized the Democratic Party.
"What are we doing?" That was the question asked by an enraged Senator Chris Murphy (D-CT), just after it was reported that roughly two dozen children and teachers were gunned down at Robb Elementary School in Uvalde, Texas. Murphy, who represents Connecticut, where the Sandy Hook Elementary School shooting that killed 28 people and injured two in 2012 occured, has long been a passionate advocate for gun safety and seized the moment. He demanded action from a Congress that has long been firmly in the grip of the gun lobby, especially the NRA (National Rifle Association), who donate heavily to many conservative Senators. Many expected that his words were simply more powerless rhetoric and that the policy status quo would remain.
But then something shocking happened. After weeks of negotiations that the media was quick to dismiss, Murphy, along with Senator John Cornyn (R – TX), and Senator Kyrsten Sinema, a moderate Democrat from Arizona known as one of the Senate's most effective bipartisan negotiators, struck a surprise deal on gun safety. The bill, which passed the Senate and House with bipartisan support in the middle of June, represented the most comprehensive such law that passed Congress in nearly three decades, expanding background checks and encouraging states to adopt red-flag laws, while also investing in school mental health resources. The sense of action coming from Washington stunned a nation reeling from an attack that struck its very soul, and was a sign that the federal government could, at long last, work together to help its people. Baklini noted that such legislation, especially in areas where vast majorities of Americans agree on common sense gun restrictions, is "the right thing to do," and help "bring a country forward," noting the importance of the use of bipartisanship to keep people safe, even in otherwise polarizing times.
But by June 24, 2022, yet another colossal piece of news jerked the nation's attention. This time, the nation collectively turned to the conservative-dominated Supreme Court, which overturned nearly a half-century of precedent after reversing Roe v. Wade, which granted child-bearing citizens across the country the federally-protected right to an abortion. Immediately, the reaction was largely one of outrage, with activists and liberal politicians voicing anger and fear for what would happen in a set of Republican-dominated states where so-called "trigger laws" would eventually outlaw access to an abortion, given that the ruling allowed states to decide on their own how they would like to regulate the medical procedure. Soon after the rulings, President Biden signed an executive order protecting access to abortion and contraception, specifically protecting emergency medical care and interstate travel to obtain an abortion, while Vice President Kamala Harris embarked on nearly a dozen visits to a variety of states from Indiana to California to discuss with local activists ways to safeguard the right to choose, actions that were praised by Senators Patty Murray of Washington and Elizabeth Warren of Massachussets, leading abortion-rights proponents. Soon after this ruling, Democrats experienced a boost in polling in races across the nation, including Senate, House and governors races. Specifically, in a special election in New York where the Democratic candidate campaigned heavily on abortion rights, Democrats stunned the political world by winning a competitive seat they were widely expected to lose, as Democrat Pat Ryan triumphed over Republican Mark Molinaro in a sprawling Hudson Valley district, giving hope to the party that new enthusiasm spurred by the decision to overturn Roe would rescue their hopes this November. Weeks later, another special election showed the sizable shift that the supreme court decision had on the political environment, as a vote for Alaska's lone House seat saw Democrat Mary Peltola defeat Republican Sarah Palin in an upset victory, at least partially attributable to a sudden enthusiasm for the pro-choice candidate among Democrats and independents following the end of Roe. "If women feel that they're being denied their rights, they will make their voices heard, and there is a significant chance that the current makeup of Congress may be able to hold," says Baklini.
As the summer wore on, record-breaking and deadly floods swept through states from Kentucky to Florida, and a nationwide heatwave baked locales across the country. It then became increasingly clear that something had to be done to combat the rampant spread of the climate crisis. Pressure mounted on Congress to pass a bill that would enact President Biden's proposals designed to halt, or at least slow, the spread of the emergency. So, as one would expect, it came as a massive shock and disappointment to activists, lawmakers and White House officials when Senator Joe Manchin, a conservative Democrat from West Virginia, announced in mid-July that he would no longer be willing to back any new climate-related spending, citing concerns about inflation, essentially dooming its chances of passage in a 50-50 Senate, where every Democrat would have to vote in favor for a bill to pass. Immediately, the announcement was met with rage from Democrats, including Senator Martin Heinrich of New Mexico, who openly suggested that Manchin should be stripped of his high-ranking chairmanship of the Senate Energy Committee. Manchin would soon seem like he was digging in on his vow, and even President Biden seemed to believe him, as he released a statement essentially acknowledging that no new climate legislation would be passing any time soon. But Washington has a way of surprising people when they least expect it.
About two weeks after his initial rejection of new climate spending, Manchin suddenly agreed to a totally unexpected resurrection of a massive bill that included, to the shock of many, comprehensive climate investments, in addition to new taxes on large corporations, and provisions to lower prescription drug and healthcare costs, all critical pieces of President Biden's domestic agenda. Suddenly jolted by the good news, President Biden immediately called for its passage, and, in just over a week, the Senate passed the landmark bill, known as the Inflation Reduction Act, 51-50, with Vice President Harris acting as the tie-breaking vote. Soon after, an emotional Senate Majority Leader Chuck Schumer, a Democrat from New York, touted the success as once-in-a-generational, and proof that the Senate can pass massive and truly historic legislation. Within days, guided by Speaker Nancy Pelosi, the House of Representatives also passed the bill 220-207, with every Democrat voting in its favor. In both chambers, no Republicans voted for the bill, and many were quick to brand it as a socialist takeover of the government, especially targeting a provision that expands and re-funds the IRS that aims to beef up tax enforcement on high-income earners. However, fact-checkers labeled many of the claims, including those that the bill allows the IRS to have a militarized army of tax agents, as false.
The bill's main intent was to rein in the rising inflationary pressures that have been impacting the nation, and also included an array of priorities from all factions of the party, including progressive priorities like funding for environmental justice, and aid to under-privilidged communities suffering from high levels of pollution, and some of President Biden's longtime personal priorities like expanding the Affordable Care Act, also known as Obamacare. The bill also included funding for a range of other goals, from drought funding to an insulin price cap for those on Medicare. As for the climate piece of the bill, Mr. Bak noted that the bill could help us "do our part" to help combat the climate crisis, though it could still be "difficult to get nations like China to cooperate", signaling that some important challenges may lay ahead. For now though, the bill accomplishes longtime aims of a party that has been campaigning on climate, healthcare and tax issues for decades, and provides an important emphasis on the idea that Democrats can indeed govern even with a slim congressional majority. The latter notion was further bolstered by the simultaneous passages of the CHIPS and Science Act, a bill that will boost domestic manufacturing and competition with China, the PACT Act, which is a comprehensive expansion of veterans' health benefits, and the induction of Sweden and Finland into the NATO alliance, which strengthens global security and democracy in the face of the Russian invasion of Ukraine.
To cap it all off, on August 24, President Biden announced that his administration would cancel up to $20,000 of student loan debt for nearly 50 million Americans, 20 million of whom would see their debt entirely wiped out. This major announcement came as a big win for the progressive base of the Democrats and excited Senators Chuck Schumer, Elizabeth Warren and Bernie Sanders, all of whom had pushed for the action and hailed it as a major achievement for young people across the country, many of whom had been dogged by debt that threatened to haunt them into their later lives. The effect was widespread enthusiasm from many young voters who had been previously skeptical of the President, and offered yet another opportunity for the Democratic base to get fired up ahead of this November's election.
After a summer that saw one of the most successful political stretches for any president in recent history, President Biden kicked off his midterm campaign push at a packed rally in Rockville, Maryland, where he campaigned for Democrat Wes Moore, who is running to flip the state's governorship after it has been in Republican control for nearly a decade. Biden emphasized the recent accomplishments of his administration, including the healthcare, climate and tax accomplishments of the Inflation Reduction Act, and his recent student debt cancellation announcement. Energized, he passionately ticked off the accomplishments of the past few months, and emphasized the progress that has been made in the last year and a half in an exuberant manner, saying, "We've come a long way!" A week later outside of Independence Hall in Philadelphia, the President once again hailed the accomplishments of his administration, saying that "we're proving that in America, no matter how long the road, progress does come". However, he noted that there are significant challenges ahead to preserve democracy, noting that "too much that's happening in our country is not normal", referring to the January 6th insurrection and the sustained refusal by many Republicans to accept the results of the 2020 Presidential election.
But the President ended on a more optimistic tone, confident that the achievements and efforts of his administration would break through the forces that still refuse to recognize his legitimacy: "I have no doubt — none –– that this is who we will be and that we'll come together as a nation. That we'll secure our democracy. That for the next 200 years, we'll have what we had the past 200 years: the greatest nation on the face of the Earth."
Leave a Comment
About the Contributor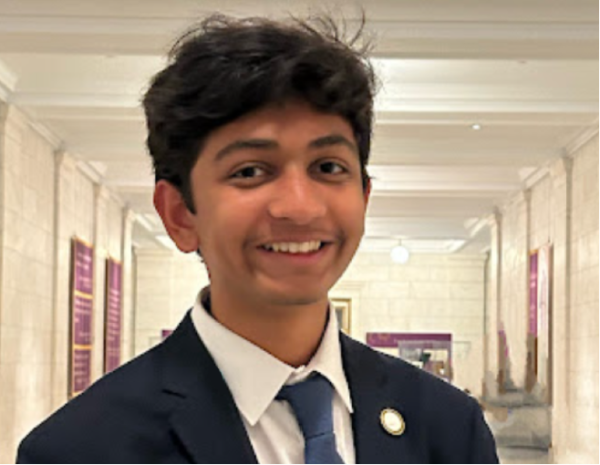 Abhishek Narahari '24, News Co-Editor
Abhishek is a deeply engaged member of the Albuquerque Academy community, part of several government and politics-focused clubs and activities. For the...