2022 Spring One-Acts Review
The student-directed one-act plays annually provide a celebration of the Academy's vibrant theater community. This tradition allows students to showcase their talent across various aspects of production, with students taking on acting, tech, writing, and directing the performance. This year, the show featured five short works, all either written or directed by students.
Algorithm and Blues, written by Nicole L.V. Mullis and directed by Kira Small '22, presented a complicated first date between main characters Thomas and Mara after a supposed error in the online dating algorithm. Kendra Delgado '23 and Thomas Wray '24 portrayed the confusion with wholesome humor while simultaneously conveying an impressive emotional depth. Underscored by Abby Czuchlewski '24 on the cello, the short but sweet act left the audience smiling.
Next up, Walking the Line took form as a recorded reading projected above the stage. Written by Caroline Lutz '23, this stunning one-act follows the partner, best friend, and brief acquaintance of the late Dani as they grieve, interact, and receive a visit from their loved one's ghost. Martyna Fajfer '23 brought captivating humor and confidence to the role of Dani, clearly connecting with the audience. Lutz's writing demonstrated an incredible capacity for human emotion and theatrical understanding while the cast followed suit in an outstanding reading.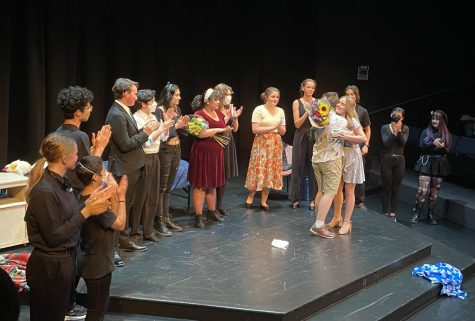 From Out of The Clear Blue Sky, written by Gregory Luick and directed by Brooke Caperton '23, stood out as the audience's favorite. This one-act centered around a single curious object: a random rope hanging from the sky. Hysterically funny, Lili Sanchez '25 and Anabelle Steele '25 portrayed Amber and Peter, two strangers who debate the possibilities of the origins and meaning of the strange sight. Caperton's direction and the performances by the freshmen constituted a hit performance with beautiful underlying messages surrounding curiosity and how we capture or let go of our experiences.
Following intermission, Lights Up—directed by Kira Small '22—took the stage. Written by the AA Playwriting club, this staged reading featured seven neighbors as their niche worlds intertwined in one apartment building. The short production offered intriguing characters, humor, and a feel-good conclusion. The highlight of the one-act, however, came in the form of Small's commentary throughout the show. As narrator, Small periodically interjected thoughts and jokes into the performance, adding to the show.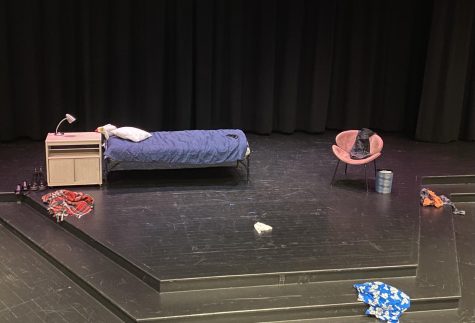 This year's One-Acts concluded with Like Glass, written and directed by Small. The act follows friends Jane (Ainara Vecchia '24) and Cameron (Lou Small '25) shortly following a tragedy. With a gorgeous performance by both actors, Like Glass achieved a professional quality. Vecchia and Lou Small created a world of their own on the stage with a realness to their performance that produced both a lovely and heartbreaking interaction to observe.
The entire production was guided by Laurie Thomas and Richard Hogle and made possible by the student technical crew. Once again, One-Acts proved the talent of the theater community here at Academy. The actors of our school took on impressive works with grace, passion, and style. Seasoned thespians created professional and inspiring work while the talent on display solidified an exciting future for theater at Academy.
View Comments(1)
About the Contributors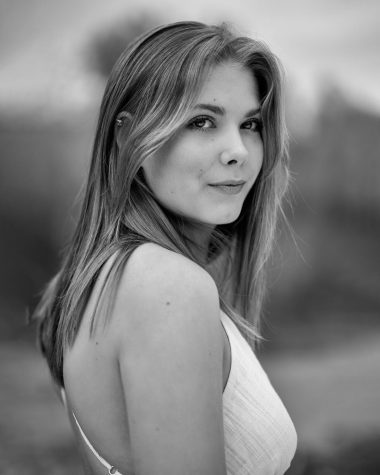 Halie Leland '23, Co-Editor-in-Chief
As Co-EIC this year, Halie is thrilled to be leading The Advocate. Since beginning their career in student journalism in sophomore year, they have developed...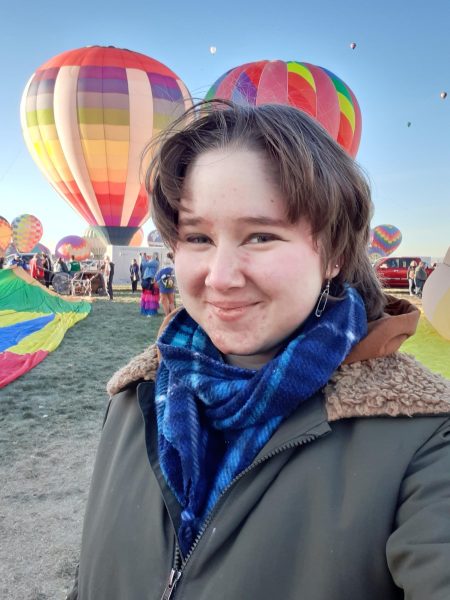 Haley Pedersen '25, Graphics Editor
Haley '25 is the Advocate's Graphic Art Editor. Their overall artist career sprouted at a young age from their various dragon sketches and drawings,...