Nicole Fox '13 Feeds Visitors to the Sharks
Former Advocate Editor helps design exhibit at American Museum of Natural History
Albuquerque Academy alum Nicole Fox '13 is a featured digital artist in the Sharks exhibit in New York's American Museum of Natural History. Her exhibit is open now through August 14th. The exhibit covers a variety of information about the sharks, urging the viewers to connect deeper with the fascinating species. The exhibit consists of life-sized screenings of underwater videography, almost 30 realistic models of different species, including the enormous head of a Megladon, and various interactive digital activities.
"
How can I make this accessible to somebody without making it untrue?
— Nicole Fox
Digital art is a rapidly developing field. Fox describes it as a "new way of making works with content that already exists." Just like paint, clay or pencils, digital art is a medium for creating art. The most major use of the art is advertising. However, Fox realized that it was important to utilize and focus on other aspects of digital design. She wanted to take information and ask herself the question: "How can I make this accessible to somebody without making it untrue?" The Sharks exhibit provided a wonderful opportunity for just this. Fox worked with numerous top scientists in order to make this surreal and informative exhibit come to life.
Although for Fox, design was a last minute realization, there was no moment of hesitation. As a previous writer and editor-in-chief for The Advocate, Fox thought she had found her passion in journalism. She ended up discovering, however, that creating the layouts for her articles was more exciting than writing them, and she began to further pursue design.
To Fox, "Albuquerque Academy was one of the most important things to happen" in her career. As an avid student as well as an inspiring artist, the fact that the Academy "made art seem like a real profession" and a viable career was impactful for Fox. Instead of just an elective, the art program inspired her to further pursue art as an adult.
As a final senior capstone while attending Washington University, Fox worked on a project called This Land is Our Land, in which she "united four distinct perspectives in the discussion of the usage and protection of America's public lands." Growing up in New Mexico, Fox saw first hand the importance of land ownership and the struggle Native American communities go through to protect the places they call home. Her project was also created during a time of controversy with oil and gas companies and government land use. To Fox, this topic was "meaningful, important, and a huge problem." In fact, because it was such an impactful issue for her, Fox had a hard time conceptualizing her project's role in the movement. After taking a step back, Fox was able to accept she didn't have all the solutions, and believes that the piece "presenting the information and creating dialogue and conversation" is enough for it to serve the movement well.
Nicole Fox went through many experiences discovering what digital design meant to her and how she would form her career. Her grounding in New Mexico greatly influenced her, and the relationships she built and the mentors who guided her makes Fox thankful for her time at Albuquerque Academy. Her background at AA gave her the foundation to flourish as an artist, and lead to her success with her current Sharks exhibit at the American Museum of Natural History.
View Comments (2)
About the Contributor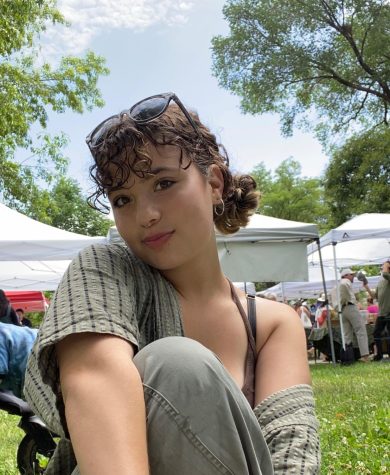 Lily Ma'ayan '24, 7th Grade Editor
Lily, or Lilith, '24 is the Advocate's 7th-grade editor, working with our youngest writers and artists. In 11th grade, she is a class officer who, along...