Vice-President Harris' trip to Eastern Europe
Emphasizing and unity, and changing her own narrative
On Wednesday, March 9, 2022, Vice President Kamala Harris embarked on her sixth international trip, this time to Poland and Romania. Her visit comes just weeks after Russia launched a full-scale attack on neighboring Ukraine, the largest such invasion since the second world war. Harris' visit was a high-stakes attempt to consolidate support in some of America's easternmost allies in Europe, likely the most important assignment of her tenure yet, which was further complicated by a recent disagreement on military aid between the United States and Poland.
On March 8, the United States turned down a Polish offer to supply fighter jets to Ukraine with American assistance, which some top officials feared could create an awkward and potentially consequential expansion of the war, beyond the Ukrainian border. On Wednesday, Harris met with the Polish President, Andrzej Duda, where she sought to replace the narrative of division between the two nations with one of solidarity, pledging full American support to Poland and other NATO eastern flank allies, including the delivery of two new aerial missile systems to the nation. She also emphasized her support for the Ukrainian people, as she announced that the United States would deliver 50 billion dollars of humanitarian aid to Ukraine, in addition to the nearly 14 billion dollars of military aid expected to be appropriated by Congress in this year's spending bill. After that announcement, she met with a few of the almost 1.5 million Ukrainian refugees currently in Poland, where she emphasized her administration's support for those fleeing the war. She also met with Canadian Prime Minister Jusin Trudeau, further pushing her support for the core members of NATO, who have presented a largely unified front when it comes to sanctions on the Russian economy, a sentiment which Trudeau echoed.
The next day, Vice President Harris made a stop in Bucharest, the capital of another NATO eastern flank ally, Romania. There, the Vice President made sure to reaffirm the United States' "firm" commitment to Romania, and added that the nation would "defend every inch of NATO territory." Romania, like Poland, has found itself housing hundreds of thousands of Ukrainian refugees, and Harris made sure to mention the investments that the United States has provided to those refugees, the nations like Poland and Romania which are housing them, and to the civilians caught in the crossfire of war in Ukraine. As proof of the United States' commitment to Romania, she provided the fact that around 1,000 troops have already been dispatched to the nation in a show of solidarity. Romanian President Klaus Iohannis added that Harris' visit to the nation provided "strength" and was "living proof of our strong partnership."
This trip represents something of a turning-point opportunity for Harris, offering a chance to redefine her vice presidency. Rather than being associated with thorny, controversial, and divisive domestic issues, she is gathering support on the world stage for a popular foreign policy initiative. The former has included her focus on the root causes of migration from Latin America, which has come under Republican scrutiny, and her attempts to get landmark voting rights legislation passed, which have so far been to no avail, due to opposition from Senators Joe Manchin and Kyrsten Sinema. In giving the Vice President this opportunity, President Biden and his administration are making clear that she deserves a chance to re-define her tenure and legacy, replacing the negative attention she has received domestically with high-profile international appearances on the world stage.
Leave a Comment
About the Contributor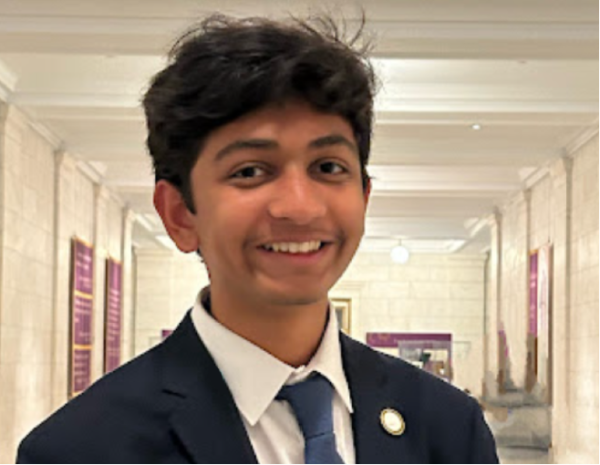 Abhishek Narahari '24, News Co-Editor
Abhishek is a deeply engaged member of the Albuquerque Academy community, part of several government and politics-focused clubs and activities. For the...