Don't Look Up?
A conclusive review of the popular Netflix film featuring an all-star crew including Leonardo DiCaprio and Jennifer Lawrence.
Don't Look Up is a satirical social commentary surrounding the discovery of a giant asteroid headed to destroy earth and all its inhabitants. It is directed by Adam McKay, the genius behind Step Brothers, Vice, and The Big Short. This movie, however, isn't like other sci-fi doomsday films you might have seen before; it has an underlying truthfulness to it that leaves the viewer uneasy, with something unique to think about.
The big budget film has climbed the Netflix charts quickly, with much credit to its stacked cast. Don't Look Up features numerous A-list actors including Leonardo DiCaprio, Jennifer Lawrence, Meryl Streep, Tyler Perry, Cate Blanchet, and Timothèe Chalamet. It cameos other celebrities like Ariana Grande and Kid Cudi.
When portraying current major figures in a way that makes critical call outs of their behaviors and ignorance, these actors live up to their reputations. Meryl Streep who plays the President of the United States in the film, elaborates on the greed of modern-day U.S. politicians and appears to be a fusion of both Donald Trump and Hillary Clinton. The character Peter Irshwell, a tech developer played by Mark Rylance, conveys many attributes of Elon Musk, Jeff Bezos, and Mark Zuckerberg. The movie also seems to make some pop culture references regarding the characters Riley Bina and DJ Chello, played by Ariana Grande and Kid Cudi respectively, and criticizes media sources such as The New York Times and morning talk shows such as "Live With Kelly and Ryan" and MSNBC's "Morning Joe."
Adam McKay makes his messages clear. Spoiler alert: the destruction on Earth is inevitable, and as climate change becomes increasingly irreversible, we have no option but to accept it. Leonardo DiCaprio and Jennifer Lawrence, the two scientists who discover the deathly comet, do a skilled job at portraying the fear, disparity, and anger surrounding the inevitable destruction no one seems to acknowledge or take seriously.
As a filmmaker, how is one supposed to deliver such a twisted and cynical message to an unwilling audience? Cate Blanchet and Tyler Perry, two newscasters on their show "The Daily Rip" say in the movie, you "keep the bad news light" because "it helps the medicine go down." Instead of making a documentary to highlight the world's current stance on climate change, Adam McKay takes a different approach. Following what he suggests on Twitter, classifying the movie as a comedy would be missing the point, but there definitely are comedic aspects woven in.
Jonah Hill, who plays the Chief of Staff and President's son, is responsible for perhaps some of the most hilarious scenes of the movie. His improvised, witty lines make you laugh, and then feel guilty for laughing at a movie with such a serious message.
Even so, a movie directed by a previous SNL writer like Adam McKay is expected to have comedy hold a higher significance. Don't Look Up's attempt at a satirical comedy falls short, and perhaps is the cause of it's surge in negative feedback from numerous enraged critics on social media, with only a 55% rating on Rotten Tomatoes.
The controversy may be exactly what Mckay wanted, however. The movie was meant to push buttons, irritate, infuriate and most of all meant to frighten, worry, and panic people. Soon after the movie came out, McKay tweeted, "Loving all the heated debate about our movie. But if you don't have at least a small ember of of anxiety about the climate collapsing (or the US teetering) I'm not sure "Don't Look" Up makes any sense." The reason why this movie Don't Look Up causes such a strong reaction is because it's more of an accurate portrayal of our society than we realize.
The direct approach McKay takes makes the movie stand out, plus the cast's talent and humor makes it a good watch. However, in the end, the true quality of the film doesn't reside in it's entertainment, but rather it's complexity, eloquence, and presiding call to action.
View Comments(1)
About the Contributors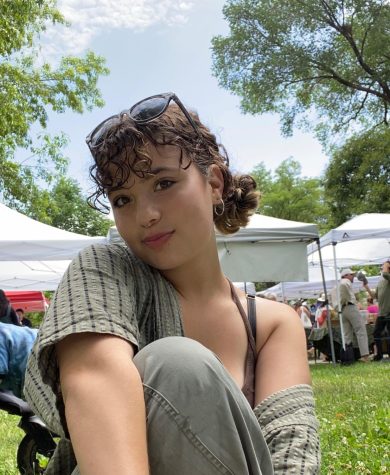 Lily Ma'ayan '24, 7th Grade Editor
Lily, or Lilith, '24 is the Advocate's 7th-grade editor, working with our youngest writers and artists. In 11th grade, she is a class officer who, along...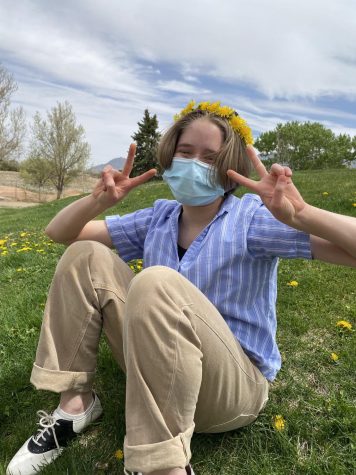 Haley Pedersen '25, Graphics Editor
Haley '25 is the Advocate's Graphic Art Editor. Their overall artist career sprouted at a young age from their various dragon sketches and drawings,...