Biden and Harris Trumpet Voting Rights in Georgia
On January 11, 2022, President Joe Biden, Vice President Kamala Harris, and an entourage of allied members of the House and Senate went to Atlanta, Georgia, to deliver remarks on voting rights, which are under an unprecedented assault nationwide. The visit also came as Democrats in Congress work to push two voting rights bills through to the President's desk.
Before giving their remarks, Biden and Harris visited the crypt of Dr. Martin Luther King Jr. and Coretta Scott King with the reverend's family. After that, they visited Ebenezer Baptist Church, where the reverend once preached, and were greeted by the current reverend and Georgia Senator Rapahel Warnock, a Democrat up for re-election this year. Tagging along were a slew of congressional members from the state of Georgia, including the state's other senator, Jon Ossoff, and Congresswoman Nikema Williams, who holds the seat once held by late civil rights leader John Lewis. The Chair of the Congressional Black Caucus, Representative Joyce Beatty of Ohio, and the chair of the Senate Rules Committee, which deals with voting rights, Senator Amy Klobuchar of Minnesota, were among the other members of Congress present at the speech.
During her remarks, Vice President Harris hailed the bravery of civil rights leaders like Dr. King and Congressman Lewis across history and said that the Congress and country must not settle for laws that make it crime to help a voter with a disability mail in their ballot, or give voters water in a line, both of which were set into law after the Republican Georgia state government adopted new voting rules last year. For the first time in such a setting, President Biden explicitly advocated for the removal of the filibuster, a procedural hurdle in the Senate currently obstructing the passage of the John Lewis Voting Rights Act and the Freedom to Vote Act, both of which would help supercede new restrictive rules like those passed in Georgia. While both bills have majority support in the Senate, there are not enough votes to carve-out the filibuster to pass these bills due to the opposition by Senators Joe Manchin of West Virginia and Kyrsten Sinema of Arizona. The President also noted that history would judge how every Senator votes on these bills, and that it was imperative that they pass. Lastly, he tied the movement to secure voting rights as a battle against the same forces that caused the January 6th insurrection just over a year ago – election denialism pushed by former president Trump.
Leave a Comment
About the Contributor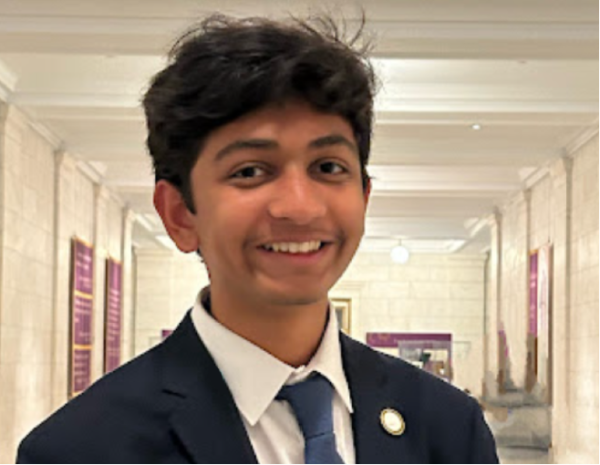 Abhishek Narahari '24, News Co-Editor
Abhishek is a deeply engaged member of the Albuquerque Academy community, part of several government and politics-focused clubs and activities. For the...