We're Approaching Climate Change Wrong: Failure at COP26
Two weeks of climate negotiations between world leaders at the COP26 conference in Glasgow, Scotland yielded new commitments from many countries but failed to meet the urgency and scale of change necessary to combat global warming.
COP26—the 26th Conference of Parties on climate change—took place from October 31, 2021 to November 12, 2021. 120 leaders from around the world gathered to discuss reducing carbon emissions. President Biden attended the conference, reintroducing the US to the international climate forum.
What Happened at COP26?
The conference resulted in significant commitment to cut emissions and agreements to keep the goal of reaching 1.5 degrees C global average in motion. By the end of the two weeks, 151 countries signed off on new nationally determined contributions (NDCs) to cut down emissions by 2030.
Countries in attendance also adopted the Glasgow Climate Pact, agreeing to "phase out" unabated coal power and "phase out" inefficient fossil fuel subsidies. The agreement calls for developed countries to double their adaptation finance by 2025, helping developing countries adapt to the effects of climate change. Additionally, countries will submit their NDCs if they have not already done so and update their 2030 targets by the end of 2022, aligning them with the Paris Agreement.
"
Developing countries gained some support through the conference, but not enough."
Developing countries gained some support through the conference, but not enough. In 2009, wealthy nations committed to mobilizing $100 billion a year by 2020 to support developing nations fighting global warming and continue doing so through 2025. At COP26, it was noted that developed countries failed to reach this goal in 2020. The conference indicated a continued effort to fulfill this promise as soon as possible. Under the Glasgow Climate Pact, the agreement to double adaptation could amount to at least $40 billion for developing countries who suffer the most pressing impacts of warming.
"Loss and Damage," the UN term for the impacts of climate change on humans, also proved to be an issue at the forefront of negotiations. Developing nations pushed for a new financial fund dedicated to easing the devastating impacts of climate change. Developed nations pushed back while remaining open to discussion. "Loss and Damage" is predicted to be a major point of debate at the COP27 summit in Egypt next year.
In terms of policy developments, leaders finally settled on the rules of Article 6 of the Paris Agreement, pertaining to International Carbon Markets. Negotiators moved to avoid double-counting—where more than one country counts the same emissions reductions towards their own climate goals. Countries were also urged to align with a common timeframe for NDCs, having ten years to complete their goals.
Outside of negotiations, the most notable developments include India's bold commitment to reach net-zero by 2070, 109 countries signing the Global Methane Pledge in order to cut emissions by 30% by 2030, and over 1,000 cities joining the Cities Race to Zero. Over 100 countries also signed a new pledge to end deforestation.
Analysis: Will It Be Enough?
While COP26 made progress towards ending climate change, the developments are simply not enough. Scientists have determined that to avoid the catastrophic effects of global warming, the world needs to stay below 1.5 degrees Celsius. The globe is projected to reach 1.5° Celcius between 2030 and the early 2050s unless greenhouse gas emissions are sizably reduced. Though it may seem as though COP26 resulted in progressive new plans to reduce emissions, all of these pledges added together would still not keep the globe below 1.5°C even by 2100. Rather, the "ambitious" plans keep the world on track for warming more than 2°C by the end of the century. If the temperature rises this high, the world will face unprecedented storms and flooding, the extensive destruction of ecosystems, and widespread poverty and disease. These politicians' words sound nice, but in reality, the solutions they are putting forth are insufficient.
Although many leaders sped up the timeline of their NDCs, they contradicted this progress by adjusting policies. For example, countries agreed to allow the carry-over of past carbon credits from 2013 under the Kyoto Protocol, and, furthermore, allow these credits to count towards their climate goals under the Paris Agreement. This allows countries to simply record past accomplishments instead of achieving new ones.
COP26 may have offered some aid to developing countries, but suffering nations are still left to suffer the consequences of wealthy nations' actions. According to a study conducted by Oxfam, "around 50% of carbon emissions can be attributed to the richest 10% of people around the world." Conversely, the poorest half of the global population contributes only about 10% of global emissions, yet simultaneously feel the effects of global warming the greatest. A new fund for suffering countries was proposed at COP26, but the idea was shot down by the world's wealthiest countries, including the US, demonstrating once again just how many developed nations are all talk and no action.
"
We cannot solve a crisis with the same methods that got us into it in the first place."
— Greta Thunberg
While empty promises were negotiated behind closed doors, it was the thousands of activists flooding the streets that were truly dedicated to change. For two weeks straight, Glasglow was packed with passionate citizens from every corner of the world. Among the protesters were farmers, unionists, independence advocates, and Indigenous activists, all fighting for climate justice. It's this motley crew that gives me hope. These protestors brought their beliefs and cultures to the biggest stage for climate discussions and demonstrated their power, making the conference attendees look weak.
Climate change impacts all of us, but likely very few of the politicians inside COP26 have experienced the worst of it. Most of the crowd outside was motivated by personal experience. These are the people who see their crops die, watch their villages flood, and have to fight harder each and every day. They know what real change is, and until we see some, I agree with activist Greta Thunberg in her remarks stating COP26 as nothing more than a "PR event." As she said, "we cannot solve a crisis with the same methods that got us into it in the first place."
We've put climate change in the hands of politicians, and now have to watch as survival is debated as pure economics. If we want action, we need to demand action like the thousands of inspired activists in Glasgow. We have power and we need to use it. We need to save the world, literally, because I don't see our leaders doing it.
Leave a Comment
About the Contributor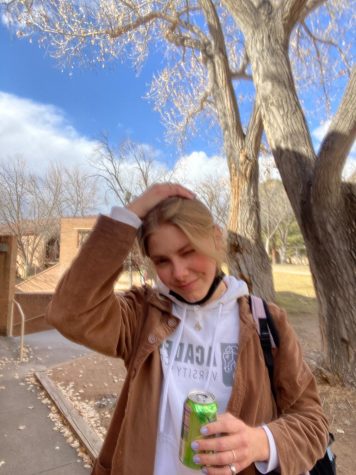 Halie Leland '23, Co-Editor-in-Chief
As Co-EIC this year, Halie is thrilled to be leading The Advocate. Since beginning their career in student journalism in sophomore year, they have developed...