Albuquerque Set to Pilot Zero Fares Program
How will this impact Burqueños? And will it last?
In January 2022, the Zero Fares Pilot Program will be implemented, making all public transportation in Albuquerque free. The policy will be in place for one year but may continue for longer if it is deemed beneficial to our city. Conversations about this policy have been ongoing within the City Council for a while, and after a presentation from the Department of Municipal Development's security division, Albuquerque's nine elected council members unanimously voted to pass the Zero Fares policy. This program is intended to get people moving, and therefore the economy with it. However, some city councilors are hesitant because of the expected change in rider population and security concerns. Still, with easier access to jobs, schools, and public resources, this new act might be just what people need, especially after the Covid-19 pandemic lockdowns.
Albuquerque is one of the largest cities in the country to implement the Zero Fares pilot program. Detroit was one of the first cities that brought the policy to the United States, implementing the program during the pandemic, when the city was greatly affected. Many cities in Europe have also experimented with free transit. Last year, Luxemburg was the first country to make the entirety of its public transportation free.
There are many reasons these governments decided to implement this policy. By promoting public transportation and eliminating the financial obstacle, the policy can decrease car emissions, expand opportunities for youth, help homeless people utilize available programs, and reduce unnecessary costs and create more reliable transportation for working-class people. Christopher Ramirez is the founder of Together 4 Brothers, a local organization that provides leadership opportunities to boys and young men of color, who have been advocating for free public transit since 2017. Ramirez insists that "zero fares isn't about getting people on buses, it's about where the buses take people. It's about access to education, it's about access to employment, access to recreation."
Still, City Councilor Issac Benton and many locals are concerned about the atmosphere change they claim the buses may have without the financial constraint. The policy will most likely bring in different demographics of people who previously may not have been able to afford the bus, such as the city's homeless population. Because of his own experiences riding the city buses, Benton claims security issues should be of concern. According to the Albuquerque Journal, there have already been 135 transit-related security calls in only the first half of 2021, and Benton believes they are only going to increase this upcoming year once the policy is in place. These conflicts that were reported disturb the other passengers but most importantly make the bus driver's jobs a lot more difficult. Although he sponsored the bill, Issac Benton has hoped for more security and staffing to assist the bus staff.
Still, it is likely that these disturbances won't be as big of a concern. Many of these incidents happened at the station and not on the buses themselves. Also, many of the ones that did specifically involve the bus or bus driver were over bus fare. This means that eliminating bus fares might actually lead to a decrease in conflict.
The buses are already free to students, veterans, and seniors. Santiago Webb '24 often rides the bus home. He uses ABQ Ride about 3-4 times a week as a "more time-efficient" mode of transportation for his family. It only takes him about 5 more minutes to ride the bus than to be driven, and the buses are rarely late. "Because [he] lives so far away, it's really helpful".
A major assumption many make surrounding Albuquerque's public transportation is that other people on the buses are unsafe, dangerous, or violent. Webb describes his rides to be generally uneventful with only a few students on the bus from other schools and maybe a couple of people who appear to be on their way to work. When there is someone who appears to be homeless on the bus, they "don't behave any differently than the other passengers" Webb says. It is important, however, to point out that the neighborhoods that surround Albuquerque Academy are generally wealthier areas.
Most outcomes and opinions of the free bus fare can't be determined until it is put in place. Mayor Tim Keller "looks forward to learning from this important pilot," and at the end of 2022, our city councilors will re-evaluate the policy.
Leave a Comment
About the Contributor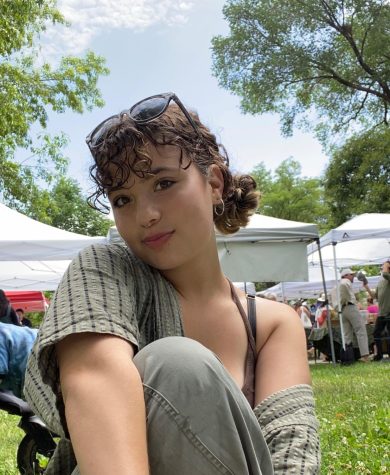 Lily Ma'ayan '24, 7th Grade Editor
Lily, or Lilith, '24 is the Advocate's 7th-grade editor, working with our youngest writers and artists. In 11th grade, she is a class officer who, along...