Kyle Rittenhouse Acquitted on All Charges
Last week, Kyle Rittenhouse, an 18-year old from Illinois, was on trial for homicide charges for fatally shooting Anthony Huber and Joseph Rosenbaum and injuring Gaige Grosskreutz with an AR-15 style rifle during Black Lives Matter protests in Kenosha, Wisconsin. Rittenhouse faced five felony counts, and after almost four days of deliberation, the jury consisting of seven women and five men, found Rittenhouse not guilty on all charges. If convicted, Rittenhouse could have spent life in prison.
The protests stemmed from the shooting of Jacob Blake last August, a Black man who was shot seven times by an armed police officer after he approached the officer carrying a knife. Rittenhouse claimed he acted in self-defense against all three men, thinking that Rosenbaum was going to take his weapon and begin shooting. Huber and Grosskreutz thought Rittenhouse was an active shooter after seeing him shoot Rosenbaum. Huber struck him once with his skateboard, after which Rittenhouse fired shots. Grosskreutz testified that he didn't intentionally point his gun at Rittenhouse, but that it was aimed at him when Rittenhouse shot.
The case has been the subject of controversy due to claims that the judge presiding over the trial, Bruce Shroeder, the longest-serving circuit judge in Wisconsin, was biased toward the defense. Before the trial began, he ruled that prosecutors couldn't refer to those killed by Rittenhouse as "victims," while the defense could label them as "arsonists" and "looters." In addition, some are unhappy that Shroeder dropped another charge initially against Rittenhouse, possession of a dangerous weapon as a minor – at the time of the incident, Rittenhouse was 17. One person on Facebook said it was "perfectly legal" for Rittenhouse to have the rifle, while PolitiFact rated that claim as false. Even after Shroeder threw out the charge, PolitiFact still believes that it was illegal for RIttenhouse to carry a rifle.
The prosecution tried to portray Rittenhouse as an active shooter. They also claimed Rittenhouse was ignorant of curfews and orders to stay out of the area.
The defense called multiple times for a mistrial, claiming that the prosecution told the jury about a video that the judge had previously not allowed to be heard. It shows Rittenhouse watching shoplifters, then commenting that he would shoot them if he had a gun. In addition, the prosecution obtained drone footage that shows Rittenhouse aiming his rifle at protesters which they used to sow doubt about Rittenhouse's claim that he fired his weapon in self-defense.
Rittenhouse's lawyer said that, "Every person who was shot was attacking Kyle[.]" Rittenhouse took the stand in his own defense instead of invoking the Fifth Amendment, during which he broke down multiple times while testifying, with some claiming that Rittenhouse was being melodramatic and didn't necessarily feel remorse for his actions. However, jurors did appear sympathetic to him after his testimony. In response to the prosecution's claim that Rittenhouse shouldn't have been in the area, they said, "Kyle feels for this community." The defense said that they were provided with a lower-quality video file of the drone footage and that if they had gotten the original footage, it would have changed their strategy. The prosecution claims that the issue was due to a technical error. Rittenhouse's attorneys argued for a mistrial without prejudice, meaning that the prosecution would still be able to try Rittenhouse again. However, since Rittenhouse was found not guilty, the issue has automatically been settled.
Rittenhouse's trial has once again ignited the debate around gun rights and there is mixed reaction to the procedure of the trial and the ruling. Wisconsin's governor, Tony Evers, mobilized 500 National Guard troops in anticipation of unrest after the verdict. While there have been protesters outside the courthouse, none of the gatherings have become violent. President Biden summarized his opinion on the verdict, saying, "The jury system works, and we have to abide by it."
View Comments (2)
About the Contributor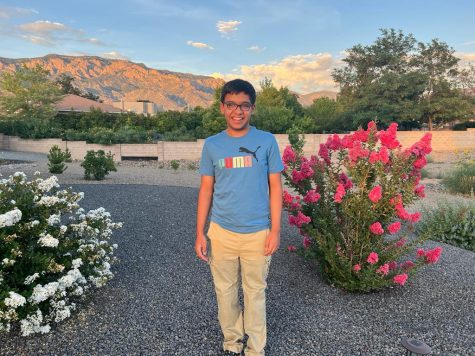 Uzair Hammad '24, Editor in Chief
Uzair Hammad '24 has been a writer and editor for The Advocate for four years, finally ascending to the fabled position of editor-in-chief. In his free...