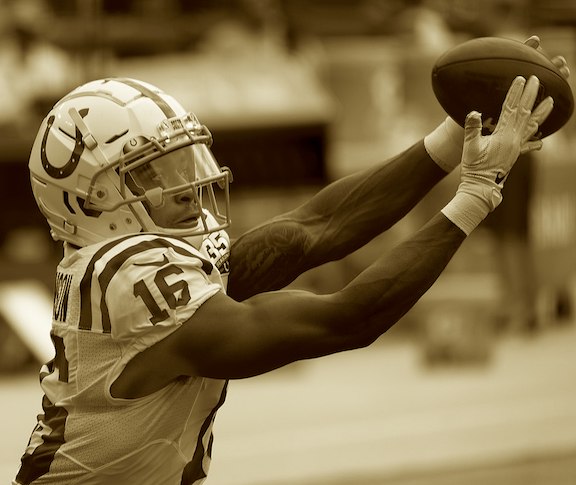 Keith Allison from Hanover, MD, USA / CC BY-SA (https://creativecommons.org/licenses/by-sa/2.0)
Wide Receivers
Justin Jefferson: Jefferson had his biggest game of the season this week scoring 37.2 points against the Packers. He caught eight of his 10 targets for 169 yards and two touchdowns. This is Jefferson's second game in a row over 100 yards and his fourth one on the season. Next week he will play against the 49ers where he is a must-start. 
Davante Adams: Adams had his first big game since week five scoring 30.5 points against the Vikings this Sunday. He caught seven of his eight targets for 115 yards and two touchdowns. He showed no signs that his shoulder injury was bothering him and was deadly all game. Next week he faces the Rams where he will be lined up against Jalen Ramsey. Even though this is a tough matchup against one of the best cornerbacks in the league Adams is still a WR1.
Elijah Moore: Moore had an explosive performance this week in a division game against the dolphins. He got a lot of attention-catching eight of his 11 targets for 141 yards and a touchdown. He also carried the ball once, picking up another 15 yards. In his past three games, he has had 25 targets, 269 yards, and four touchdowns. He has become a big piece of the Jets offense and should be considered a WR2 as he goes against the Texans next week. 
Diontae Johnson: Johnson had a big game against the Chargers Sunday night scoring 23.1 points. He caught seven of his 13 targets for 101 yards and a touchdown. This is Johnson's seventh game with over 10 targets which automatically makes him a must-start next week. He will be going up against the BEars where he should be a borderline WR1.
Darnell Mooney: Coming off his BYE week Mooney picked up right where he left off scoring 23.1 points against the Ravens. He caught five of his 16 targets for 121 yards and a touchdown. He received his career-high of 16 targets this week with his teammate Allen Robison sidelined with a hamstring injury. He faces the Lions on Thanksgiving and with the short week, Robinson will likely not play. This makes Mooney a solid play next week.
Marquez Valdes-Scantling: MVS had his first big game this season scoring 22.3 points against the Vikings. He caught four of his 10 targets for 123 yards and a touchdown. It is good to see MVS's targets increasing but it is hard to determine if this is a one-time thing or will continue through the rest of the season. I wouldn't start him next week against the Rams.