A Balance of Climate Denial and Activism
While Fox News espouses the climate crisis as alarmist, a different story plays out within the company.
Fox News is notorious in the United States for its right-wing political bias and sometimes outright false reporting, specifically around climate change. The news giant is owned by Australian-American Rupert Murdoch, the CEO and chairman of News Corp, which owns several other news organizations with similar political lean. In October, however, News Corp Australia, which includes The Australian and The Daily Telegraph as well as other national and local sources, published an editorial series calling for net-zero emissions by 2050. News Corp Australia was just as pro-fossil fuel, anti-climate change action as its counterparts in other areas around the world, so the out-of-the-blue switch in message raised some questions. Now, the inconsistencies between Rupert Murdoch and his various news companies' views on climate change are under examination. 
Despite the message from many of his news outlets, Murdoch's personal views on climate change appear to have contrasted with climate denial since at least 2006. For fifteen years, News Corp has kept logs of its carbon footprint and made efforts to move toward carbon neutrality. The North American managing director of the Carbon Disclosure Project (CDP), Ateli Iyalla, said, "[News Corp] has a strong understanding of climate issues and climate risk." 
At the same time that News Corp's media companies were releasing information denying the correlation between climate change and natural disasters, News Corp was privately acknowledging the climate's role in what was occurring. In the company's 2020 report to the CDP, News Corp said about its businesses in the U.S., "Climate projection models make it difficult to know exactly which… locations are most prone to the physical aspects of climate change. However, it is clear from past severe weather events that some of News Corp's businesses are susceptible to such extreme events." At the very same time, News Corp's papers in Australia were blaming bush fires erupting around the country on arsonists, not climate change, despite evidence that the bushfires were fed by drought brought on by climate change. 
The disconnect between the conglomerate's publications and their internal values and documents might seem more strange than it really is. Murdoch's strategy is not to purposely spread misinformation or simply just contradict himself; it is to make money. Addressing climate-related issues internally benefits News Corp, according to Murdoch. He claimed that a project to more efficiently integrate News Corp data centers saves 20 million dollars a year and a solar power system in New Jersey saves 180 dollars for every ton of carbon reduced. At the same time, Murdoch appeals to a large audience when he pushes climate change denial, and many across his platforms personally agree with those contentious opinions. 
Recently, Murdoch's Australian news empire released an editorial calling for carbon neutrality by 2050. It was surprising to many given News Corp's stance on climate change in the past, but this isn't the first time Murdoch's company has gone against their themes. In 2006 and 2007, during a period when addressing climate change was becoming important in American politics, Murdoch began raising awareness himself about climate change. Not only did he want his company to work to be more environmentally conscious, he also wanted his audience to be more environmentally conscious. At the launch of Murdoch's Global Energy Initiative in New York City in 2007, he said, "We can set an example, and we can reach our audiences. Our audience's carbon footprint is 10,000 times bigger than ours. That's the carbon footprint we want to conquer. The challenge is to revolutionize the message. For too long, the threats of climate change have been presented as doom and gloom—because the consequences are so serious." 
Since then, Murdoch has returned to cynicism of climate change, and his news companies have continued their climate denial. The Public Citizen found that 86 percent of Fox News reporting on climate change in the first half of 2019 contained climate change denial. The blip in their more familiar message was potentially associated with pressure from Rupert Murdoch's more politically moderate son, James Murdoch, chief executive at British Sky Broadcasting at the time. His influence was not enough in the long-term, however, and tension within the company brought their right-wing stance on climate issues back into the forefront, at least externally. 
Exactly what is pushing the most recent surge in green-washed media coverage across News Corp's Australian platforms is not entirely clear. It may be associated with more climate-progressive views from fossil fuel companies in Australia, or, as skeptics of the plan have noted, it may have been a political ploy in the lead-up to COP26, the massive United Nations climate change conference in Glasgow. "Color me skeptical. Until Rupert Murdoch and News Corp call off their attack dogs at Fox News and The Wall Street Journal, who continue to promote climate change disinformation on a daily basis, these are hollow promises that should be viewed as a desperate ploy to rehabilitate the public image of a leading climate villain," said director of the Earth System Science Center at Pennsylvania State University, Michael E. Mann. Even those inside News Corp's Australian media companies have taken issue with the publications. Andrew Bolton, an infamous reporter and serial climate-denier for the Herald Sun, called it "global warming propaganda." 
At the same time, it may be a sign of things to come for News Corp and other Murdoch family businesses like Fox News. An anonymous senior newspaper employee for News Corp told the New York Times that the most recent editorial column showed increasing recognition in the company of climate change and the world's response to it. Whether a more progressive climate initiative could seep into Murdoch's other platforms is questionable, but these developments might be a step in the right direction nonetheless. 
Leave a Comment
About the Contributor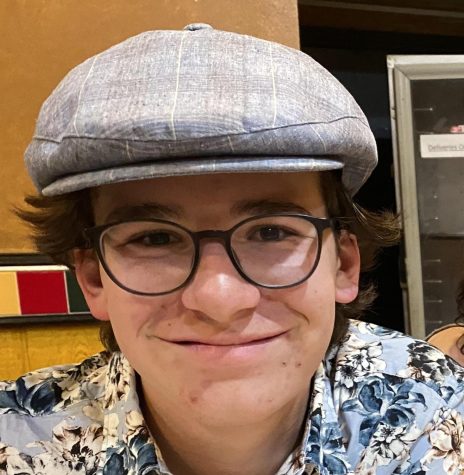 Darin Eberhardt '25, Opinion and Arts & Culture Editor
Opinion and Arts & Culture editor Darin Eberhardt '25 has been working with the Advocate since 7th grade and joined the Editorial Board in early 2023....